Letting the Team Down: It's All Your Fault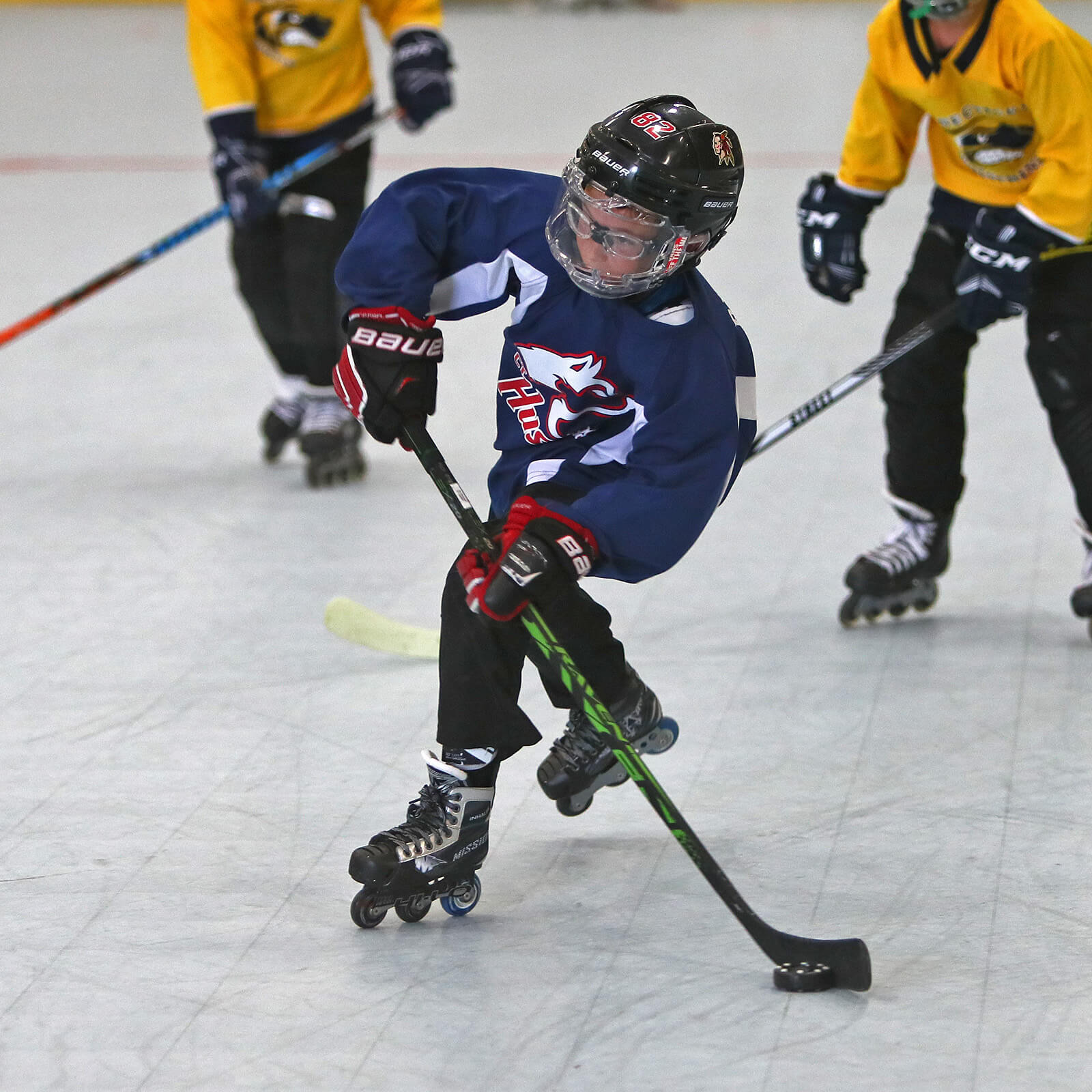 This past weekend, my two oldest played in a roller hockey tournament.
For both of them, it was their first time on wheels in over a year -- last time they played inline was at this same tournament last year so I'd anticipated a bit of an adjustment period.
It only took a few minutes for the dust, err, rust to wear off -- same for their teammates who were mostly ice hockey players -- but, by that point, the team had already found themselves in a hole that they were unable to overcome against a clearly less talented opponenent.
Their second game, immediately afterward, was a blowout loss to a team of much older players that, I'd suspect, had been playing inline with a little more frequency than, oh, a single game less an hour before.
Yep -- last place had been secured.
Even still, as these types of tournaments often go, everyone ends up making the playoffs...so there was a chance...
In the first playoff game, they squared off against the weaker of the two teams they'd already played against and, following some terrible officiating and an unfortunate third period defensive collapse, the score ended in a tie.
Unsure of the tournament rules, and the need for the games to stay on schedule, I kinda figured that we were out simply based on our head-to-head record but, no, after a few moments of uncertainty, they put another 5 minutes up on the clock.
Five minutes of un-inspired scoreless overtime hockey followed, ugh, and then the game went to a shootout.
It was a first for both of my kids.
Three players were selected from each team and away they went...
The opponent went first...and scored.
Our first shooter was stopped.
Their second shooter was stopped.
Our second shooter missed the net and then their final shooter missed the net too.
Up last, needing a goal to stay in it, was Duncan.
This was his first ever, game on the line, Gordon Bombay moment.
I'll be honest... So that the full weight would never fall on his shoulders, I was secretly hoping that their final shooter would score so he wouldn't even get a chance to shoot. Advancing in this specific tournament wasn't that important to me.
The ref blew the whistle, he took the puck from the center dot, and went full speed toward the net just like I've always instructed him.
None of it was in slow motion like in the movies.
He veered to the left slightly, quick stick handle, weak head-fake, and then wristed the puck from just outside the crease...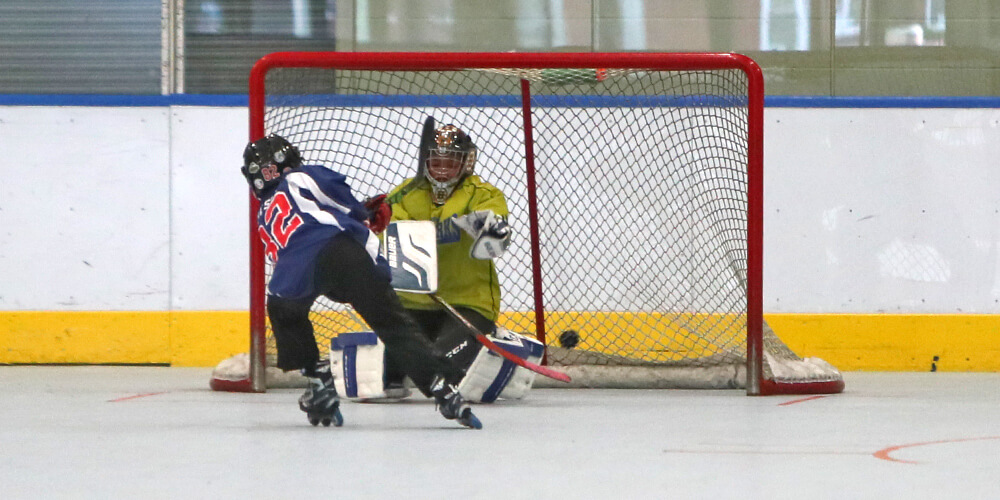 Duncan Rutsch is denied a goal in the shootout.
BANG!
Puck hit the back boards, wide right.
Goalie barely got a piece of it with their stick and, I mean, just barely.
Five seconds...it was over.
There wasn't a big cheer (or groan) and the opponents didn't pour out from their bench like they would in a movie -- I'm not sure they even knew that was the conclusion of game -- but Duncan's slumped shoulders as he coasted into the corner, head down, stick horizontal across his knees, indicated that he knew the situation.
They were out.
He let the team down...and he knew it.
An ideal group of teammates but so much sadness in one photo. One kid, Duncan, looks like he thinks he's responsible.
At the far end of the rink, I was...disappointed. Maybe?
I wasn't suprised.
Not upset either.
Before he was even off the playing surface, I was actually kinda glad that it didn't go in.
It was a surreal feeling of contentment from a parenting standpoint.
All kinds of emotions.
I mean, I was proud that he volunteered to be one of the shooters.
I was even more proud that he'd been selected to shoot last.
Happy that he'd experienced the pressure of having the entire game on his shoulders.
But thankful that it was in a roller hockey tournament that, in the grand scheme of things, didn't really matter.
Perfect place for it to happen. Awesome learning experience.
He didn't choke. Nerves didn't get the best of him.
I think he knows, now, that he got a solid shot off. It just didn't go in. You can't win them all...
Devastating, in the moment, but not something that would stick with him for far longer than something like that ever should.
Just a fun, one-and-done, weekend tournament team thing.
In fact, I didn't even talk about it with him afterwards -- it may as well have never even happened.
I truly hope that if the situation presents itself again in the future, he'll still volunteer to shoot.
---
In a bizarre circumstance, less than 18 hours later, in an ice hockey game, he was hauled down on a breakaway and was awarded a penalty shot.
I believe this was his first ever penalty shot attempt, on ice, in a real game -- breakaways are few and far between for defenseman.
Same deal, on the whistle, he took the puck in at full speed, veered to the left, and took a snapshot from the bottom of the circle...right into the goalie's chest.
This one...we talked about. ;0)
He'll deke next time.
---
Related Articles
» Great Youth Hockey Coaches Teach Confidence
» The Experience of Playing Up
» The Right, errr, Wrong Curve
» Rutsch. How should I pronounce that?
» Tiers In Youth Hockey Explained. Well, sort of...
» Skating, Stickhandling, and Watching Hockey
» Skate Faster: Don't Skip Leg Day
» Playing Defense is NOT a Punishment

Agree? Disagree? Let me know -- I love the feedback from all angles!