The Right, errr, Wrong Curve
Okay, okay, okay... The curve on the stick *might* matter.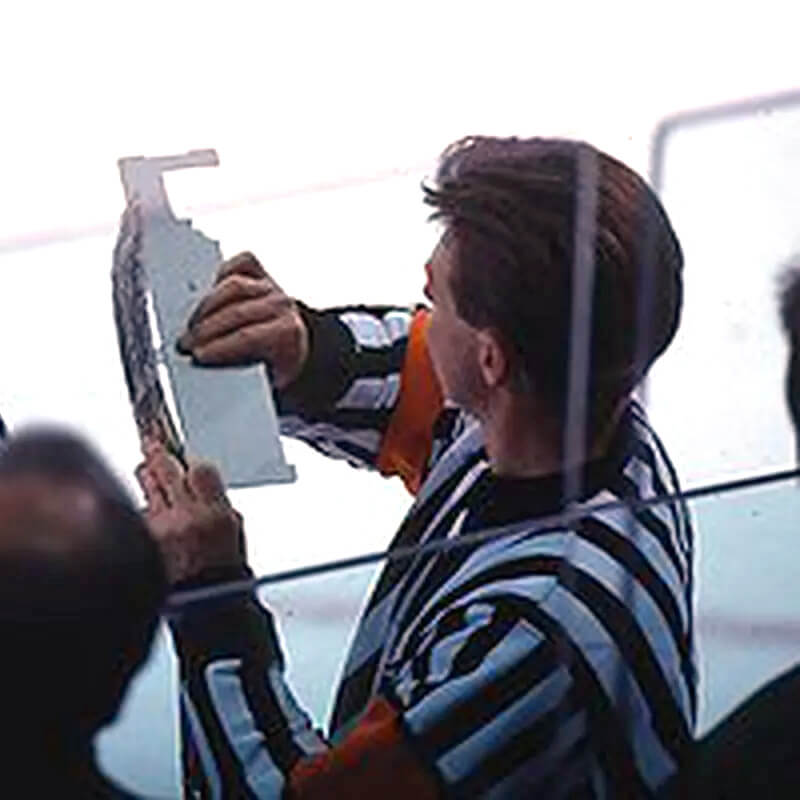 So...a little bit of egg on my face.
For a long time, I've repeatedly stated that the advantages that differing equipment provide are minimal.
Go ahead, profile your skates if you think it'll make your kid a better skater.
Pay an extra $100 for that stick that weighs a couple grams less -- they'll surely get the shot off that much quicker.
The bubble offers so much more visibility than a cage -- everyone knows that.
Oh, and no question, those $175 gloves will definitely provide softer hands over those $60 gloves currently stinking up the hockey bag.
Go for it.
Realistically, equipment changes like that offer very little in return...but there is one equipment option that I overlooked for a long time.
The stick curve.
I used a Coffey curve as a kid.
No real reason besides the fact that Paul Coffey was awesome and, back then, it was the curviest curve of all and everyone thought it was the best.
We paid little attention to the lie, the face, or the toe -- really, if it looked like a banana, that was the curve we wanted.
By today's standard, it was an illegal curve...and we even used to boil the stick blade to bend it even more!?
On that note, I wonder if NHL penalty boxes even still have that tool to check for illegal curves? I can't remember the last time I saw an official check a stick (or a skill player "switch" to a legal stick late in a game).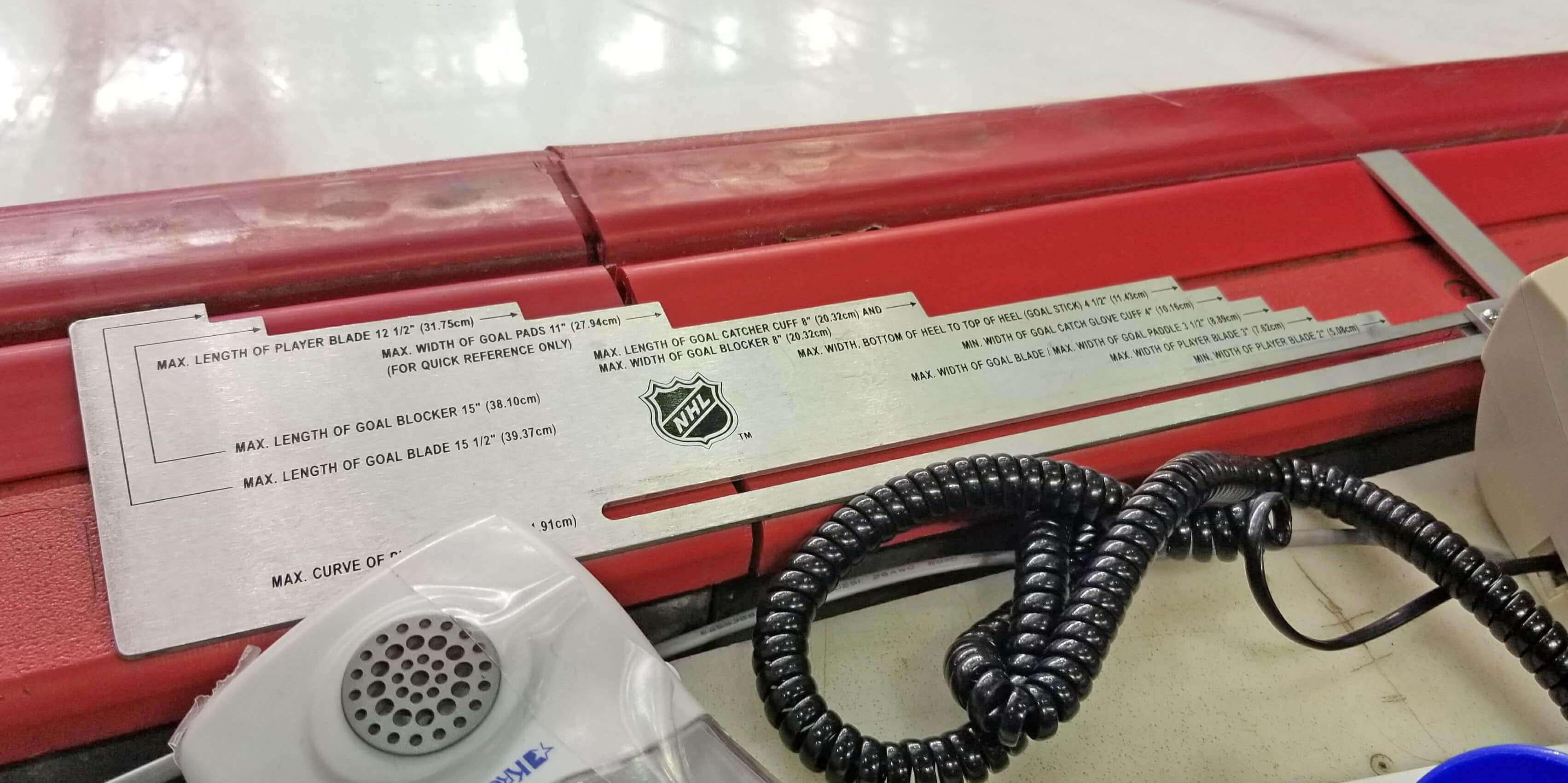 Everyone got nervous when this thing came out late in a game... A bygone part of the game...
Anyway...
So, kids today have all kinds of options available to them -- different manufacturer's offer different curves, toes, lies.
It's overwhelming.
Some of them are the same, most actually, just with a different "contracted" player name attached to them, but there are still a handful of options out there.
Most kids, likely, aren't really using the stick they should be -- instead opting for whichever one looks the coolest or has the best player's name on it... just like how I picked my sticks back in the 1980's.
It is what it is.
This difference today, though, is that some of the cool sticks actually offer options when it comes to the blade...and you should probably take note.
At the youth levels, Bauer only offers the P92 (or Matthews) Curve for the Vapor, Nexus, and Supreme lines. The Prodigy line is also a P92...but with Ovechkin's name attached (leftover from when he was still using Bauer).
Kinda sad that Bauer only offers a single option for kids.
That's really lame, actually...but with good reason that you'll understand further down.
CCM, at the youth level, offers the P29 (Crosby) curve on their Tacks line and P28 (McDavid) curve on it's Jetspeed line. Good on you, CCM, for giving the kids options!
So, the CCM P29 (Crosby) is essentially the same as the Bauer P92 -- they're crazy similar and, all told, it's a good curve for kids.
The other option, the P28 (McDavid) is another banana curve -- hardly different from the similarly named P29 -- but the toe is different. It's a lot more rounded off and, for kids, that's probably a bad idea as they'll have little less "stick" to work with.
Warrior's pretty popular at the youth level these days, wacky "look at me" colour combinations clearly attract kids, and they too offer two different curves -- the W03 (Backstrom) and the W88 (Zetterberg).

Perhaps it's just me...but this color combo looks horrific in every single player's hands.
Their W03 (Backstrom) curve is just another P92/P29 clone. Yeah, there's a trend, here.
The W88 (Zetterberg) curve, on the other hand, is a lot different.
It's a good curve for players to learn on.
By that, I mean it's easier to catch passes, easier to stick handle without losing the puck, and easier to put the puck right where you're aiming. The curve cups the puck really well and the face keeps it under control, flat on the ice, regardless of how your player holds the stick.
All super important things when playing hockey, right?
Big thumbs up to Warrior for having this option widely available.
So, for the past 2+ seasons, my kids have been using Raven sticks and I think they're the best youth sticks out there.
And, sure, full disclosure, my oldest has received a lot of free swag from them...but I'll still give it to you straight.
They offer two different curves too -- the C88 (Kane) and the C19 (Backstrom) -- and, again, it's more of the same...
The numbers and names that the manufacturers put on there make it all very confusing...and there are other websites that really detail it all out really well with comparisons and charts to highlight which sticks are pretty much the same across the different manufacturers.
It's like trying to pick the right shampoo -- so many options. Too many options.
Overkill for the youth player -- and many of the options on those sites aren't even manufactured for kids anyway -- so I'm keeping it super simple with my cheatsheet down at the bottom.
So, my two oldest used the C88 (Kane) curve from Raven and it's very similar to the W88 (Zetterberg) from Warrior referenced above that I called a good stick for beginner players.
And this is why I have egg on my face -- while it's the ideal curve for perfecting your stickhandling and passing game, the HUGE downside, for kids, is that it's really, really, really hard to lift the puck using this curve.
Like, why can everyone on the team go top corner but my kids can't?
Hate to admit it -- all those kids out there using the Crosby, Matthews, Backstrom, or the old Bauer Ovechkin curve had a HUGE advantage in that regard.
My kids were using the "wrong" curve.
Okay, it's not the "wrong" curve...but so much in youth hockey is based on confidence.
When your kid can't do something that everyone else can...it's detrimental to development.
I'll be the first to tell you, I hate doing things that I suck at.
So both kids switched over to the Raven C19 (Backstrom) curve, which is basically just another a P92/P29/W03 clone, and, boom, the top corner was now in play for them.
Legit, Duncan's second shot on net with the "new" curve" went bar down.
His next shot sailed over the net.
Sigh.
But, yeah, HUGE difference.
Immediate difference.
Will it make them better players? No, probably not, but it's boosted their confidence.
So, if your son or daughter is struggling to lift the puck like their teammates, check the curve on their stick.
It might be a super simple fix.
Youth Curve Cheatsheet

I want my kid to lift the puck...now.
· Battlemode P92
· Bauer P92
· CCM P29
· Raven C19
· Warrior W03

I want my kid to be a better overall hockey player...but struggle to lift the puck for a few years.
· Raven C88
· Warrior W88

I want my kid to lift the puck...yesterday.
· Battlemode P28 (This thing is crazy -- my 4-year old can go upstairs with it.)
· CCM P28 (the rounded toe is bad...but the open face makes it super easy to lift the puck)
Oh, and if your kids are already using one of the "easier" curves and are still struggling, I've got a couple articles on the subject in the archives that should help.
» Help your Child lift the Puck
» How to Properly Tape a Hockey Stick (No joke, it kinda matters!)
---
Related Articles
» Review: Boston Junior Bruins Brick Series Tryouts
» Don't Barf: Prepare for Game Days Properly
» Review: Junior Bruins Training & Evaluation Camp
» The Ballad of Double Rostering
» Review: IPH Hockey - Private Coaching and Lessons
» Let's talk about Hockey Skate Laces
» Realistic Expectations: Take the Dad-Goggles Off!
» Player Guidance: Hockey Parent CliffsNotes

Agree? Disagree? Let me know -- I love the feedback from all angles!