Helmet Drama for Beginner Hockey Players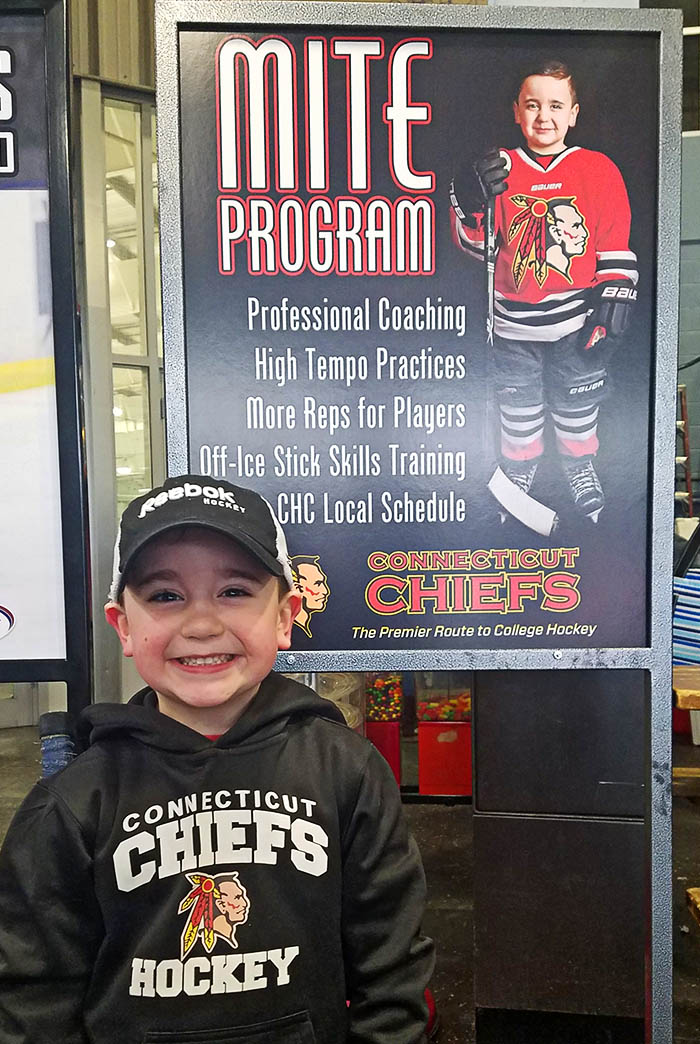 At the start of the last hockey season, I ran into a "future" hockey family that I'd cross paths with a number of times over the following few months.
They stumbled across this website and awesomely, or maybe awkwardly, recognized my 4-year old son one day as he was heading out on to the ice for a public skate session.
Ahhhh...then benefits of an unusual name written on hockey tape across your forehead and overexposure online.
I wasn't creeped out at all to see them striking up a conversation with him -- even as they were super apologetic after I finally followed him in.
If anything, I was super impressed to see him confidently (in terms of a 4 year old) talking to adults!
Like, by the time I'd gotten in there, it appeared that he'd initiated the conversation! Super cute!
Kid's social circle is bigger than mine apparently! Ha!
I so wish I had my kids' social confidence...
Anyway, their son was getting a private lesson from a skating coach while my son was out there flipping and flopping all over the ice.
Different methods, absolutely, but our goals align perfectly.
We both want our kids to skate and play hockey some day...like starting, in the fall, next season.
We talked about which learn-to-play programs we were considering for the super young set and I was secretly hoping to see them at the same program we chose for Emmet on the first day but...no luck.
So, right near the tail end of the season, we crossed paths again at a U20 Juniors game and mom, Jessica, mentioned that they hadn't signed up anywhere for hockey this year but that their son was still skating and getting better and better.
He just didn't want to wear the hockey helmet.
Old time hockey. Love it.
No, but seriously, I get it.
If it's not the skates they refuse to wear, it's *always* the helmet.
I've been super fortunate that none of my kids have given me a hard time about any of the equipment I've strapped on to them.
But you do see it all the time -- and it's usually the helmet that takes the brunt of it.
Kids routinely complain that the helmet is too tight (even when it's clearly way too loose) or that the they have an itch on their face that they can't reach.
It's only a matter of minutes until the real litte ones cry on the ice.
And, yeah, it sucks when you can't even wipe your own tears because a wall of bars on your face prevents it.
It all makes sense.
I mean, in men's league, after I *finally* grew up (in my late 30's) and added some full face protection to my helmet, I have to admit -- it felt claustrophobic.
Like having something so close to my face gave me a weird motion sickness feeling that I don't ever recall having felt. I had to sit down and take my helmet off between shifts -- like, it was that bad.
I can't imagine how awful it would have been if my fingers weren't long enough to scratch my face too. Or wipe my tears.
So, yeah, these kids aren't just being bratty kids.
A cage is really disorienting until you get used to it. A bubble can be too, sometimes, moreso.
I totally get it and I've seen and heard it before.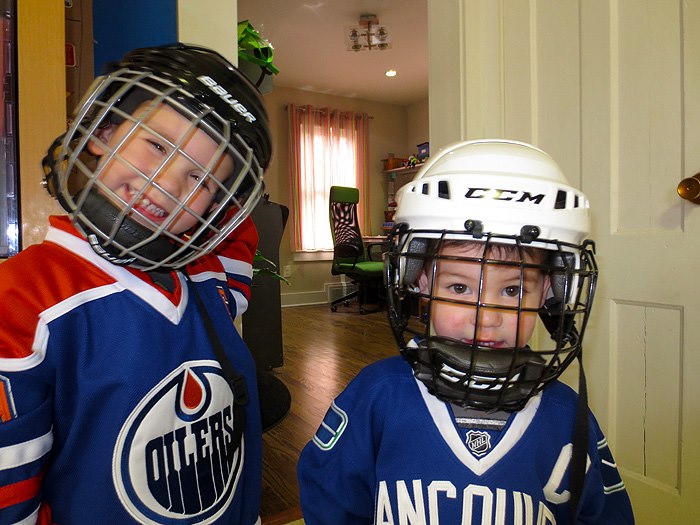 My solution -- and this is how it worked for my kids and I've seen countless friends on Facebook post related photos -- is to have the kids wear the entire uniform at home.
Well, besides the skates unless you have terrible floors. In that case, go all out.
When we acquired our first set of full equipment, my oldest two boys were four and two years old. Before we ever stepped foot on the ice, I swear, they both put all of it on and took it all off at least 50 times.
It was a super hero costume.
Over and over and over.
I'm surprised the velcro closures held up -- Henrik still wears that original pair of shoulder pads to this day.
It got to the point where they'd fight about who got to put it on next...so we bought a second set.
Next thing I knew, I had two kids sitting on the floor watching BubbleGuppies in full hockey equipment. Helmet included.
That's not normal.
Actually, it kind of is normal based on my Facebook feed. Love seeing all the kids lounging on the couch or sitting at the kitchen table...in full gear. We're not weird.
But, yeah, I accidently got my kids used to wearing a helmet by letting them wear it anytime they wanted.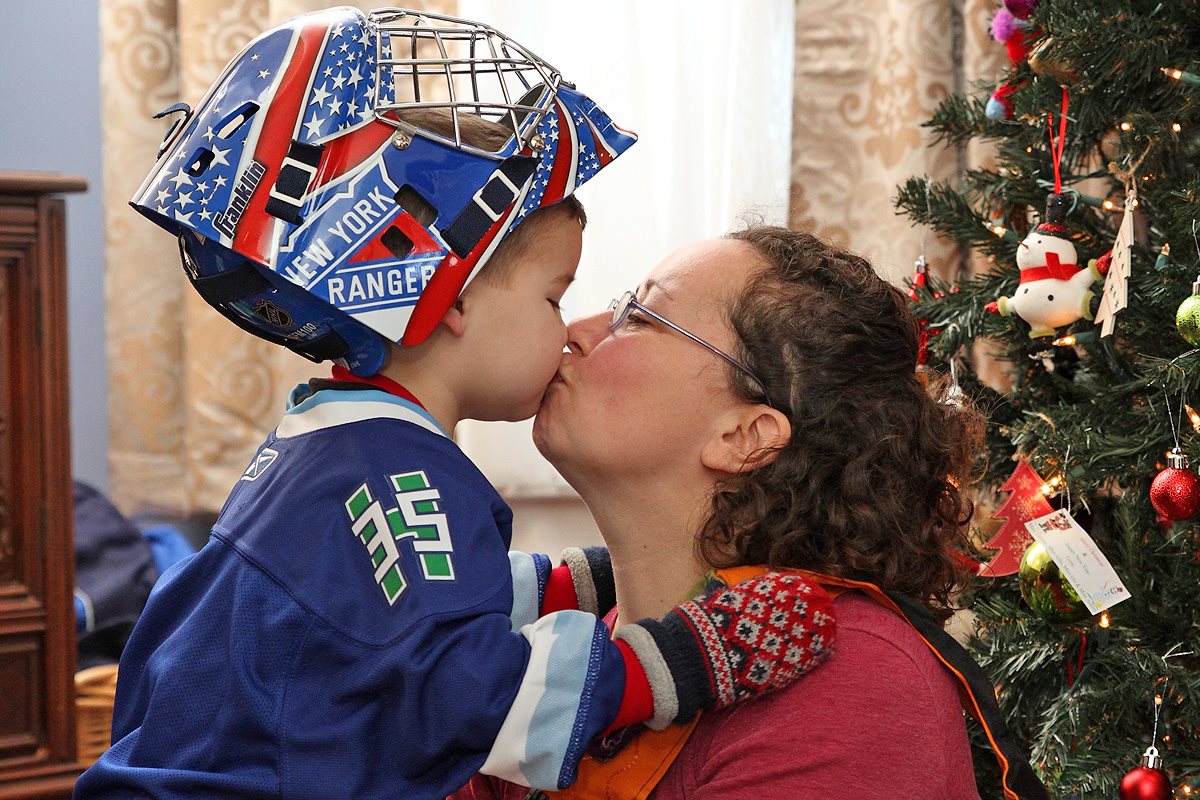 They'd walk around the yard in helmets.
Pass a green biscuit or a tennis ball back and forth in the street...with helmets on.
Pretty sure my middle one has even gone to the grocery store in a goalie helmet.
He even mowed the lawn in full uniform last summer?!
Safety first, right?
So, yeah, I inadvertantly avoided the issue entirely with my kids but, really, don't just put it on when they're at the rink and about to do something really, really, really hard.
Skating is hard any way you slice it.
I mean, you're walking on crazy slippery ice on a piece of metal less than 3 millimeters wide.
I get than most people reading this aren't super accustomed to metric measurements but that's so tiny, converting it to inches is pointless. It's that small.
Adding an uncomfortable helmet that obscures your vision is just too much to handle on top of it all.
So, yeah, be patient and any time the kids want to put all of the stuff on...let 'em.
Oh, and if you're struggling to find a helmet/cage combo that fits your young hockey player, you're not alone.
I found that it was darn near impossible to get a helmet that fits kids under 5 years old. The chin cup is almost always a few inches from their chin. Or, maybe my kids just had disproportionate jawlines...until they turned 7 years old.
Don't fret though, in time, it will fit better!
Just let them get used to it on their own terms...any time they want...hockey season or not!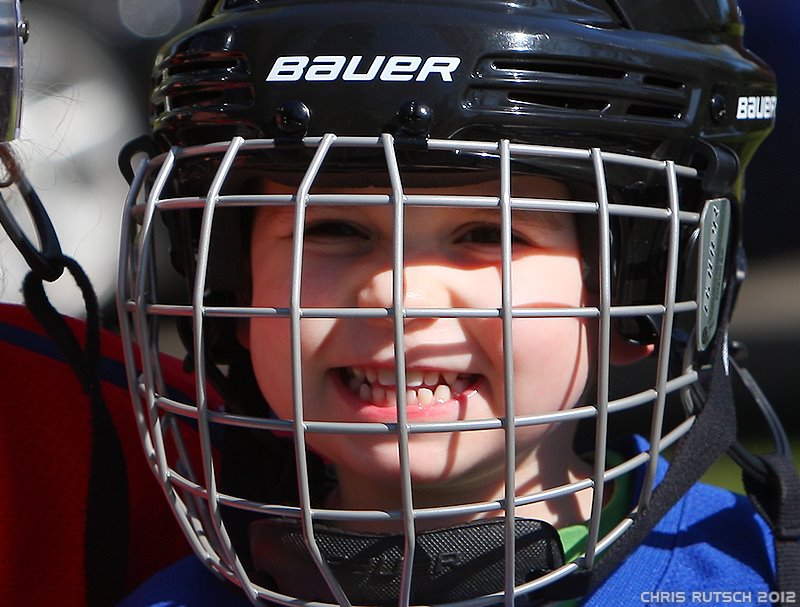 ---
Related Articles
» Skating, Stickhandling, and Watching Hockey
» Roller Hockey for an Ice Hockey Player
» Positionless Puck Chasers in Youth Hockey
» The Experience of Playing Up
» New Season, New Equipment
» Too Late to Start Hockey? Or too soon?
» The Right Coach; the Right Attitude
» The Effectiveness of the SuperDeker

Agree? Disagree? Let me know -- I love the feedback from all angles!