Playing Defense is NOT a Punishment
At the pro level, nobody watches or cares about the defenseman.
Unless they're scoring, of course.
The NHL is even guilty of creating this "playing defense is for losers" mentality -- just look at the winners of the Norris Trophy.
All really good players.
But defensively? Eh...not so much.
Brent Burns is a really great hockey player...but the best defenseman in the league?
Not in my book.
I'm confident that, if you asked scouts, general managers, coaches, and even the players themselves, you'd see a whole different set of names winning this award.
My vote would be for Ryan McDonagh. He's the best defenseman in the league right now.
See, while many don't see it the way I do, scoring goals isn't the only thing required to win games. Preventing them is equally important -- and it's not just the goalie's responsibility.
I mean, I used to think Paul Coffey was the best defenseman ever but now, understanding the game a lot better, I realize that he was just another forward that played on the blue line.
Defensively, he was terrible.
Don't argue with me. He was awful.
You just didn't notice because he was scoring so many goals.
The 1985-86 NHL season was the first season that I personally remember. The Edmonton Oilers were just dominating everyone with Gretzky, Kurri, Anderson, Coffey, Messier, and the Moog/Fuhr tandem in net.
Coffey scored 48 goals and added 90 assists that season.
A defenseman scored 138 points. Crazy, right?
His +/- was a phenomenal +61 -- though I could argue, when you're on the ice with Wayne Gretzky and Jari Kurri for a majority of the time, numbers like that just come with the territory.
Everyone thought he was awesome. Best defenseman around.
But do you know who were really the best two defenseman of his era were?
Nope, it's not Ray Bourque. (He was pretty good though...)
Not Chris Chelios or Brian Leetch either.
Mark Howe and Brad McCrimmon were the best defenseman.
Unexpected, right?
Those guys didn't score at a ridiculous pace and went unnoticed to nearly every hockey fan....but they certainly made their teams better. A lot better.
Neither were fortunate enough to play on dominant teams, like the Oilers, but look at their +/- numbers for the duration of their careers. Off the charts.
Now, a lot of arguments have been made against the validity of the plus/minus statistic. It was the first game analytic used to "rate" players based on their play WITHOUT the puck -- something that is obviously tough to measure.
Sure, it may be too simplistic -- and often times, yeah, some players benefit greatly in this category simply from playing on a line with offensively skilled teammates.
A player like Chris Kunitz appears better than he probably is because he played alongside Sidney Crosby for all of those years.
McCrimmon and Howe didn't benefit from a season or two of having an amazing set of teammates carry their numbers for them. They did it EVERY season regardless of who they were playing with.
So, while you can shoot down the legitimacy of the +/- statistic, to me, it's no coincidence that the game's greatest players are all near the top of this list.
And, look, both McCrimmon and Howe are near the top.
/rant
Okay, the real article starts...now.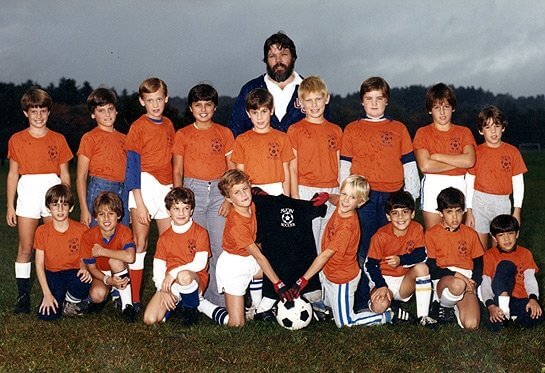 As a kid, I played a lot of soccer.
I was always one of the better players on the team and, as a result, I usually played one of the forward positions.
At a recreational level, it was commonplace for the best players to play forward, the okay kids to play midfield, the least skilled kids played defense, and tall kid played goalie.
And, with certainty, the coach's kid always played striker.
Didn't matter how skilled the striker was. You know what I'm talking about. ;0)
Every team we played against did this exact same thing and, for the most part, every team had roughly as many wins as they did losses. It was all pretty even.
Then, when I was in 4th grade, a coach named Greg Peck did something different.
He turned it all upside down.
He swapped the forwards and the defense.
At the time, this was unheard of.
At least in our tiny little league.
(Our town rec league wasn't that insignificant though as our high school routinely had one of the best programs in the country for the decade that we all lived there.)
So it was me, Ryan Hess, Koko Okamoto, and Brian Peck (the usual front four) playing defense in a box formation.
And, at first, yeah, we all hated the idea.
I mean, we weren't scoring ANY goals anymore.
It sucked...
But by the second game, using this scheme, it became apparent that this strategy would carry our team further than it would have otherwise.
I'm not sure we allowed a single goal against for the rest of the season -- Coach Peck taught us how to "force" the other team offside just like professional soccer players do. Other teams struggled to get past mid-field against us without a whistle and if they did, they weren't getting anywhere near our net.
I mean, elementary school kids aren't making runs like pro soccer players do so it was a relatively easy task.
Not tooting my own horn for even a moment that any of us could have been an international soccer star. All four of us, actually, were out of soccer entirely before high school.
But, yeah, once we saw firsthand that it helped the team succeed and how it energized our teammates that had never had a fair opportunity to score goals, we embraced it.
Defense was the best.
We wanted to play D.
Of course, the next season, we were all on different teams with different coaches and all four of us were back playing forward again...but for that one Fall soccer season, we had a really good thing going.
So, let's bring this back to the present...and hockey.
I helped coach my middle son's mite hockey team this season and we had a handful of really skilled players on the team.
One kid would ask, before every single game, "Am I starting?" as if that was the only thing in the world that mattered.
It was almost comical that he kept asking...as nearly every game the answer was...no.
But that response would clearly deflate him -- which is ridiculous in and of itself since not "starting" in hockey essentially means you'll only miss the first minute of the game.
But there was one other thing that would bring a majority of the kids down...
"You're playing defense today."
It's like the head coach was punching them in the gut or something.
Nothing, not even asparagus, was worse than playing defense. NOTHING.
You can't score goals if you play defense. Only the bad players play on defense.
Just like mid-1980's soccer -- that's the common thought.
Among the parents even!?
Yes, parents, ridiculously, I might add, get bent out of shape cause their kid plays defense. I see it on every single one of my kids' teams.
So, yeah, in our locker room, prior to the game, the kids slated to play defense would literally slump their shoulders and sulk while the couple kids assigned to play center would be gleefully high-fiving one another.
In the same room, not even 4 feet apart from one other, the polarity of emotions was staggering.
Thing is, our head coach was putting them on defense because they were our BEST players.
It wasn't a punishment.
Like my youth soccer experience, having those kids on the blue line made our team tough to beat.
Impossible, even.
Only issue, and difference from my own soccer glory days, was that none of them embraced it.
Not one player.
Most just played offense anyway, hanging our goaltender out to dry. For that, I partially blame sideline coaching...or even the players' uncoachability. It is what it is.
One of them, though, did appear to kind of figure it out as the season came to a conclusion...and I'd bet money that whether they play forward or defense in the future, they'll be a better player for it.
I might even go out on a limb and say that, down the road, they'll likely be the best hockey player to come from the group.
My oldest son has played defense, almost exclusively, for the past 2 seasons. In his first year of elite hockey as a 7 year old, he played on the third line...nearly as an extra forward.
He spent a lot of time on the bench.
Deservedly so, too. He wasn't very good.
The next season, the coaching staff tried to hide his lack of talent by putting him on defense -- much like my youth soccer coaches attempted to do back in the 1980's. You know, put the least talented kids on defense.
But my kid embraced it.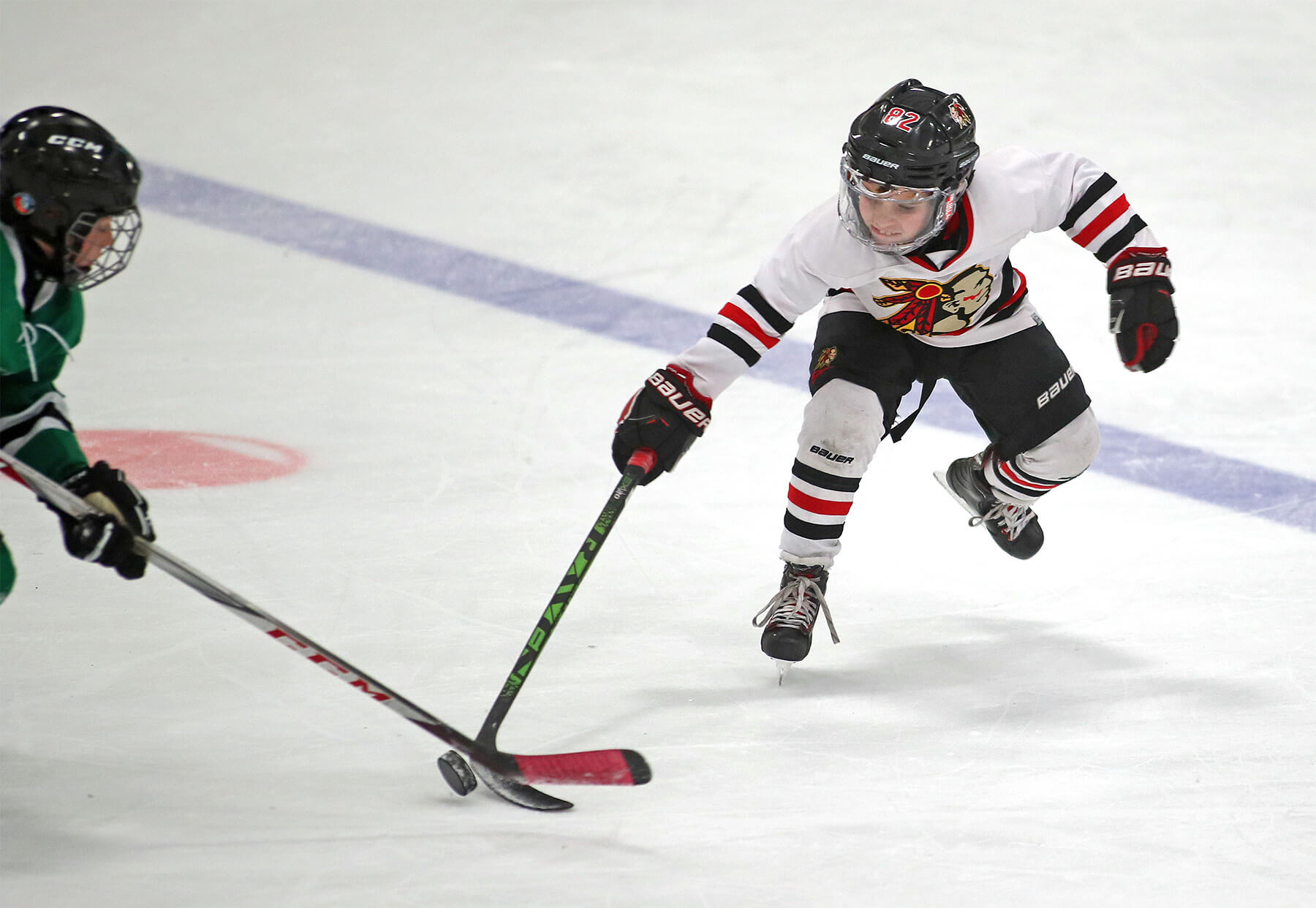 Duncan Rutsch with a textbook poke-check.
By mid-season, he was on the top defensive pairing and getting more than double the ice time he'd received while he was playing forward. At the end of the day, kids just want to play.
This past season, his third, he was the only kid on the roster that wanted to play defense. You know the routine.
Every youth hockey team has a goalie and 14+ kids that want to play forward.
It's an epidemic. Drives me bonkers.
So this whole season, on defense, he's kinda been that invisible player, getting better and better without anyone noticing.
Some teammates probably still think he sucks. Some parents likely still think he sucks. And, well, maybe that's justified.
Can he shoot like the kids playing forward? Not really.
Has he mastered the toe drag? Nope.
Can he go bar down? Rarely -- though, of late, he's been surprising me.
Can he stop anyone on a 1-on-1? Barely.
Is he the fastest skater? Again, unfortunately, no.
But is he the best skater out there? Yes.
And it's noticable.
All this time on defense, whether he was buried there or chose to be, has allowed him to perfect his transitions and, more importantly for overall development down the road, skate backwards just as effectively as he can skate forwards.
That's Duncan in the front of the line.
He's not the fastest skater on this team nor anywhere near the top of the depth chart offensively, not by a long shot...but he's the only one that can skate backwards and do crossovers without losing *any* momentum or speed.
In the same drill...but going forwards the whole way, he'd be middle-to-back of the pack, at best.
Backwards, as you can see, he pulls away from the pack with relative ease.
Any professional scout will tell you that the base of every great NHL player is their skating ability. Frontwards, backwards, edges, transitions, and balance are hugely important.
Hands and strength can be developed when they're teenagers...but being a strong skater has to be the foundation.
Connor McDavid's skating is what makes him so effective. Crosby is the same way. Lots of players have great shots or great hands or great straight line speed ... not many have great feet. You need to develop and cement that first.
His mite coach, wisely, stressed skating over anything else.
His coach this past season boosted his confidence and greatly improved his technique.
The coach in the middle (inadvertantly) put him on a path to solidify his skating.
The most fulfilling part for him, besides drills like these in practice where he can visually see where he excels, is when forwards are put back on defense and struggle.
He doesn't struggle during a rare shift on offense -- his ability on his skates masks his inability to make plays with his stick.
Skating is the most important piece.
If you don't have that by the time you're ten years old, you'll never be able to keep up. My own (in)ability is proof of that.
So, yeah, I wish more kids could lose the idea thay playing center is all that matters and playing defense means you're a terrible player.
Or even things like thinking that starting the game holds some weight.
In hockey, NONE of those things matter or define your standing as a player.
Sidney Crosby and Connor McDavid don't start every game...and though convincing kids that playing defense gets you tons more ice time is darn near impossible, it's the truth.
Playing defense will make EVERY player better.
Every single one.
Playing defense doesn't mean you suck.
It's not a punishment and it's not a position to "hide" the least skilled players on the team.
At the youth levels, it's the fast-forward button to skating ability.
More time on ice. More practice skating backwards.
Those two things will always pay huge dividends down the road...
---
Related Articles
» Evaluating Your Child's Hockey Coach
» Will the 2020-21 Youth Hockey Season even Happen?
» The Experience of Playing Up
» Helmet Drama for Beginner Hockey Players
» The Difference between Town Hockey and Elite Hockey
» The December Doubts
» Teaching the Little Ones to Skate
» Five Secrets to Becoming a Dominant Youth Hockey Player

Agree? Disagree? Let me know -- I love the feedback from all angles!