Too Late to Start Hockey? Or too soon?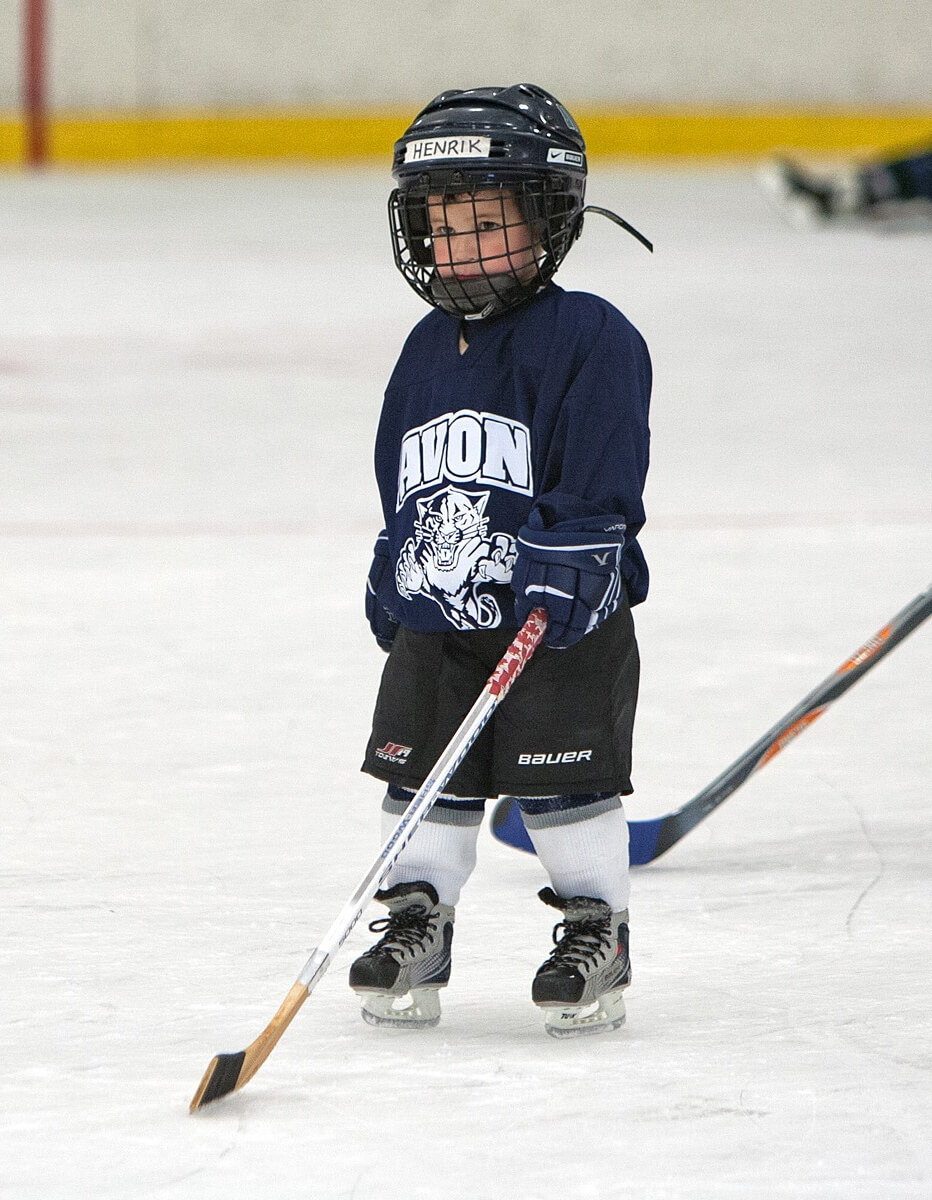 The age-old question that every hockey parent encounters, at the onset, is when, or even if, they should enroll their child in a learn-to-skate, learn-to-play, or just jump right into an organized hockey program...
Hockey is such a fun game to play and involves so many more skills than any other sport -- it's like soccer, baseball, and basketball all at the same time...on ice.
Even when you're terrible at it -- as I am -- it's a boat load of fun.
But, why am I so terrible at it?
It's because I started too late.
I still enjoy it though, obviously.
To that end, if you're a parent of a 3, 4, or 5 year old, do not start to think it might be too early to get started.
Don't think back to when you were a kid, not even in kindergarten yet, and organized sports weren't yet even a consideration.
Hockey isn't like youth soccer.
At the base of every hockey player is the ability to skate.
When we're really young and just learning to walk, most of us also developed the coordination and ability to run too. It's a natural ability all of us share -- and it's the framework for so many team sports that kids play.
That's why sports like football, baseball, basketball, and soccer are relatively easy to pick up as eight, nine, ten, even eleven year olds.
I'm not going to say those sports are easy...but, at their base, well, they are kind of easy.
Ninety-five percent of us mastered the "running" part, the MOST essential piece of those games, as toddlers. TODDLERS!
Forty something years in, I can tell you, my running game is pretty strong.
Hockey isn't like that.
Skating, the correct way, isn't like running. At all.
It isn't an ability we all develop just naturally, like walking and running, through the course of everyday life.
It's an un-natural shifting of your body weight...coordinated perfectly...
It takes practice. And patience. And, well, ice.
I don't know about you, but I don't have perfectly flat ice readily available to practice on like I do, say, I dunno...the floor.
Oh, and you need to be able to do it backwards just as quickly too.
I'm aware that players in those other sports backpedal some...but it's never nearly as quickly as they can move forward. The human body doesn't really allow for that.
Hockey gets around that anatomical limitation.
Skating is kinda like magic. Only semi-joking.
Point is, there's a lot going on...a lot to learn...and a lot to master.
And we haven't even covered what the upper half of the body has to do yet...
Hockey is hard. It's really hard.
And that's why it's super important to start as early as you can.
My kids all started early. REALLY early.
Too early, actually.
My opinion -- 4 years old is the perfect time to get them skating.
Old enough to take some direction.
Old enough to endure the time on the ice.
Old enough to let you know they either love it or hate it.
And...young enough to not be embarrassed at how bad they are at it.
Young enough for it not to hurt when they fall.
Young enough to be tricked into thinking wearing skates makes them super heroes.
And it doesn't need to be "hockey" that early.
If you're reading this, chances are you see your son or daughter tearing it up and scoring goals at will down the road...and that's awesome.
But, to start, there is ZERO shame in enrolling in a learn to skate class alongside kids wearing knit mittens and bicycle helmets. None.
My oldest son took skating lessons just like that. He had full hockey gear on. The kid next to him was a unicorn in snow pants.
And, together, they marched around the ice with their arms extended out as if they were on a tight rope or something.
And I say they "marched" around, and it was totally ridiculous to watch from the sidelines, but the fact is, they were skating. And they're both better for having gone through it.
My two younger boys never took skating lessons as I realized that I had the ability to teach them myself, but I meet so many semi-prospective hockey parents that have never once stepped on the ice themselves.
In fact, it blows my mind how many ice hockey fans have never once skated before. Like, ever.
But don't let that stop you from getting your kids out there!
The best players on all of my kids' teams have parents with very, very, VERY limited skating experience.
If any.
And they proudly proclaim it too. True story.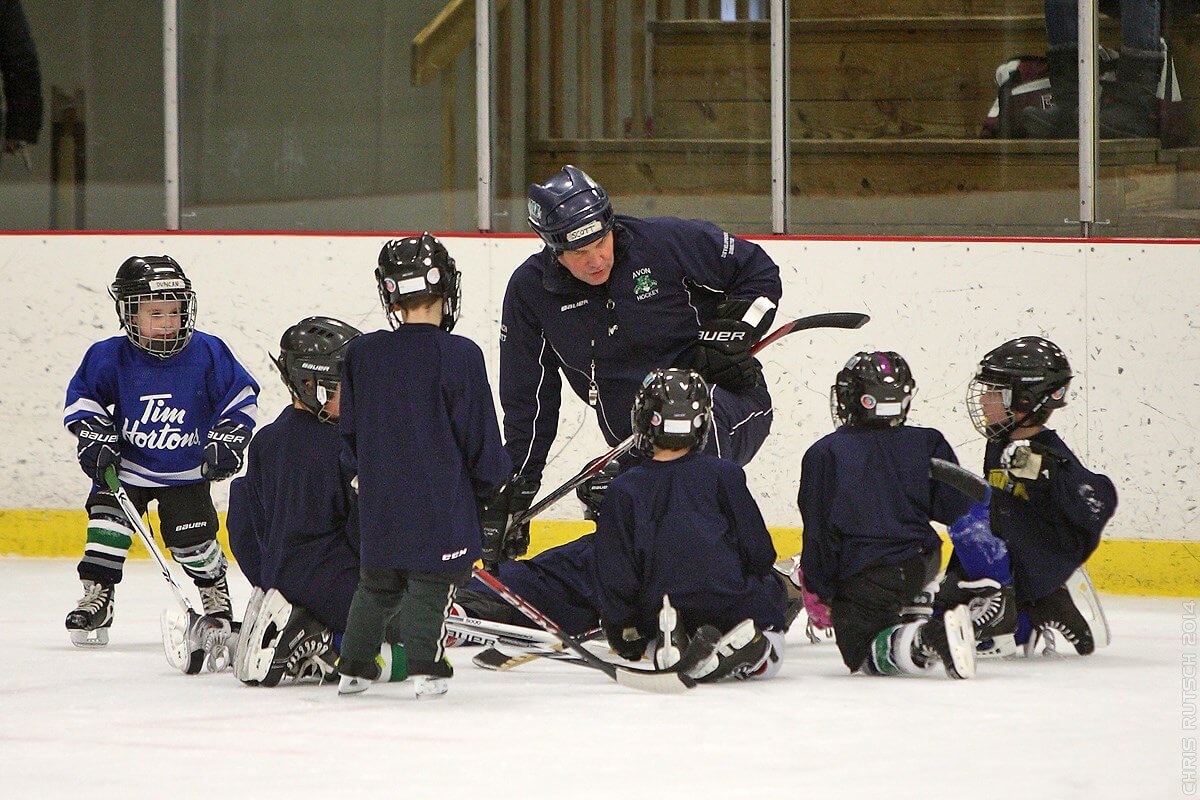 So, while it might seem really scary to enroll your kid in something you have no way of helping them get better at, first hand, swallow your pride. Just cause you can't do it doesn't mean they can't do it.
Hey, I'm in the same boat -- two of my three kids are better skaters than I am. Not afraid to admit that. The one that I am better than is only four.
Yep. I'm better than a 4 year old.
If you like hockey or if your kid shows interest in playing -- do not delay.
Every rink has a learn to skate program. Every rink has coaches that can be hired to teach your child to skate privately...for kids as young as 4 years old.
My opinion, that's when you should start.
With a couple of years under their belts before competitive hockey starts at 6 or 7, they'll be ahead of the curve cause they'll be well on their way to mastering the most important part -- skating.
But what about the other end?
I think I started taking skating, just skating and not even hockey, semi-seriously at 10 or eleven years old. Yeah, late.
Is that "advanced" age, relatively speaking, too old to start?
The short answer is no.
It's not ideal...but it's not the end of the road either. Not even close.
I mean, by waiting, your kid has essentially zero chance of becoming an NHL super star...but neither do my kids so, from that aspect, we're totally even!
But, really, if there's one thing I hate about ice hockey, it's that it's hard.
My oldest son has so many friends that would LOVE to play hockey on his team with him. He'd love that too. I mean, who wouldn't want to be on the same team as their friends at school, right?
One kid, no joke, wears something with a Boston Bruins logo on it almost every day. He goes to games. Watches NHL hockey more than we do. I mean, the kid absolutely loves Brad Marchand and hockey in general.
If there's a kid at school that should play hockey along with my kids...it's him.
Problem is, he doesn't...yet. And even if he started, it'd be an insurmountable challenge for him to ever catch up.
I hate having to say that.
And it's not that my kids are that good -- it's just that they have such a head start...and will continue to pull away. There's no way to get around that.
My son has 6 years of skating under his belt -- four or five days per week on average. His friend goes to public skating two or three times a year.
It's a fact that they'll never have the opportunity to play on the same team -- but that doesn't mean his buddy shouldn't bother getting started playing ice hockey.
Not for one second.
There are opportunities out there for older kids just starting out to play hockey.
Programs like that aren't something I have a lot of firsthand experience with but I do know that in-house programs exist for kids that are ten, eleven, or even twelve years old.
They're harder to find than the more competitive levels of hockey -- or maybe that's just my ignorance -- but I do know they are out there.
Any medium to large sized youth hockey program likely has an in-house program running within it for the families that don't want the time commitment of travel hockey.
I have nothing against those families -- I totally get it. And it's not that those kids lack the competitive spirit or just lack skill. In-house hockey isn't garbage from where I'm standing.
It's hockey.
And here's the best part -- the kids playing in-house are having a blast.
(No joke -- if men's league were more like youth in-house, I'm coming out of retirement, sign me up NOW!)
It IS supposed to be fun, right?
I mean, sure, it's not very skilled hockey but you know what? They're wearing the same equipment, skating on the same ice, and playing the EXACT same game the ultra-competitive kids are playing.
In many cases, they have the same uniforms and hockey jackets the more skilled players have. They're not a fraud or posers.
They're hockey players too.
No difference.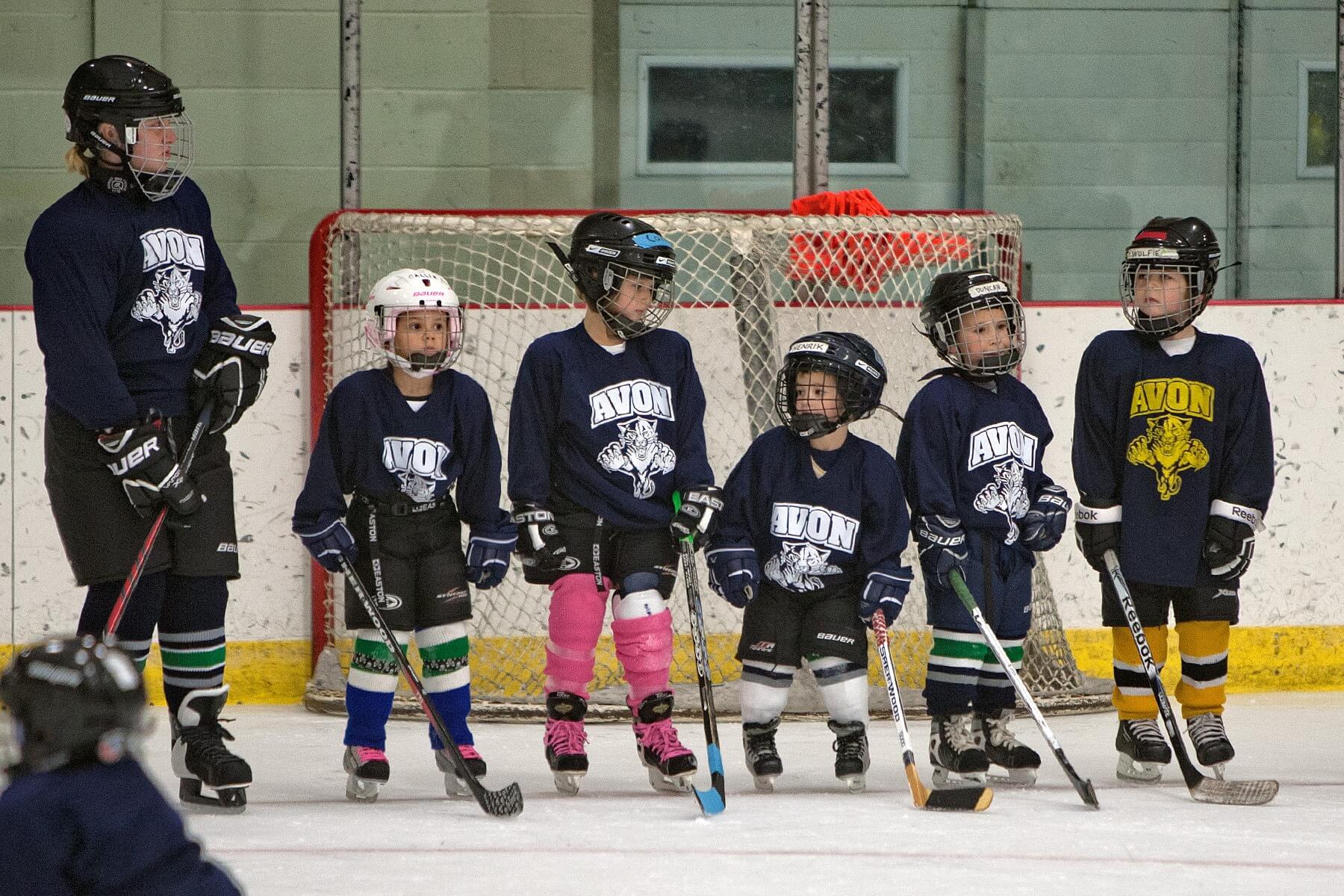 Sure, they're all different sizes but they're all hockey players!


So, for the older set, it really starts the same way.
Hockey, at any level, comes down to skating.
Go to public skate sessions as often as you can. Rent the skates at the start -- absolutely nothing wrong with that.
Maybe sign them up for a learn to skate class.
Even the learn-to-play program my youngest, just four, skates in has kids that are 8 years old in it.
While it may be a little humiliating for them at the onset to be in a group setting with kids that think they're Care Bears or, in my kid's case, the green ninja from Ninjago -- older kids take direction a lot better.
They'll advance very VERY quickly.
Most rinks will also allow older kids to enroll in adult learn to skate classes too -- just ask!
Once they're proficient at skating, you're good to go.
Sign them up for an in-house program and, boom, they're hockey players.
Like, real hockey players.
That very first step out on to the ice with a stick in your hand feels awesome...at any age...even when you're terrible.
Like me.
Legit -- I play in a parents vs. kids game once per year now and every time out feels like that very first day I took the ice.
So, something I wanted to include in this post but couldn't really find a place for was regarding open hockey and/or stick time for kids just starting out.
I've found that EVERY SINGLE skating facility is a little light on details for these on-ice offerings.
I mean, to someone that's new to hockey or ice skating, it almost sounds like it's public skate...but where you can bring a stick and puck out on the ice too.
Sounds like the perfect setting to teach a future hockey player how to skate and stickhandle, right?
Well...WRONG!
Open hockey and stick time are not for beginner skaters.
More often than not, at an open hockey session, you'll have a number of private lessons going on with older players, high school and university aged kids ripping slapshots from the blue line, and some rinks even permit scrimmages to take place.
Point is -- a kid that's still a little unsure of themselves on the ice will be really out of place. And probably in danger too.
Work on the skating during public skate sessions -- hold off on the open hockey.
One rink we used to frequent used to offer an hour of open hockey each Sunday for kids under 10 (and their parents) after I'd suggested it.
It was so great to have my boys out there dressed up like NHL players whacking away at pucks.
Issue was, it was so poorly attended -- as you can see/hear in the video -- that they couldn't justify keeping it going. Shame too, cause it was the perfect setting for them to have fun and learn without any unicorns around.
Hey -- if you think it might be something that might attract a decent crowd at your local facility, rinks are always looking for new avenues, err revenue streams, to bring folks into the building. Might want to mention it.
Like I said, for a short time, it was really beneficial for my kids!
---
Related Articles
» Guide to Hockey Parenting...better.
» Product Review: Sparx Skate Sharperner
» Five Secrets to Becoming a Dominant Youth Hockey Player
» Commitment Levels and the (False) Nickel and Diming in Youth Hockey
» Youth Hockey: Should You Play "Up"?
» Roller Hockey for an Ice Hockey Player
» Picking the 'Right' Youth Hockey Program
» Finding the Right Summer Hockey Camps and Clinics

Agree? Disagree? Let me know -- I love the feedback from all angles!