AAA Summer Hockey Tournaments are Underway!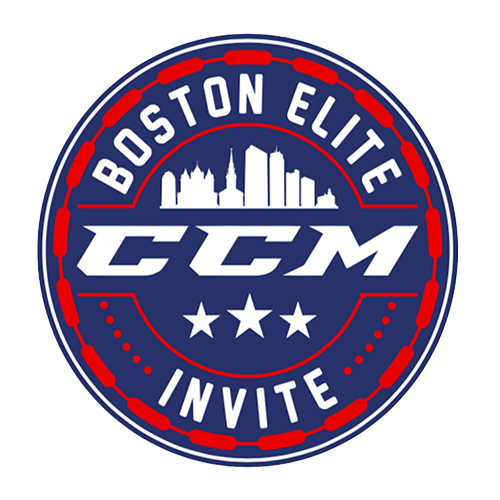 I'm going single out a few tournaments and teams here and might come off a little obnoxious in the following paragraphs and, for that, I apologize.
My aim is not to be mean-spirited.
I just think this needs to be put down in writing somewhere for hockey parents that are relatively new to the youth hockey scene and, perhaps, are getting sucked in to things that, really, most hockey parents are initially blindly sucked in to.
I'm going to lead off with something called the CCM Invite.
Sounds important, right?
Big league stuff, for sure. Your kid probably isn't good enough anyway...
I generally encourage fun and/or skill development when it comes to off-season hockey endeavors and don't want to be a negative Nellie in someone's ear cause, well, nobody likes that.
Like, for real, I hate that guy.
At the same time, though, I hate getting hoodwinked or caught with egg on my face. And, clearly, my older son's ridiculously long and winding hockey path has led me to experience more than a few "Why didn't anyone warn me?" moments.
But now that the annual tournament, the CCM one, in our region has passed, I kinda feel like I can go off on this without raining on any of my hockey friends' parades as, hopefully, they'll have forgotten about this post by the time the tournament rolls around again next month and then again next year.
So, all weekend, my social media feeds were overflowing with "CCM Invite" this and "CCM Invite" that and it had me rolling my eyes.
Like, for many of them, they'd reference "the CCM Invite" like its something prestigious.
Well...it's not.
Fact is -- it's not even an invite.
It's just another in an endless series of generic, very generic, tournaments.
In fact, if you google it, you'll quickly learn that there are probably 30 different "CCM Invite" tournaments across the continent.
Further, for every single one them, *anyone* can register to play for just $1500 to $2000 per team.
Take a 15 player roster and we're talking a little over $100 per player -- or just a tad over $25 per game as most of these tournaments guarantee a 4-game minimum.
Five, if you win it.
If you're super lucky and your division is deep, maybe even 6 games.
And, get this... If you can't find a team to latch on with, you can even register as a "Free Agent" and they'll land you on a team the day before cause nearly every team that attends has a short bench.
How about that?
Anyone can register. Everyone is placed on a team. E-V-E-R-Y-O-N-E.
Breaking it down this way sheds some light. Or is it "throws some shade"?
I guess it depends on how sarcastic I'm being...
Point is -- there's nothing special about the CCM Invite.
Nothing at all.
You pay an entry fee and...you're in.
It truly blows my mind are the folks that participate in these tournaments year after year...and boast about it as if they haven't realized that, well, no matter how they're marketed, they're not AAA or Elite or Select at all.
You pay the fee -- they'll find a bracket to drop you in to.
Guaranteed.
There's absolutely nothing exlcusive about them. At all.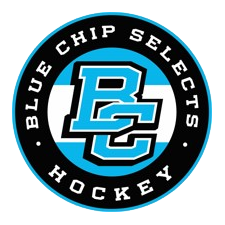 Even funnier is the name for one of the teams that routinely participates in these "Invite" tournaments during the summer in our area.
They call themselves the Blue Chip Selects.
I get a kick out of that everytime.
They even host a "Blue Chip" tournament.
So, I'm sure you've heard the term before but you might not really know what it refers to. A "Blue Chip" is most often a collegiate recruiting term for an athlete that will undoubtedly have immediate impact on team/school that lands them.
It's not a raw talent. There isn't any speculation. A blue chip is a surefire, can't miss, prospect destined for professional glory. The real deal.
Think...LeBron James.
Except that he was so good he just said to hell with collegiate athletics...but, yeah, he's a prototypical blue chip.
So, yeah, I was thankfully spared seeing a bunch of "Blue Chip" posts on my feed this weekend but...they're coming.
I know they're coming.
Probably next weekend.
And I'll share a little secret with you if your haven't already been bitten by my sarcasm...
The kids you see in those blue uniforms?
Yeah, they aren't actually blue chip prospects.
A handful of them actually received frantic phone calls just last night asking if they could maybe show up tomorrow to play in a game.
There's nothing wrong with that really.
Hey man, hockey is hockey. I'll never fault anyone for suiting up for any team but if the team name is something like "Blue Chip Selects", well, don't let it go to your head.
At the same time, there are other teams that routinely participate in these tournaments that are openly "in" on the fallacy, err, absurdity of it all.
The teams with the silly names. Or ridiculous uniforms.
If you've ever participated in one of these things, you've seen them.
It's tough not to crack a smile when you see them on the ice...
Moves Like Jagr
Pylons
Flying Elbows
Nacho Puck
Hockey Balboa
Road Apples
Wild Blueberries
There isn't an ounce of implied arrogance in any of those team names. They're just plain fun.
Hilariously, and probably not by coincidence, these goofy themed teams are usually quite talented too.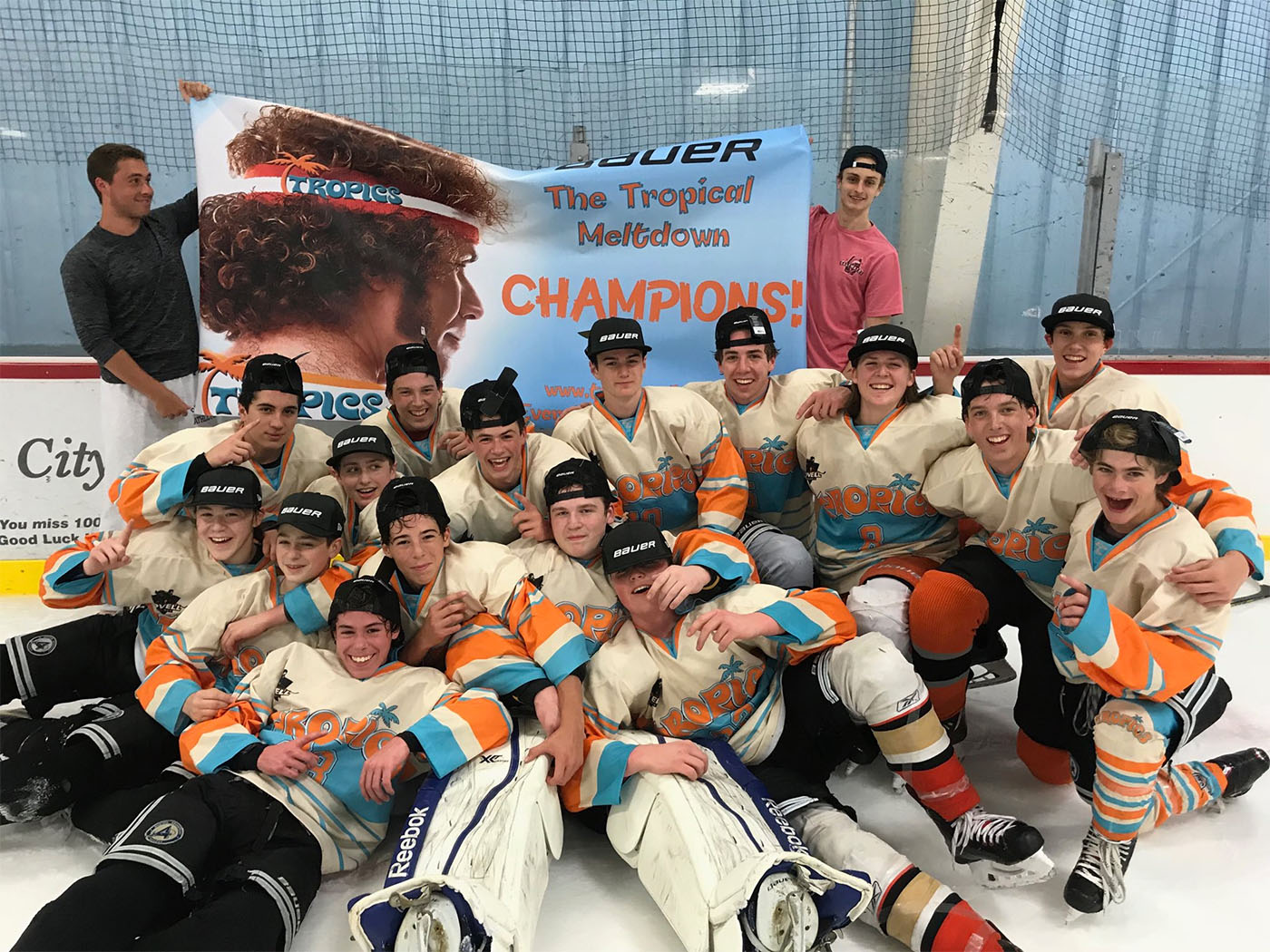 In our neck of the woods, there's a Tropics team that wears unforms inspired by the Will Ferrell basketball movie "Semi-Pro".
Cape Cod Bay, where they're based, is hardly tropical and the aqua blue and orange uniforms with palm trees on them are just as out of place in New England as they were in Michigan in the movie.
Their team name is a joke.
Their uniform is a silly costume.
But, boy, are they ever having fun.
They know the true value of the "Invite" tournaments.
And that's the thing, I mean, I really have nothing truly bad to say about these tournaments or any of these teams.
Nothing at all.
My hand is up. Guilty as charged. My kids have participated in these tournaments and on these types of teams.
They're fun. They're supposed to be fun!
And, for the most part, they are.
So, really, my point is that if you ever do participate in one of these tournaments that has a big sponsored name attached or play for a team with a fancy name that sounds very exclusive, do be aware that folks "in the know" laugh when you talk of it like it's a big deal.
It's not.
It's a fun weekend of moderately and more often non-competitive games during the offseason...and, really, that's all you should expect or take away from it.
In fact, I'd even suggest giving one of these summer tournament teams a test drive simply to experience it for yourself. It's fun!
The greatest benefit we received from participating on these teams and events was meeting new like-minded hockey families hailing from beyond our usual radius and getting to wear some really silly looking uniforms.
That actual hockey, however, was essentially equivalent to playing pick-up hockey alongside and against a bunch of strangers.
The exclusivity of it all is false.
---
Related Articles
» The Difference between Town Hockey and Elite Hockey
» The Buttendz Grip
» The Proper Way to Tape a Hockey Stick
» Points on the Score Sheet Don't Matter..but Keep Track!
» Roller Hockey for an Ice Hockey Player
» Let's End the Youth Hockey Walk of Shame
» Dissatisfied with Practice?
» Training Aid Overload: Hockey Room Essentials

Agree? Disagree? Let me know -- I love the feedback from all angles!