What is "Spring" Hockey?
I've been at this so long that I'm 100% guilty of just assuming parents that are new to youth hockey just...know.
Egg on my face. There was a time that I didn't know...
So, as you're likely being bombarded with social media ads about tryouts and ID skates for teams you've never even heard of -- some at your home rink, even -- let's break this down:
---
Spring Hockey
Spring hockey is usually just a supplemental, and optional, extension to the regular hockey season.
Most hockey programs end in mid-February which, depending on where you live, still feels like winter.
Way too early for hockey to end, right?
Many arenas host spring hockey leagues for youth players and, while some of the teams are near complete winter teams that stick together, most are just handfuls of players from different programs playing together on teams with silly names.
It's low key.
It's supposed to be competitive, yes, but not seriously.
Fun (and ice time) should be the primary goal.
No one is boasting about winning the championship in a spring league. No one. Ever.
Like, if you're the type of parent that gets all stressed out during games and bangs on the glass to get your kid's attention...spring hockey isn't really for you. There WILL be players on the team that can barely skate...and that's okay. My kids get a kick out of trying to get that one kid to notch a goal and, sure, it's tough to watch...but I can't say those Spring sessions haven't improved their game.
Things like puck protection and all around puck movement -- spring hockey is the ideal setting to really improve those.
If extending the length of the hockey season is your thing, use it. That's spring hockey's main purpose.
Some places have full blown leagues with skill-based divisions, some do 4v4, some have half ice 3v3 leagues.
Lots of options out there.
For most -- it's just games. No practices filling up your schedule.
Point is, it's fun...and it's continued hockey.
Tournament Teams

Tournament teams are just that -- teams that play in tournaments.

Most of the time they don't even practice so it's plausible to play for a team out of St Louis...in Las Vegas...when you live in Connecticut.

Ridiculous, right?

And that's the thing -- these types of teams are so hit or miss because they're so often just pick-up teams. As the kids get older, they sort of become "invite only" situations so the teams already have a solid idea of the caliber of player they're bringing in but at the mite and squirt level, it's nearly a free for all.

Tournaments run around $200 to $250 per weekend, often times you don't even get to keep the uniform they give you moments before your first game, and it's usually just like a regular season tournament where you get four guaranteed games out the deal. Do the math. It's not really a great deal.

Skill-wise, my kids have gotten almost nothing out of playing for tournament teams but they're a great way to get your player's name out there and greatly increase the size of your hockey circle, almost instantly, provided you don't just send them out there as an anonymous nobody.

As the players get older, connections are everything...and that has a ton of value.

Just this past weekend, my oldest son added a player from Germany and four kids from Florida to his circle (we're based in Connecticut)...and, in the grand scheme, he only played 4 games with them on a tournament team...but would gladly play with any of them again.

And, get this, already the kid from Germany has asked if we're playing in a tournament in France this coming May. Thirteen year old kid's contact list is epic...and those contacts will absolutely present opportunities in the future.
Brick Series

These are just glorified and over-hyped tournament teams.

Same deal, they enter all of the same tournaments as regular tournament teams...but these teams tend to have a more formal tryout process and might even have a handful of practice "weekends" that run up to the start of the tournaments they're entered in.

Boston Junior Bruins, Connecticut Junior Rangers (CJR), Team Alberta, LA Selects, Minnesota Blades...you've heard the names.

Our experience has been with the Jr Bruins -- we got a peek behind the curtain -- and lots of people in our circle have dabbled with CJR.

I don't want to put down these teams...lots of great talent, all-star teams of sorts...but the tournaments are the same as tournaments everywhere else.

They field very (individually) strong teams for 7, 8, and 9 year olds as a pipeline to their future 10-year old Brick teams.

Many of the programs also offer post-Brick teams too for 11 and 12 year olds. Those are simply a money grab for folks who missed the train but want to pretend they're elite.

Just sayin'. Those "in-the-know" see right through you.

That said, like I alluded to earlier...connections are everything. If you have a 7 or 8 year old, attend one of these Brick Series team tryouts simply to get your name on a list. All three of my kids have been through the process.
---
Brick Team

So, the Brick Series teams are all amping up for their "Brick" team. The Brick tournament is an annual tournament that takes place in the West Edmonton Mall. Sounds cooler than it is. Or less cool.

People made fun on the Hartford Whalers for playing in a mall. Reality, though, the area was adjoining a mall. This tournament has the ice surface, literally, IN the mall.

Making it even less cool, if you're not Canadian, you might not be familiar with the Brick.

It's a furniture store chain. Yeah, not cool at all.

Anyway, it's self-proclaimed itself as the tournament of tournaments for players that are 10 years old. Hype grew and, yeah, based on the rosters that this tournament, it really is a who's who of ten year old players all on regional all-star teams. Needless to say...lot of one man shows.

So, here's how it works -- you play for Brick Series teams as an 8 or 9 year old to get your foot in the door. If you're really skilled, you might stick around for that 10 year old team if they don't bring in some last minute talent to bump you from the roster.

It happens -- crazy hockey parents really buy into the hype and will travel hundreds (or thousands) of miles to get their kid on one of these teams. For the Brick year call back night, my kid was the ONLY one in the locker room that didn't have an airline luggage tag on his hockey bag.
---
Quebec Team

Quebec teams are teams that have a bid to compete in the Quebec International PeeWee Tournament played annually in Quebec City.

Teams from all over the world compete in this one and, as someone who bought in to the Brick Team hype and learned what a farce it was...I didn't actively pursue a program for my kids to play for in this one...and I still secretly regret it.

Perhaps with my youngest, if we find a group we really think we can go places with. My older two were in the wrong place at that age.

I will say, though, this tournament is a much bigger deal than the Brick tournament.

Skill at 10 years old means absolutely nothing. So many players peak at 10. I've seen so many players "evaporate" after squirt hockey.

Skill at 12 years old is a better indicator of what might be to come, I think.

That said, as my older kids have gone through this age group, I'm sad to report that these teams are also not "the best of the best."

They had tryouts and ID skates and kids playing with the wrong color helmet or gloves. Normally, it's a regular season team with some "all-star" players from outside the program to supplement. I'm good with that...but there are so many back door deals and kids getting added to rosters that have zero business being there, even at this age.

Remember when I said connections were important? Yep.

Best 2009 player we've every crossed paths with (at a Jr Bruins practice weekend!) -- will play D1 hockey, without a doubt -- didn't get selected.

One of the least skilled players on one of my son's low end AA regular season teams did. Chew on that.

It's an ego thing (and an awesome experience if you've never been to Quebec City -- so much nicer than Edmonton)...but, again, not representative of future accolades on the ice.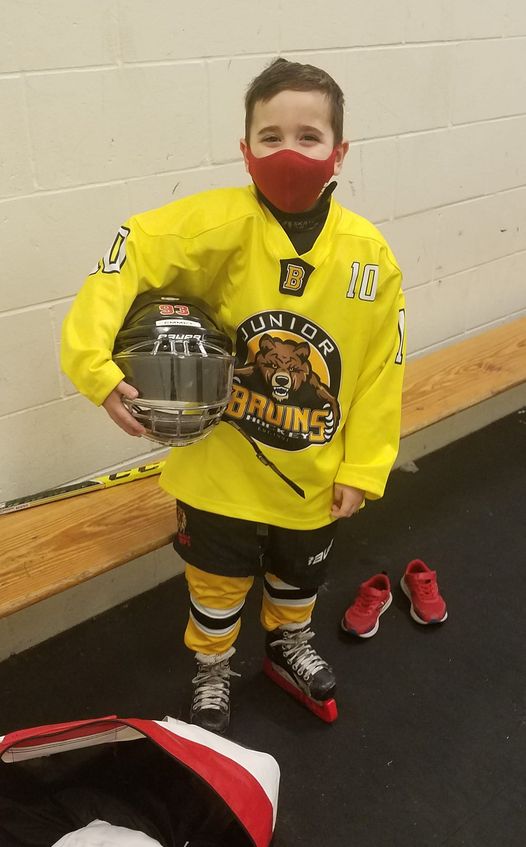 So, in a nutshell, that's what "spring hockey" is.
If your kid is gung-ho about hockey, you should do it.
If you're playing the long game, definitely sign up for a tournament team just beyond your region as a mite or squirt -- to get your name out there as someone who is committed.
Playing just one tournament for an "elite" team (even if your player isn't really elite) can instantly put you on a short(er) list of players seeking to play at a higher level.
Come February -- I'll be getting calls and emails asking about my peewee and bantam's availability for spring and summer tournaments through August...which I'll politely decline.
Make that January... My oldest apparently already has a roster spot being offered to him on two teams...with a discount too! Woo-hoo! Offers come in earlier every year, it seems.
A better value that will pay more dividends down the road is to skip over spring hockey entirely -- which is why we decline these days -- and use the money, instead, on private lessons and specialized clinics.
Those will make your player far better than 4 meaningless games with a handful of strangers over a weekend in April.
And they cost less too.
Even better, they're on your schedule...and those of us active in youth hockey know that free weekends are few and far between.
Lastly, pro hockey parenting tip... If you don't know what something is...find a parent of a teammate with older children playing hockey...and ASK THEM!
What's an ID Skate?

Is it the same as a tryout?

How do you get "invited"?

What's a showcase? Is that just a tournament?

Is this all just total BS?
Dollars to donuts, you'll get an unfiltered and hype-free answer that they'll be happy to deliver.
---
Related Articles
» Update on the Shot Velocity Goal
» Don't Barf: Prepare for Game Days Properly
» Will the 2020-21 Youth Hockey Season even Happen?
» Youth Hockey Nutrition, err, lack thereof
» Too Late to Start Hockey? Or too soon?
» What to Expect at a USA Hockey CEP 1 Coaching Clinic
» The December Doubts
» Tiers In Youth Hockey Explained. Well, sort of...

Agree? Disagree? Let me know -- I love the feedback from all angles!