Review: Duskocy Power Hockey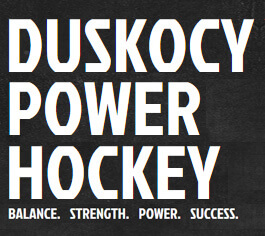 Though he never really took an extended break from the ice, Duncan hadn't played hockey for a few months when he signed up for "The Sunday Skate" coached by Adam Duskocy during the summer of 2014.
He'd first met Coach Duskocy with the CT Werewolves a couple of months earlier and he was a huge asset to Duncan's development at the time.
With summer vacations already scheduled, Duncan was only able to attend three sessions and I was a little hesitent to sign him up as I wasn't sure if it was geared to kids at Duncan's level or age, barely 5 at the time, but Coach Adam assured me via email that he'd be fine.
And he was right.
Duncan was certainly amoung the youngest in the group but this was his first experience where there wasn't a single kid slowing everyone down.
No pucks on the ice but Adam kept the kids moving non-stop barking out encouragement the entire time. Almost like a personal trainer on ice.
I'd never seen Duncan move so fast or take corners so tight. In fact, I haven't seen him do that since.
A couple of months later while heading into a Friday night public skate session, we crossed paths with Coach Adam as he was coming out of the arena following what I'd assume was a men's league game.
Literally, in the two seconds we held the door for him to get his hockey bag through the door, he made a point to say hello to both me and Duncan, even shaking hands, as we walked by.
I'm by no means a hovering parent. I don't seek out the coaching staff. I don't stand on the bench during practice. In fact, I try my best to blend into the walls so the fact that he recognized me was a little surprising.
Further, I'd bet, given a second more, he probably would have been able to pull Duncan's name out of a hat too.
Considering it was just 3-sessions of skating and maybe 2 practices with the CT Werewolves over a timespan of 7 months, that fact that he recognized my 5 year old (without his helmet or any gear on) left an impression on me.
Pretty impressive for a guy that that's President and Coaching Director for an entire youth hockey program... that Duncan doesn't even participate in.
I know that as my boys age, more and more hockey camps will be available to them but this one is by far the best one we've attended for the "pre" mite age group.
High pace, hard work, and fun.