Situational Game Awareness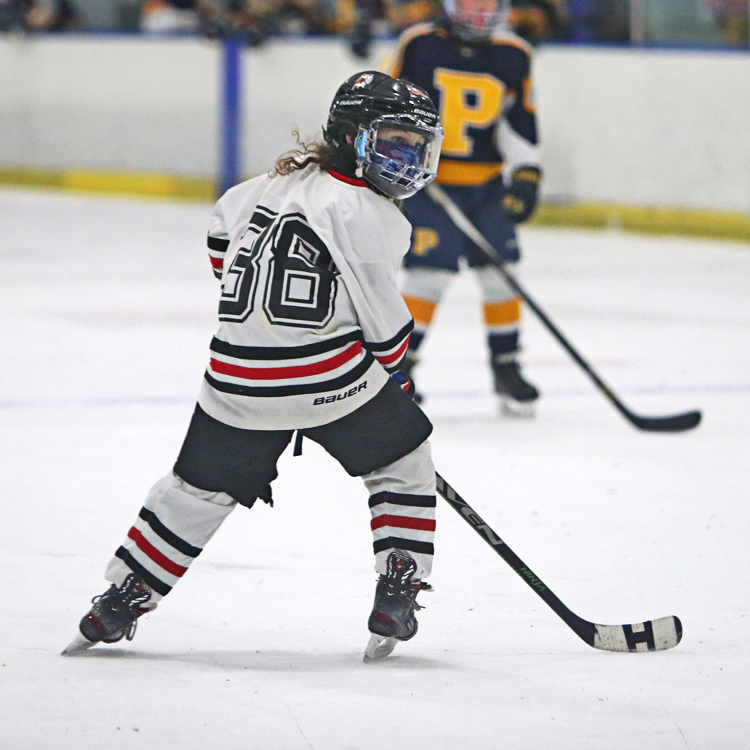 One of the most frustrating things for my kids when it comes to off-season hockey is playing alongside kids that have either never been coached at a high level or their grasp of the game aligns nicely with how hockey is played in video games or movies.
They just don't "get it".
I'm gonna be really blunt here -- the flying V breakout utilized in the Mighty Ducks movies doesn't work.
And the knuckle puck is not a thing.
And Iceland has never once, in the history of the world, been the "bad guy". Like, ever.
Using your head is an unheralded part of the game -- and has been for a long time -- but it's outrageously important as the kids get older.
It's not a talent thing -- many of these players are more talented than my kids ... but they don't think when they're playing the game.
Classic dumb jock stereotype? No, not really. Sure, there will always be puck chasers that score a ton of goals but this is deeper than that.
Here's a great example.
My son is the player in red that lines up as the left wing in a shorthanded defensive zone faceoff.
Not very exciting, huh?
I'm going to guess that a majority of the 10 players you see in this video are treating it like any other faceoff. And for non-hockey folks, sure, that's exactly what it looks like.
Some of the players might be thinking, "Okay, we're shorthanded" or "We're on the powerplay" but I doubt it.
Based on the actions as the puck is dropped, though, it doesn't appear any of the players really had a plan thought out or had analyzed, internally, the situation presented in front of them.
Just another run-of-the-mill faceoff.
Like, nobody moved.
Overall, there wasn't any glimpse of a faceoff strategy.
None.
For either team!
(If you're not sure what you're looking at in the video, or what you should be looking for, no worries, it'll make more sense a bit farther down.)
Defensively, the red team's defense in front of the net didn't tie up the wing, rather, casually drifting back beyond the far post. The wing, also on the inside, didn't pressure the point. The center won the faceoff and provided some interference -- that was good...for a moment. Goalie looked solid and ready.
Offensively, the team in the dark jerseys ... yeah, c'mon guys. You're on the power play on an o-zone faceoff!!! Two on the puck!?!
Same deal for both teams, though, either undercoached or underthinking.
My kid -- that received the puck after the face off -- knew exactly what he was going to do if the puck came to him.
I'm not saying that to brag. I'm saying that because I see it over and over in some players and completely nonexistent in most players.
It's a skill that he was coached, yes. But he's also aware enough to know when to employ what he's been taught. This was one of those situations.
He gets criticized far too often for making smart, un-noticed, plays like this all the time -- often instructed to, instead, ice the puck or dump it.
But he made the correct play here. And he should do that every single time the puck ends up on the blade of his stick in this situation.
It's frustrating for him cause his plays like this go unrecognized. Un-valued.
To almost everyone, this was a nothing moment in the game. As a parent watching, I've seen this specific team cough up goals in the final seconds of periods so many times...cause the kids are still trying to force plays when there's a 0% chance of success. Why?
Situational awareness matters.
I'm at a loss, of late, as it's a part of the game that's not taught or, perhaps, it's a part of the game that's too advanced -- mentally -- for a majority of youth hockey players. So much dumb hockey.
He knew it was the second period.

He knew the score was 4-4.

He knew his team was shorthanded.

He knew there were only 17 seconds left.

He knew his team had around a 0% chance of scoring, you know, being shorthanded and deep in their own zone.

And he knew the opposing team had a way higher chance of scoring cause, duh, they're on the powerplay with an o-zone faceoff.
His plan?
Kill the clock.
All 17 seconds.
Never even allow them a scoring opportunity.
Whatever you do, don't ice it and put yourself right back into the same disadvantageous situation, you know, shorthanded and right back in front of your own net.
That's smart hockey.
Details matter. Possession and puck protection are the name of the game.
As his center won that faceoff back, with a purpose, he killed ten seconds skating back and forth and then he took the puck right behind his own net -- a spot where it is impossible for the opponent to shoot from -- and pinned it to the boards with both of his skates and prepped to be crosschecked.
The issue?
His own teammate (!?) dug it out from where he had it pinned behind the net.
Four seconds left and that player threw the puck out in front, you know, to an area where the opposition can score from. With 4 seconds left.
See what I mean?
Smart hockey vs. dumb hockey.
You ever seen a kid get all wide-eyed and shoot at an empty net from their own zone? Yeah, that's dumb hockey.
It's hard to watch too cause the kids aren't dumb. I know they're not. They just don't realize that, I dunno, they're allowed to use their brain and their muscles at the same time, concurrently. It's like there's some sort of invisible border.
The best youth teams in the country aren't filled with the top snipers or the kids with the heaviest shots. They're filled with the kids that know what to do and when to do it -- that's their big advantage.
Earlier this season, one of my son's teams played against one of the top teams in the country at their age group. They were faster and more talented than us, from top to bottom, no doubt, but that's not the reason they shut us down entirely.
It was their smart style of hockey.
We changed our d-zone strategy after the first period, only down 1-0 at that point, and it took them less than 30 seconds to recognize, assess, and then adapt to what we were doing to try to neutralize their attack.
It wasn't their skill that defeated us -- though that would have beat us all on it's own -- it was their intelligence that absoutely steamrolled us. So many backdoor tap-ins.
They were playing chess while we were playing checkers.
Final score was 11-0. I don't think we even registered a shot on net because they knew exactly how to defend everything we tried against them. And they knew how to prevent us from gaining possession of the puck. And, certainly, never gave us any opportunities in high percentage scoring areas.
Their entire roster would have known to kill the clock in the situation in the video.
On my son's team? He's seemingly one of the few NOT just trying to score all the time.
Now, I'm not saying my kids don't make dunderheaded plays.
My kids, absolutely, make all kinds of mistakes on the ice...but it's almost never a brainless moment.
My oldest had a coach that preached for the kids to "Make a Play!" or "Move the puck!" and wouldn't criticize or punish them when their "idea" of a play backfired, even catastrophically.
I worded it a lot more eloquently here.
I can think of numerous instances where my kid, a blueliner, would send or call to receive a d-to-d pass and it'd be intercepted and taken all the way back on a breakaway and, often, result in a goal against.
The message on the bench was generally, "I know what you were trying to do there and it was the right idea -- move the puck to the player in open space or with a better line to the net -- but you need to be aware of where their guys are too before you make that pass."
It's a good play that didn't work but he was teaching the kids, maybe inadvertantly, to make better decisions...faster. As the season wore on, there were fewer forced plays.
That's valuable player development.
A bad play is icing it.
Or blindly throwing it away.
Or firing the puck up the wall right into a sea of shin guards.
And dumping it in the corner, 20 seconds into an even strength shift, is not making a play. Ever.
And it's not making anyone better either. It's just promoting and prolonging more dumb hockey.
My most favorite part of this sequence, though, comes right after the buzzer. Here's the video again, starting at the buzzer:
My son called his teammate over, the one that dug it out, to explain what he was doing -- killing the clock on a piece of the ice the opponent could not score from.
And it was one of those lightbulb moments -- I'd bet that kid will be hyper aware the next time he's in a similar situation -- you know, when you have no chance of scoring but can also ensure the opponent doesn't have a chance either.
I'd even bet that kid pins the puck to the wall himself in a future game.
It's a shame that an 11-year-old had to coach that.
But I'm proud that my kid, while having a dismal season, is still trying to make the players around him better while his own game (and confidence) crumbles. He'll be a great coach someday.
Hockey isn't a north/south game. It's not about rushing down the ice and scoring goals.
It's about using your brain and making the right decisions at the right times.
The mental game is pretty important outside of hockey as well cause, don't forget, hockey is NOT life regardless of what some silly overused hashtag says.
---
Related Articles
» COVID 19: No, hockey has not been unfairly targeted.
» Snobbery in Youth Hockey?
» White Hockey Equipment. No, just...no.
» A Better Penalty Shot Technique
» Curing the Hockey Bag Stank
» Review: IPH Hockey - Private Coaching and Lessons
» Review: Junior Bruins Training & Evaluation Camp
» Finding the Right Summer Hockey Camps and Clinics

Agree? Disagree? Let me know -- I love the feedback from all angles!