Make a Play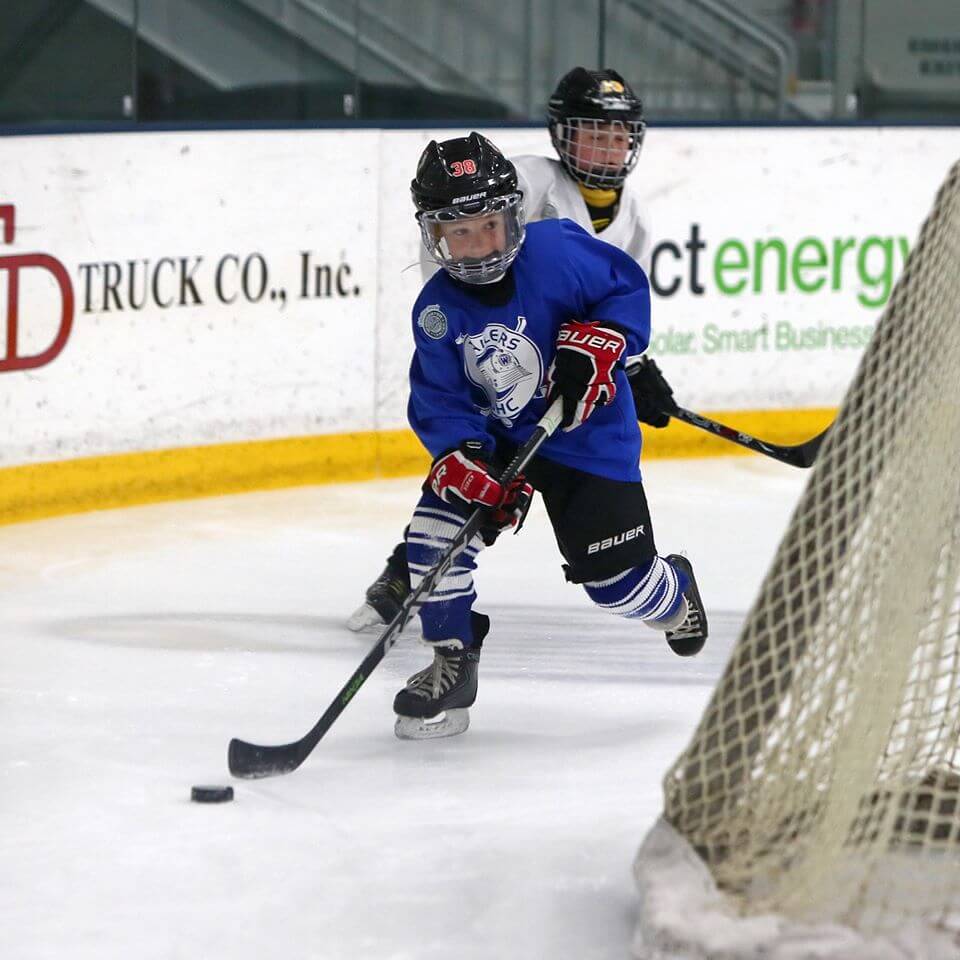 Frustrating sometimes watching youth hockey...
There are players out there with so much confidence with the puck that they'll just carry the puck, excessively, right into traffic, never once considering making a pass.
At the other end of the spectrum, there are tons of players that are essentially just playing tennis.
One touch possessions, whacking at the puck.
They make no attempt to carry the puck. None.
I guarantee that you can instantly think of "those" players on your son or daughter's team. Every team has them.
BOTH types of play are bad.
Equally bad.
The first group stems from coaching the kids to get the puck, carry the puck, and take it to the net. Some kids latch on to that far too much.
Often times, their parents even over reinforce that type of play under the impression that they're little player is carrying the load of the team since they have the puck on their stick so much.
More time with the puck on the stick always leads to more goals, right?
Wish it were that simple...
The second group also stems from coaching. What these players latch on to and hear the most from the coaching staff is for them to move the puck!
Clear it!
Bank it off the boards.
Send the puck to open ice!
In a lot on instances, these kids are just as skilled with the puck as the puck hogs.
So much talent squandered...for both types.
One of my sons has played defense for a long time.
To be a super successful defenseman as a mite hockey player, you just need to be able to knock pucks away from attackers and/or fire the puck high off the boards to clear the zone. It's as simple as that.
As a peewee, though, that's not good enough.
The result of that style of play is either an icing call or a complete waste of a possession. By "clearing it", you're just giving the opponent another opportunity to come back into the zone.
That kind of play isn't welcome.
Turnovers lose games -- my kid directly assists the opposition in scoring at least once every other game, it seems.
Awesome, no look, one-touch pass...to the wrong team.
My other son used to be guilty of holding on to the puck for way too long. Like, basically until someone took it away from him. Since, though, by me pressuring him to move the puck, he's transitioned all the way to the other end, too far, where he's now a prototypical example of a hockey player playing tennis too.
He could have 30 feet of open ice in front of him to skate with it...and he'll still whack the puck right back to where it came from...immediately.
It's hard to watch, sometimes.
The biggest issue is that, to be successful at hockey, it's not a one or the other type of thing.
To be a good player, you've gotta do both...and assess which to do at the correct time.
Eight year olds can't do this.
Most 10-year olds can't either.
And, yeah, even the 12-year olds struggle.
I mean, by 12, the kids that can do it...are the ones playing for elite teams.
I could argue that it's just bad coaching at the onset to blame -- not balancing the two from day one but it's not that.
The kids literally can't make the appropriate decision during the game.
For many, that shortcoming corrects itself with age.
I'm still waiting patiently.
So, if you can only have one or the other, which is better when the kids are this young?
I might be slightly biased cause, currently, as I said, my two oldest fall into the "tennis" player category but I do believe that, long term, it's better to be in that column.
If I were picking an allstar team or creating a depth chart, both ridiculous concepts for kids this young, my kids would be near the bottom, yeah...but here's why it's a better path to start from...
The kids that always have the puck on their stick often tend to chase the puck too. They have an abundance of puck aggression, which is great, but no position. Like, none. You'll see them EVERYWHERE on the rink and that totally works in mites and squirts -- they'll score a TON -- but doesn't work at all beyond that.
Individually, they might still put the puck in the net...but their play will result in a ton of lost opportunities.
The issue is that they still believe that they're "making a play" when, really, they're not. They're playing 1v5 hockey. That's a bad play every single time.
The kids that are "seemingly" throwing the puck away will eventually start making better decisions with where they "throw" the puck. The key is that a teammate has to be in position to receive the pass.
At a certain point, it's not throwing it away -- it's hitting a wide open teammate.
The best player on any team is almost always the kid with the most assists. Like, real assists, not the kid that plays center between two puck hog cherry pickers.
My kid whacking at it and the puck hog taking it in and scoring doesn't mean my kid helps generate offense. He threw it away and benefitted that the fast kid got to it first.
The best player is the kid that makes everyone on the ice with them better.
The kid that generates offense. The kid that can carry the puck...but knows to move it to a teammate, any teammate, with a better scoring opportunity.
To date, I've only encountered two players like this.
Two. Maybe three. Four? I dunno...
Of the 100+ players that my kids have skated with, I can only think of a few that consistently demonstrate that they've figured it out...
They're all are fully capable of scoring at will but have come to the realization that the team will score even more goals if they take on the role of distributor instead of primary scorer.
They don't attempt to put the whole team on their back. Selfless and skilled hockey players are so few and far between.
Do they still hold on to the puck for a bit too long? Yeah, sure, but it's not cause they don't want to give up the puck -- it's because they're still evaluating their options. Quicker decisions will come with age and experience...
These kids use their points -- like, they'll pass backwards.
How many puck chasing players are even aware there are wide open teammates behind them? Not many. None, actually.
I witness it firsthand every single weekend.
You can do drills endlessly that drop it back to a trailer in the slot but 95% of players will never even consider doing it in a game.
These kids do.
They seem to know how to draw defenders in -- they go wide to open up space for teammates -- without a coach screaming at them to. It's not right up the middle to the goal, needlessly chopping broccoli the entire way. You won't see these kids ever trying to "split the d".
They backcheck hard too.
And, most importantly, if the least skilled player on the team is parked at the far post -- they'll still push the puck that direction looking to create a tip-in, sure thing, goal.
Point is, they make the other 4 skaters on the ice with them better.
All of them.
On every shift.
Ideally, this is where I'd like my kids to settle -- between tennis player and puck hog. It's the perfect match of confidence with the puck and the intelligence to know when to give the puck up to someone in a better spot -- and actually do it.
Tough combo to find. Tough to learn. Tough to teach.
As an adult, the best season I ever had was when I played with a guy who was an off-season removed from a professional career.
His name is Kyle Reeds. Really good player, even better person.
(His dad was awesome too -- played for the Whalers and visited my school a few times back when I was a kid.)
I wasn't very good, I'm still not, and he probably hated being on a line with me but he was still, without a doubt, making it appear that I was far more talented than I actually am.
I was fully aware that, while the puck was coming off of my stick last and I was the one getting my number on the score sheet, my amazing skills weren't the reason for my single season offensive explosion. Didn't go to my head at all -- I was probably the most surprised by it all.
I mean, if a role player is chipping in goals with regularity, you know the team is firing on all cylinders...and winning too.
Outside of that season, I'd classify myself as the type of player that tends to panic with the puck and throw it away. I'm a goal per season type of player -- if I'm lucky. I know where my kids get it...
But I'm pretty sure I netted 24 that season.
(Totally lying here trying way too hard to be cool. I'm not "pretty sure" that I scored 24, I'm certain. I'll never forget it.)
I can vividly remember one play where I came down the left side wide and threw a terrible blind backhand pass into the middle...he was breaking up the middle and my, um, sad excuse for a pass was so far behind him but he somehow adjusted and shot the puck in stride, roofed it top corner and, I swear, pointed at me before it even hit net to acknowledge my "amazing" pass.
Anyway, he made me look good cause in every game cause, you know, when I'm over at the far post and have a wide open net in front of me, I can finish like pretty much every hockey player can.
Dare I say it, I probably had more goals than he did...cause he was smart enough to know that he didn't need to go coast-to-coast every single possession like he probably could have.
Relating it to youth hockey -- if my parents had been there, they probably would have thought I was the best player on the team. It's laughable, right?
Scoring the most goals doesn't make your kid the best.
It doesn't.
Kyle could've scored 100 goals all by himself easily. Instead, our team probably scored 150 additional goals cause he knew that sharing the puck would make our team impossible to stop.
Garbage players like me were suddenly scoring threats too.
The assist leader and top plus/minus player is the best -- that was him.
And that's who it is in the NHL.
And that's who it is in youth hockey too.
So, while it's wrong on so many levels to put together depth charts for kids this young, you might want to re-order your own personal one a bit at the top.
So how do we fix it?
One thing my oldest son's coach says a lot lately is "Make a play!" because it's sound coaching for BOTH types of player.
What he really means is "Make a smart play!"
Hey, if you cough it up trying to go wide around a defender, that's okay.
If you try a long stretch pass and it gets intercepted, that's okay too.
Point is -- don't play tennis and don't stick handle into a crowd.
Find a teammate. Move the puck. Make a play.
The teams that are overflowing with players that do this are tough to beat.
I mean, his entire team looked like superstars against a weak opponent that we shutout 15-0. A few hours later, we looked like mites fruitlessly chasing the puck around against a team that knew how to, well, move the puck and distribute.
They were making plays.
We were just throwing the puck towards the offensive zone and relying on individual talent...in both games.
That'll work against weaker teams.
It'll never work against stronger ones.
---
Related Articles
» Review: Boston Junior Bruins Brick Series Tryouts
» Positionless Puck Chasers in Youth Hockey
» What does it mean to be coachable? And why it's so important.
» Skating into the Sunset: When Youth Hockey Ends
» The Level of Hockey DOES Matter
» Hot Take on Year Round Hockey
» Review: Freddy Meyer's Dream Big Hockey Stars Tryout
» Rutsch. How should I pronounce that?

Agree? Disagree? Let me know -- I love the feedback from all angles!