Everyone in the Locker Room Matters
Anytime a group of people are put together, there will unquestionably some that gravitate towards one another and form smaller groups. That's human nature.
There will also be outliers that don't really fall into any group -- usually based on a lack of common interests or even a race or gender line.
That's life.
In a hockey locker room, sometimes it just comes down to something as simple as the position you play. Goalies like to sit together. Makes perfect sense.
In seasons' past, I monitored a locker room where the players were stationed like this: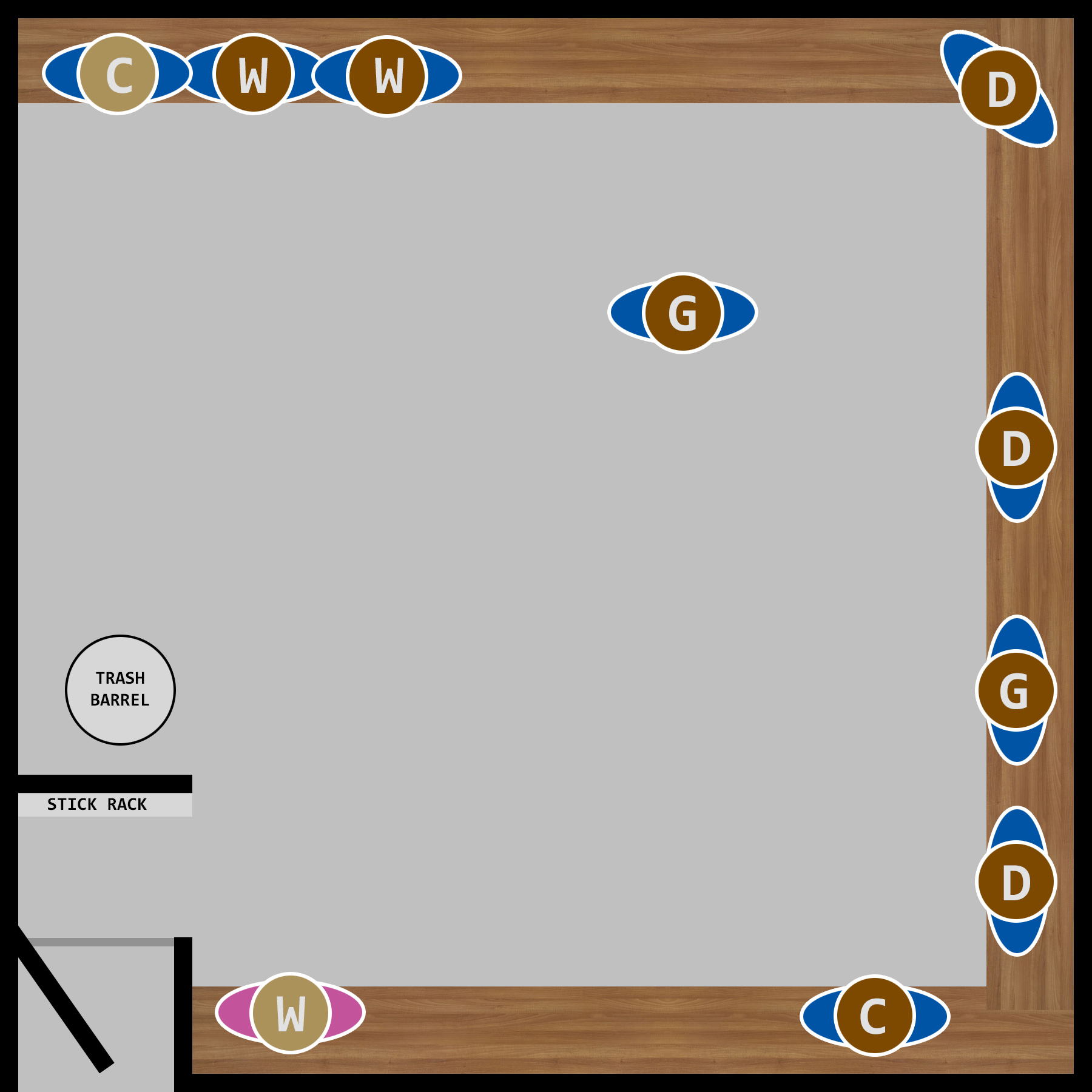 Do you see the problem there?
Maybe not.
At quick glance, it doesn't really look unusual at all...besides the fact that that's a really short bench with just 5 forwards and 3 on defense.
Upon closer inspection, though, you'll notice one clique and a few outcasts.
That does NOT make a team.
The group on the top left all play on the same line -- common interest, common position. Totally makes sense, right?
I have no problem with that -- they're a team within a team and the chemistry is great and sitting practically on top of one another just adds to it.
Now, what if I told you that they also had control of the bluetooth speaker and the phone running the tunes for the locker room music -- with zero input from any of the other players?
Plenty of eye rolling as each new song was queued up and a noticeably indifferent group of players *not* bobbing their heads to the music.
A common complaint, under the breath, so as not to draw attention, was that the music selection sucks.
I asked a bunch of them later, while on the bench. And I agree with them -- the music selection was terrible if the goal was to get amped up for a game.
And what if I further added that the speaker they were using had a strobe light effect flashing across the locker directly at the player across from them?
The trio displayed zero regard for how annoying or blinding that might be for their teammate.
It's okay, in their minds, she doesn't matter...no one really does and that's where it all falls apart.
So much for team chemistry...
The issue in this locker room is that the team had one group of kids thinking that they, ALONE, are the team.
No one else mattered -- regardless of whether or not any of them said anything.
I've talked about selfish play and not being a team player on the ice...but this is a great example of how, sometimes, it drifts off of the ice too.
The other glaring issue, and more troublesome to me, is that there are two kids in the room that clearly aren't a part of the group.
whether it's by their own decision or not, I don't know...but it's wrong in any team sport.
No player should feel like an outcast in their own locker room -- whether they're different or not.
I don't believe there's a bullying issue in this specific locker room -- that's a far worse issue -- but there is an inclusion issue.
A respect issue.
A common decency issue.
And it spills out on to the ice and that affects the entire team.
Drives me bonkers when certain players will only pass to specific players...deliberately thinking their snickers go un-noticed.
We've had that issue in the past and it drove certain players -- members of the trio -- bonkers. Some of those same players are guilty of it now. How soon they forget.
They might not be on your line or your partner...but they're still your teammates.
If they're open in the slot -- pass it to them.
Hockey is that simple.
Every player can finish if given the opportunity. Passing to a, perceived, less skilled player in the slot is a better decision than sticking handling into a crowd of defenders in the corner or taking a shot from a terrible angle.
Every. Single. Time.
By the time a player is 9 or 10 years old, it's essential that players in team sports realize this. It's time to use your brain alongside your skills.
If you want to take all of the shots, take up golf and swing away!
Learning to share the puck, early on, with players in a more advantageous position to score will make you a better all-round hockey player because there comes a time when everyone out there is just as skilled as you are...or, as you advance to higher levels, you realize that you're the least skilled player on the team and no one wants to pass to you. It'll happen.
It's essential to learn to utilize ALL of your teammates to win games.
Some of those kids you think are terrible might surprise you.
They will surprise you.
Seems I'm circling back to my selfish player rant inadvertently again...
Sorry about that -- it's a rampant problem in youth hockey and it ruins the game for so many.
Loosely related -- ever wonder why, today, you so often see defenseman take shots in NHL and international shootouts?
The answer is simple -- they've got more creative offensive talent than you'd think.
I will still never forget how every NHL fan went bonkers when Marek Malik scored against the Washington Capitals during a shootout for the Rangers back in 2005 -- the first season that the NHL went to using shootouts to determine a winner.
Players like Ovechkin and Jagr took shots early on and as the shootout remained tied, unable to re-use players like they can in international tournaments, the teams had to start using their players near the bottom of the offensive depth chart -- defenseman, mostly.
Back then, the teams would select their 5 players to shoot and nine out of ten times, they'd all be players on their top two lines. Selecting a defenseman to shoot in a shootout was super rare and they pretty much never had to resort to using them as most shootouts were decided before the need arose.
But 14 rounds in, Washington sent out defenseman Brian Muir. He scored 16 goals total over a nearly 300 game career...and he beat Henrik Lundqvist cleanly on a penalty shot.
Raised a few eyebrows, for sure.
Rangers countered with fellow blueliner, Jason Strudwick. He netted a mere 13 goals total in over 600 games. Yeah, hardly an offensive threat. He scored too and was quoted afterwards saying, ""I never really thought I would have to shoot in a shootout."
For round 15, the Capitals called on 4th liner Matt Bradley. Solid hockey player for 11 seasons, yes, in a checking role. That's why you've probably never even heard of him. He'd average a handful of goals in each of his NHL seasons. Lundqvist stopped him...as expected, really...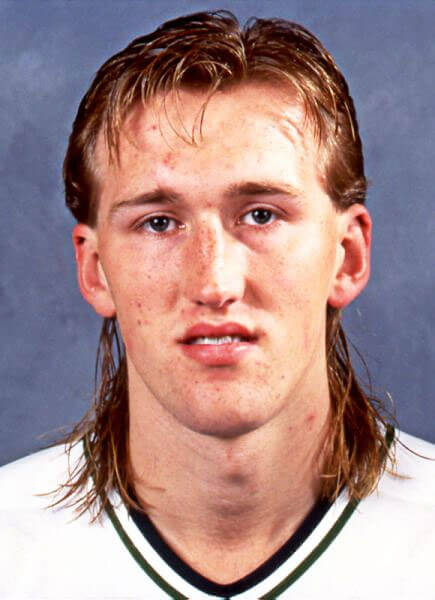 And then the Rangers sent out big lanky defenseman, Marek Malik.
He averaged fewer than 3 goals per season during his career.
I recall when he was with the Hartford Whalers at the onset of his NHL career, we used to wonder how this kid made it to the NHL.
I mean, he was terrible. Even in video games, he was terrible.
Big dude that didn't play with size, often out of position defensively, and he displayed zero offensive upside.
Like, none.
He wasn't even good in the minor leagues -- the Whalers totally should have called up Alex Godynyuk, Jason McBain or Nolan Pratt, players with more apparent upside, ahead of Malik.
Anyway, a decade later, here he is at center ice in Madison Square Garden ready to take a penalty shot -- I'm guessing his first ever opportunity at such a thing.
The rest is history.
So, again, it's all about opportunity. That kid on the team that can't seem to keep up might, just might, have a between the legs shot in their arsenal.
Don't count anybody out.
If you're interested, the full shootout competition is here.
Over the past two decades, I've also had the privilege of being inside professional locker rooms.
Practice, pre-game, between periods, and post-game too -- full access.
(Speaking of pro locker rooms -- if you prefer crappy, err, unique music before a game, you wear headphones out of respect for the rest of your teammates. One professional player, who I won't mention by name, listened to Cher's "I Found Someone" before taking warm-ups on game nights. He'd totally rock out to it. Yeah, try playing that full blast in a locker room...)
Anyway, in a professional locker room, locker stalls are assigned, and that's something that I believe youth hockey should mimic.
Obviously, there are plusses and minuses to this -- no one wants to sit next to the kid with stinky gear -- but I much prefer it over kids just congregating and sitting where they'd like to... strictly as an additional team building exercise.
Start the season alphabetically.
If there are clashes where it doesn't work, switch it up to numerically.
Or change it each month? It doesn't matter -- just put the kids in assigned seats just like they're accustomed to in school.
This isn't a new concept for them so there shouldn't be much, if any, push back.
Force the kids to get to know their teammates...well.
Coaches should be able to survey the room and notice when or where there's an issue -- some kids just shouldn't be next to one another. At that point, change it up.
Point is -- don't allow the locker room to become a room of multiple teams.
A fractured locker room never leads to success.
And don't let kids feel like they're not part of the group.
Team building shouldn't be limited to outside the rink activities -- make it all encompassing.
Time in the locker room is where 90% of the time spent as an entire team occurs -- it should start there.
An added benefit -- for peewees and younger players where gear is so often misplaced in the locker room is that when you're always sitting between the same two players, there's a 100% chance the missing glove is in one of 2 bags.
Puts an end to the frantic scavenger hunt that plagues every parent at one point or another.
Dare I say it, that alone is reason enough to assign spots in the locker room!
---
Related Articles
» Ugh...Youth Hockey Tryouts, Fees, and Scheduling
» Skating into the Sunset: When Youth Hockey Ends
» The Right, errr, Wrong Curve
» Talk to People. Talk to Everyone.
» Make a Play!
» The nightmare that is Youth Hockey Tryout Season
» Broken Hockey Stick Refunds & Exchanges
» The Proper Way to Tape a Hockey Stick

Agree? Disagree? Let me know -- I love the feedback from all angles!