Player Development via the Ref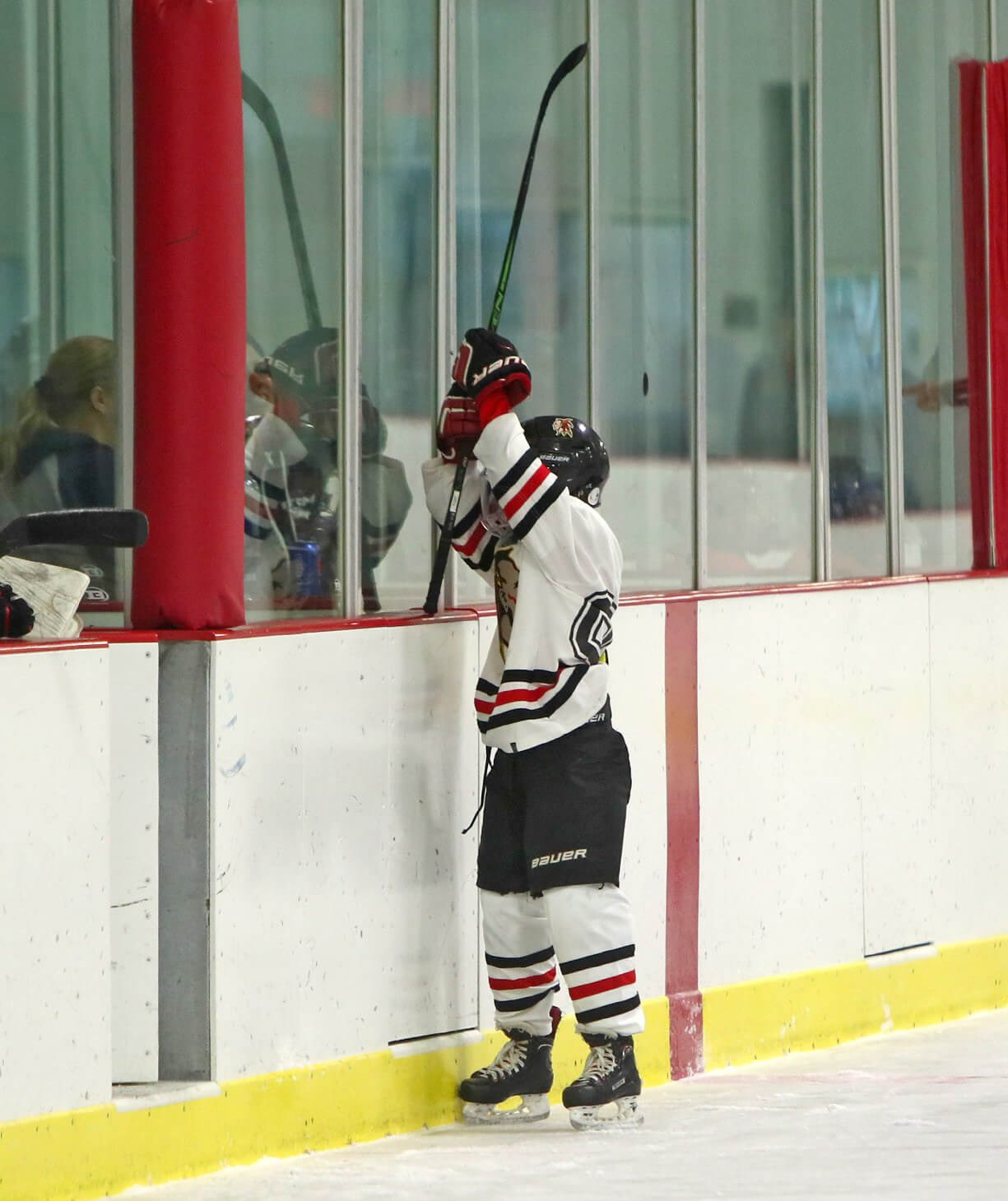 This past weekend, my oldest son was tagged with his first 10 minute misconduct penalty.
He was totally innocent though -- I swear!
I know, I know, I'm his dad...
Okay, so, yeah, it was a penalty but I'm not certain the additional misconduct penalty was warranted...
It wasn't malicious, it wasn't an intent to injure, and, hilariously, the player he made contact with didn't even fall down or lose possesion of the puck on the play.
I know my kid isn't a dangerous player.
Physical at times, yes, but not dangerous or one to attempt cheapshots when the officials aren't looking or after the whistle.
He totally respects authority.
So I didn't have issue with the call. I normally don't -- I'm cool with the officiating 99.9% of the time. so I'm not going to go on a rant about how "bad" the officiating in youth hockey may or may not be.
My biggest concern, when any of my kids commit a penalty, is what the referees say to them as they're escorting them into the penalty box.
That 2-second, seemingly throwaway, conversation can de-rail progression and development and it's often, in my opinion, overlooked from the official's perspective.
I've seen it time and time again -- young kids, in the penalty box, with their shoulders slumped and head down. Some even crying.
It's as if it's a trip to the principal's office or something -- like they're in trouble or that mom and dad will be upset with them after the game.
I can think of nearly a dozen players that immediately "changed" as players -- a few seemingly permanently -- just because of an incidental tripping call where another player happened to step on their stick.
The fire goes out.
It happens that quick.
I wish there were a way, at the mite level especially, to ensure penalties (non-egregious ones, obviously) aren't portrayed as a "punishment" to the kids.
All kids are different and some, unquestionably, take a penalty called on them to heart. Like it crushes them.
Refs officiating the youngest players should be more aware of this. Again, that's just my opinion.
Coaches -- who know their players better than the referees ever would -- should also be quick to let the kids know that it's not a big deal either. Don't worry about it. Let it go.
My kids have been told, on their way to the penalty box, by a few referees that "get it" that their hits were actually textbook...but not legal for a couple more years.
Those referees are nailing it.
One official down in New Jersey even gave my son a fist bump in the penalty box after calling a double minor on him -- following the first time my son took an opposing player out of the game.
He saw that my son was slumping his shoulders over going to the box -- and having apparently hurt someone -- while everyone else on the ice took a knee.
"Keep your head up, kid. It was a great shoulder-to-shoulder hit."
I'm so, so, so thankful for that.
That ref can call my kid for a penalty on every shift -- I wish I knew his name.
On the other hand...another referee in Massachusetts once reprimanded and then instructed my middle son on "how" to take a faceoff.
Prior to this instruction, if he didn't win a faceoff outright, he at least eliminated the center across from him from the play.
Now?
He loses every single time. Every. Single. Time.
He literally just stands there, motionless, looking down and waiting for the the puck to hit the ice before taking a delayed swipe at it.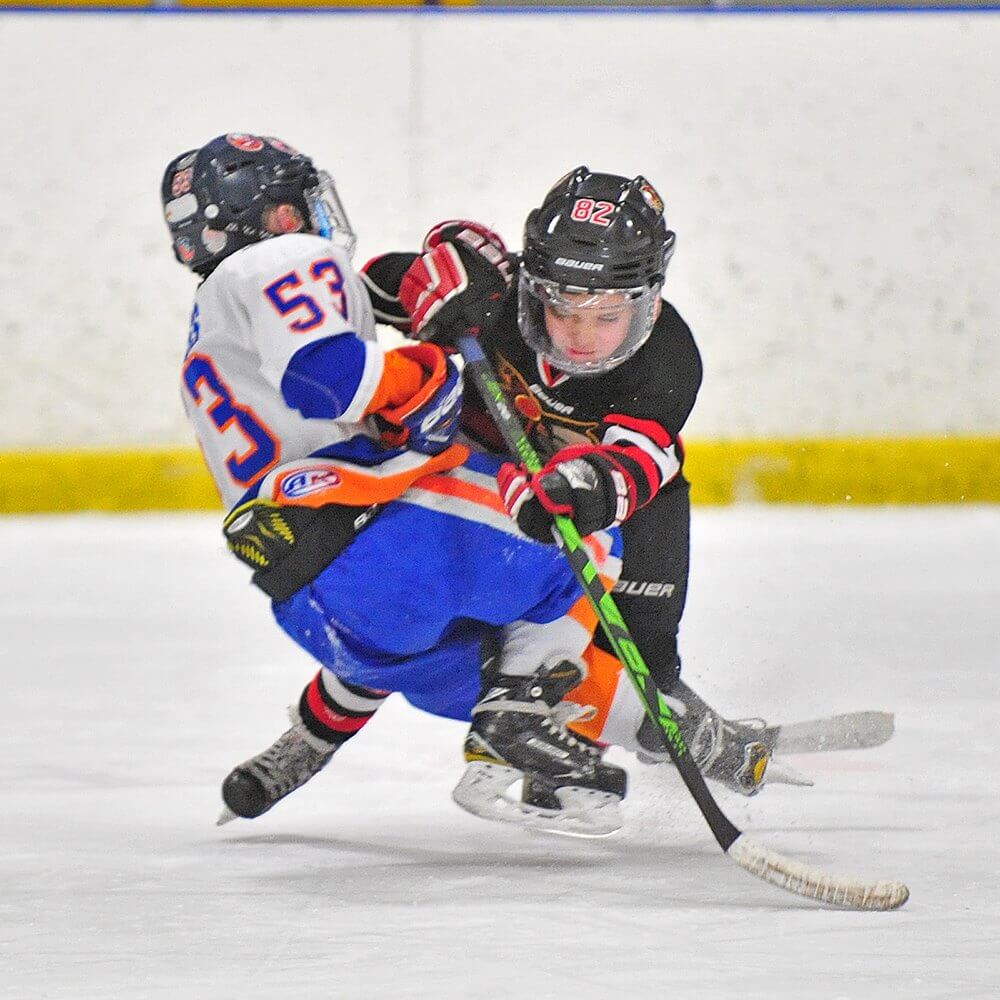 Because that's what a referee told him to do.
One referee. One time...
What can I say? My kids listen...even when they shouldn't.
Prior to this unwanted instruction from an authority figure, he'd swipe and explode forward just as the puck left the referee's hand -- and at the mite level, that catches nearly every kid by surprise.
Did he knock at lot of kids off their skates in the faceoff circle? Yeah.
And I understand that you don't want kids blindly throwing the crown of their head up into the chin of their opponent while making no play on the puck... I don't want that either...but the play "begins" the moment the puck leaves the official's hand.
He squared up, put his stick down, and exploded the moment the puck was in play. That's how a faceoff is supposed to work...
My kid knew that.
He used to know that?
You know, semi-related, I wish referees would throw the puck down -- with gusto -- at every level rather than just gently dropping it like so many do for the younger players.
That was likely the issue -- my son would knock the opposing center out of range before the puck would even hit the ice.
That's on the ref -- NOT the player.
He used to be explosive. Now he's not.
It happens that quick -- a 2-second conversation from a referee, that probably thought nothing of the interation, greatly altered a player's trajectory...for over a season now...because my kid doesn't want to get in "trouble".
That's a shame.
So, back to that misconduct penalty...
As I said, the opponent maintained possession of the puck after "the hit" and play continued on a delayed penalty.
Yep, probably a roughing or the all too common interference call that seems to be used as a catchall these days in youth hockey.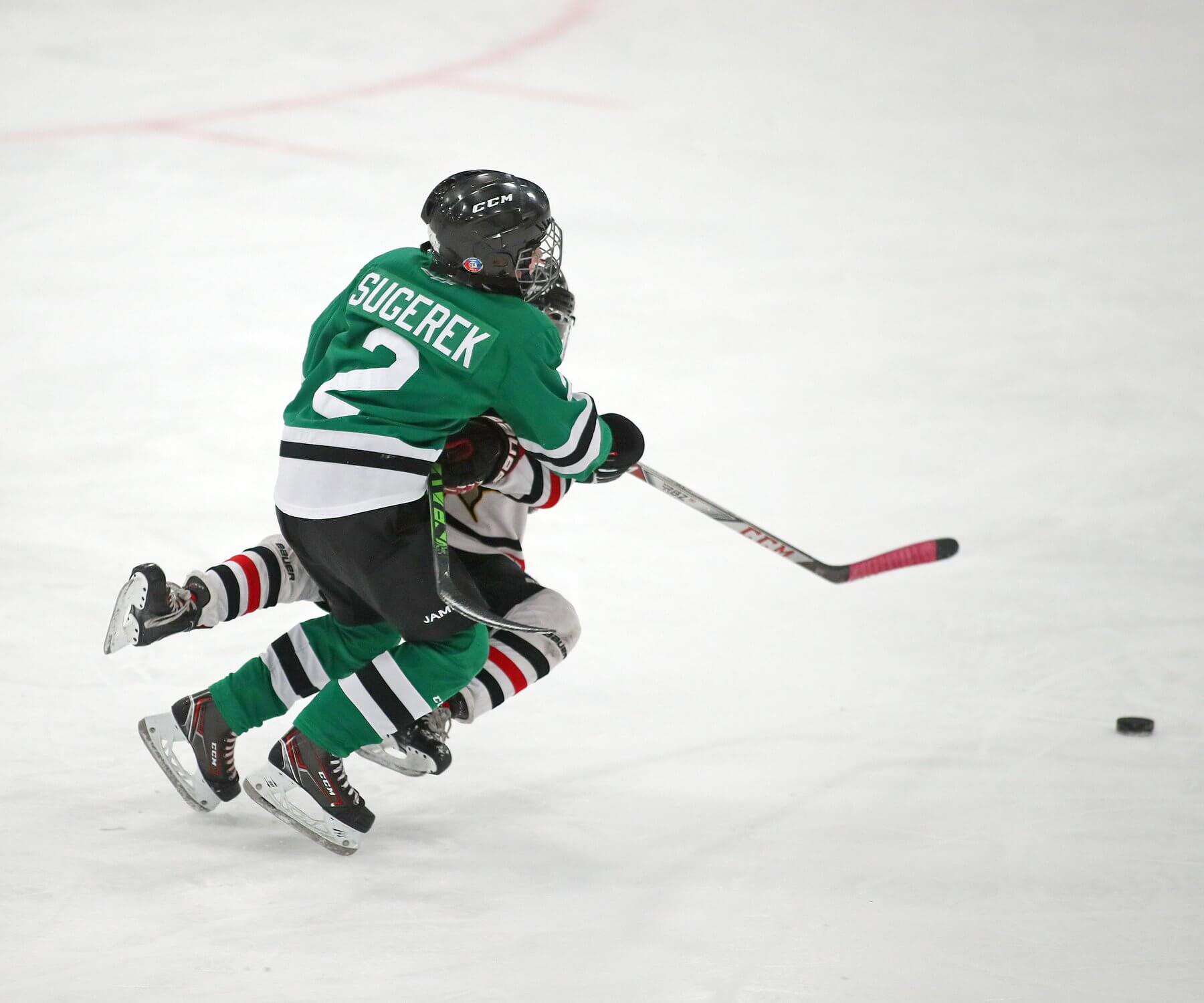 No big deal. Two minutes in the box coming up.
As a parent of a kid that doesn't score a lot, I was happy his number would land on the scoresheet.
My oldest son gets it. He'll go in there, serve his time and play just like he usually does afterwards. I've pre-emptively instructed him to listen to his coaches over the referee after the faceoff issues with his younger brother.
Won't let that happen again.
So he gets in the box and the refs get everyone set for a faceoff in our zone...
While they're waiting for the adolescent scorekeeper to get the penalty up on the scoreboard correctly, the two referees get together...and then one skates over to the opposing bench...which I found odd...but knew what was coming...
An after-the-fact, you know "after futher consideration", two and ten.
Then they go to his bench, speak with the coach, and then another teammate that wan't even on the ice during the infraction confusedly joins my son in the penalty box.
Yep, two minutes for whatver they called...plus a 10-minute misconduct.
Again, not the right call in my opinion but I didn't really have an issue with it. Refs are doing the best they can and it won't warrant any kind of investigation, post game write-up, or suspension cause my kid has ZERO history of this type of thing.
If it ever did lead to that, Live Barn has me covered. Video don't lie. Weak hit, weak call, awkwardly long delay in accessing the misconduct, and an opposing coach audibly, and confusedly, laughing about the added penalty time cause they knew it wasn't warranted either.
It is what it is.
And, honeslty, I was kinda proud. My kid just got a 10-minute misconduct! Anybody have a cigar?
What I did have issue with, though, is that neither referee went to the penalty box to explain the call to the player. Either player, actually.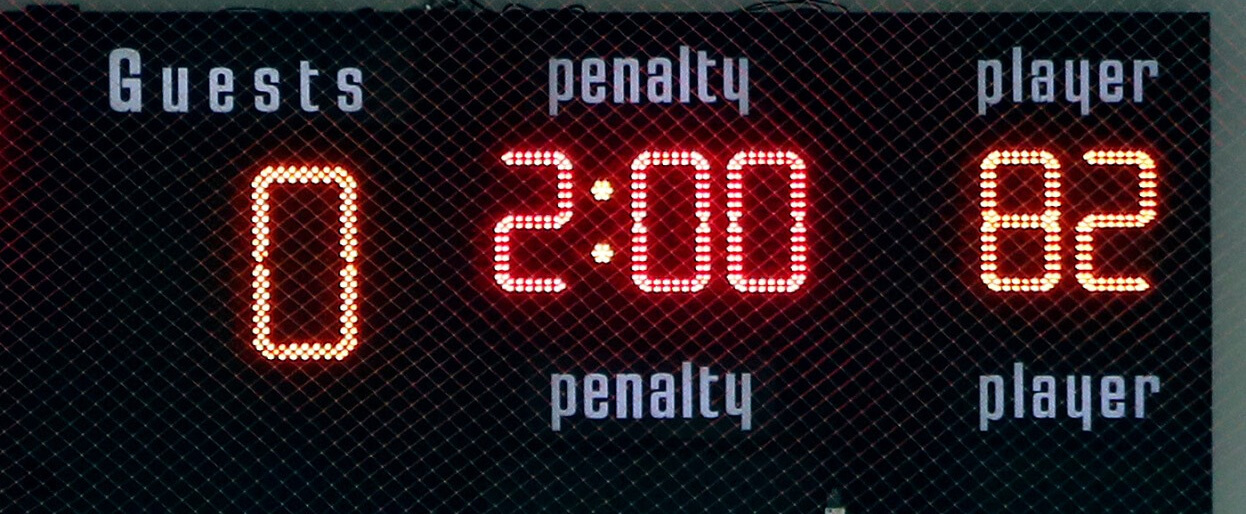 My son's number was up on the scoreboard with 2 minutes next to it. His teammate was now in the box with him -- but their number wasn't on the board. And they hadn't even been on the ice?!
Waiting for a whistle on an expired penalty that isn't even up on the board or sitting in the box for a penalty you didn't commit but can come out on even though it's not your number is really, really, really confusing.
Just re-reading that last sentence has me confused!
I've played in mens' leagues where players can't figure out the penalties, you know, who comes out when and that sort of thing.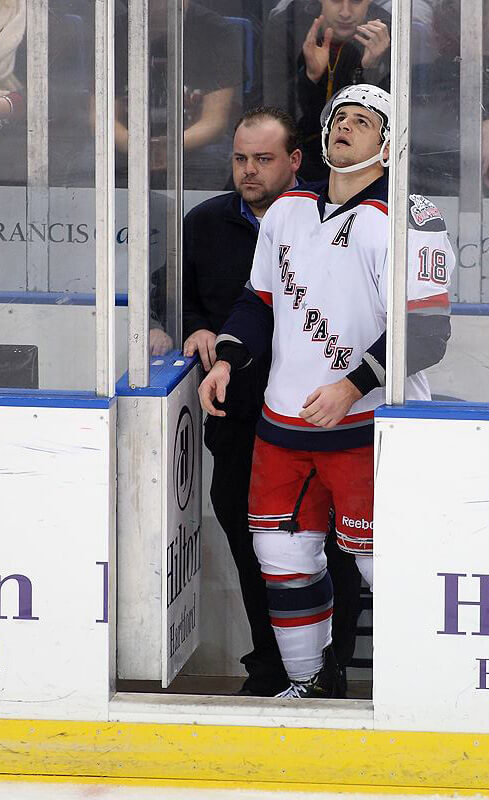 You even see that in professional hockey where the captains from both teams skate over to the referee to get a grasp on what the calls are, who gets out when, and if they need to wait for a whistle. The "conference" usually takes so long that televised games go to commercial.
So my kid had to sit in the box for an entire period and through an intermission. He sat there by himself in a glass for over 20 minutes during which his penalty wasn't up on the scoreboard.
Goals were scored by both teams.
Was he confused?
Of course he was!
I'm talking about 10 year olds?!
His assistant coached leaned into the box to let him know when he could come back out -- but, yeah, that too is the referee's job.
You don't call a ten-minute misconduct and say ABSOLUTELY nothing to the player you're calling it on.

So, now, it might now seem like I'm talking out of both sides of my mouth, right?
Fair assessment.
Do I want the referees to talk to my kids or not?
I do.
If my kid commits a penalty, yes, tell them what the call is and why they called it.
Every. Single. Time.
The officials that call a boarding, interference, or roughing penalty -- all judgement calls in most cases at the youth level -- but acknowledge to the kids on the way to the penalty box that it was a great play for when you're a bantam are doing it right.
Or when they blow a play dead when a mite goes bar down on a slap shot from the top of the circle.
"Great shot kid! Shame it doesn't count yet."
That stuff is awesome.
I've seen that happen before too. Even gaining praise from opposing coaches. I've done it from the bench myself. Encouragement goes a looooong way.
But when a ref tells a young player "not" to angle an opponent into the boards because it's a penalty...
Or makes them feel bad for taking a slap shot...
Or, in my kid's case, not to make a move on the puck until it's too late...
Or they make a kid feel like they did something wrong because someone stepped on their stick...
That's just the wrong tact to take with a young player.
I guess I feel they need to resist the urge to 'coach' the kids. Let the coaches do that.
Like with anything, they need to be mindful of their audience.
Make the call.
Explain the call.
But don't ever say nothing to the player.
As it was happening, my kid had no idea why he spent an entire period in the penalty box. No idea.
And a kid (or adult) that gets punished for doing something they're not even aware they did, well, that leads to a kid with zero respect for authority...and that's bad for everybody.
Coaches in youth hockey are reminded of the influence they can have on a player at every turn but I'm not certain officials are reminded of that too.
They have a lot more influence than you might think.
---
Related Articles
» Unusual Coaching Instruction - No Blocked Shots
» Make a Play!
» Youth Hockey: Should You Play "Up"?
» What to Gain from Summer Hockey Tournaments
» Hockey Salad Days
» New vs. Used Hockey Equipment
» Will the 2020-21 Youth Hockey Season even Happen?
» Review: IPH Hockey - Private Coaching and Lessons

Agree? Disagree? Let me know -- I love the feedback from all angles!