Off-Season Regimen during the COVID-19 Pandemic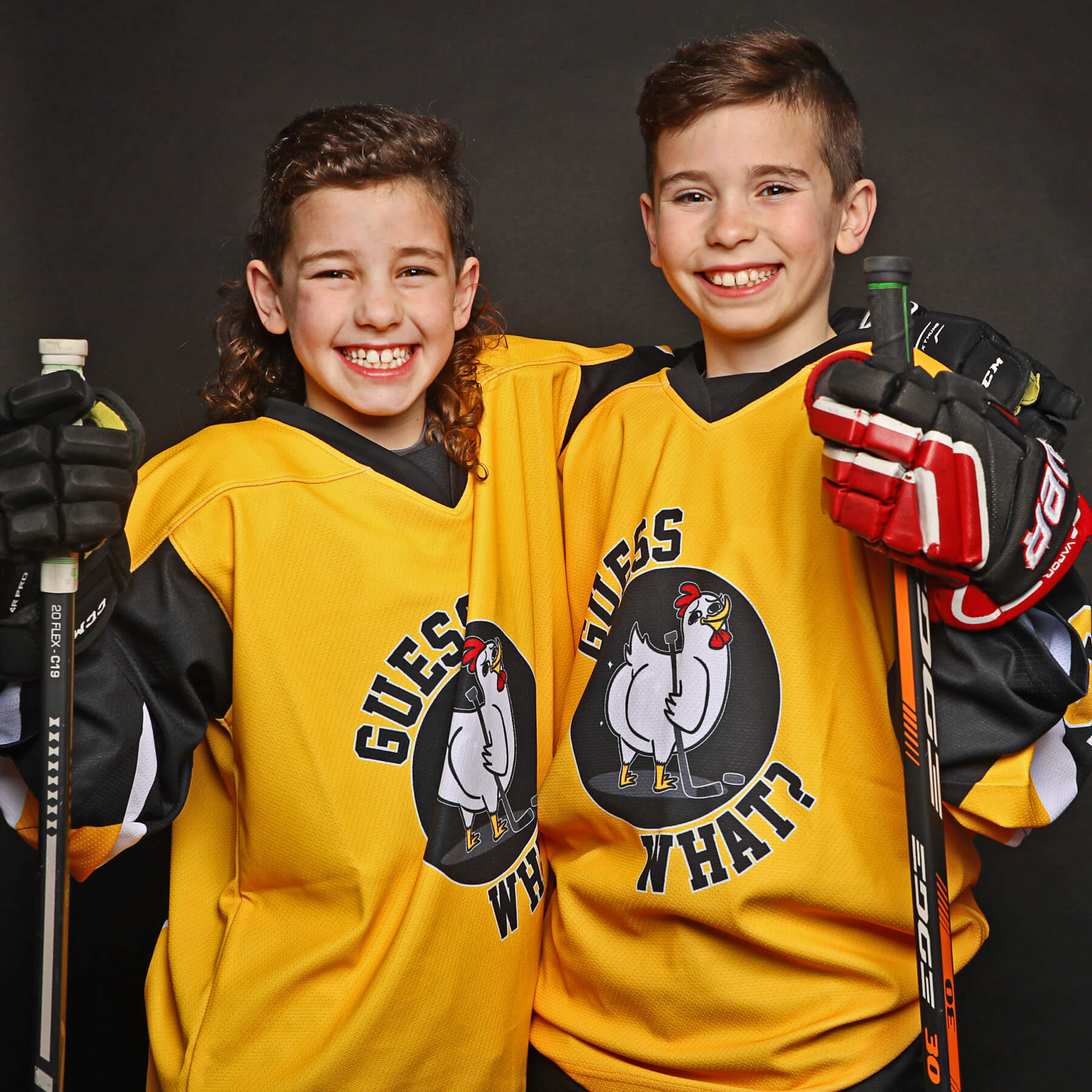 First off, everyone in my hockey family is doing just fine, health wise, so far. I hope your situation is the same.
On the ice hockey front, we were fortunate enough to get tryouts in for my older two boys before the world went sideways and they've already signed contracts for next season. Rosters are set.
I'm thankful to have that anxiety-ridden question mark behind us and really feel for all of the players and teams that are really just in limbo at this point.
So, it is what it is. A lot of uncertainty regarding when/if summer teams and tournaments will even come together and even some doubt that there will even be a regular season like we're used to in the Fall.
On our end, spring hockey was cancelled for all three kids.
Last time they were on the ice was... March 12.
Duncan, my oldest, played in two roller hockey games the following weekend before that season was cut short too.
Henrik's season was still going strong as they'd gone deep into the playoffs... but they lost out on an opportunity to defend a league championship due to COVID-19. Cancelled. They woulda/coulda been repeat champions.
It was a given that they would have won the final game -- mite hockey is sometimes that predictable -- but I do feel bad that he and his teammates didn't get the chance to win another banner...especially since there's been so much turnover on the roster since.
They didn't get to finish it. No end-of-season on the ice team celebration photo to be had. Memory lost.
My youngest, Emmet, was on pace to potentially play on a limited travel team in the fall but with the complete lack of ice time now, I don't think he'll be ready. Like, maybe not even ready for an in-house program.
I'm disappointed, sure, but I'm okay with it as I know he's not alone.
So, now what?
The older ones would have had spring teams playing a couple games per week and private lessons once per week. My youngest would have had weekly skating lessons and been playing two cross-ice games each weekend. Instead -- we haven't left home.
For 6 weeks (and counting) now and it doesn't appear that we'll see an open arena until June...if we're really lucky.
My wallet is thanking me, so far, that much I can confirm.
Sure, we have a few uniforms that we paid for that we'll never get to use, like the ones above, but most of the things I'd paid for in advance have been refunded.
And not having to pay for private lessons is certainly saving me a bundle but, damn, I feel really bad for those guys that depend on that as a paycheck.
I want to reach out and try something "online" and "remotely" but I just don't think it'll be cost effective with my kids at the age they are.
I may change my tune on that if this goes much longer though.
So, instead, it's been Coach Dad in our at-home training area.
Now, my kids are pretty lucky -- we have a dedicated practice area with synthetic ice tiles, a full size EZ-Goal, one of those giant plastic Sureshot goalies, a 30" passer, radar gun, hundreds of pucks, every stickhandling ball ever manufactured, kettle weights, push-up bars, one of those 3-point defender obstacles, cones, roller blades, green biscuits, you name it...
I think the only training gadgets we don't have are the magnetic targets -- nope, won't pay $60 for a plastic plate with a magnet attached -- or the SuperDeker. Sauce kit? Nope. Oh yeah, and balance boards aren't our thing either. Regardless, no matter how you slice it, they're spoiled rotten.
That said, all you really need is a net, some pucks, and a stick. The rest are really just additional accessories.
If you don't already have a net and you anticipate that your child will stick with hockey for a few years, get one. A decent one. You won't regret it.
I suggest the EZ-Goal as it's not super expensive but won't fall apart either. They can take a beating.
So, this has been our hockey regimen during the social distancing era:
---
Take Shots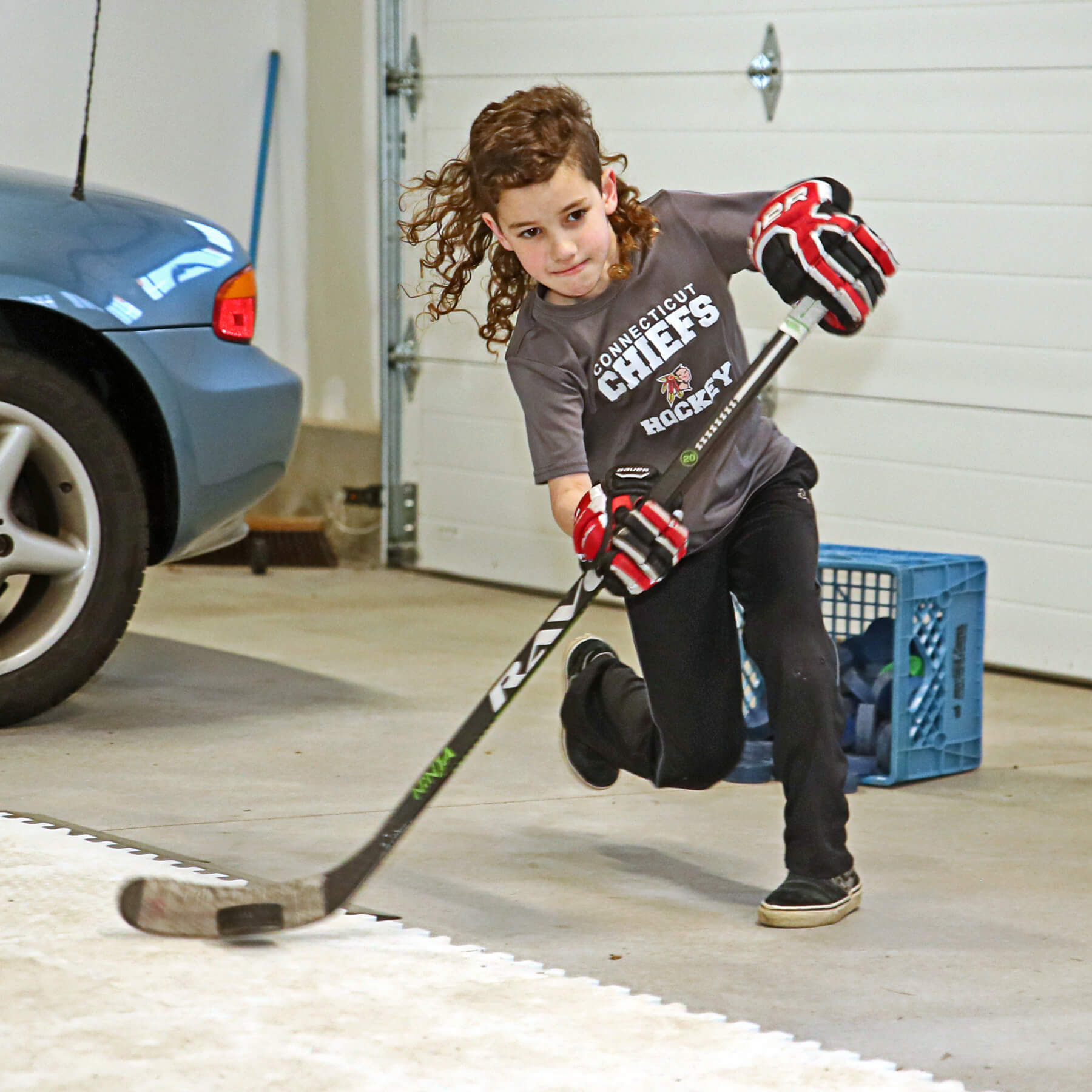 They're taking more shots on net than they ever have.
And I think it shows -- both have shocked me with how much power they can get behind their shots. And their accuracy exceeds my own, by far.
Shooting pucks is truly something that every hockey player can improve on...at home and without ice...and it will undoubtedly translate well once they're back on the ice.
It's all muscle memory.
With that said, if your kids are taking shots, make sure they're shooting with their hockey gloves on. Shooting barehanded isn't the same as with hockey gloves on. Practice like it's a game -- find your rhythm in the right equipment.
For my oldest son, it's really started to click. He's figuratively kicking himself for not taking more shots at home during previous off-seasons...as he now routinely goes bar down, with power, routinely in groups of 7 or eight in a row.
Certainly would have come in handy last season. And the season before. And so on...
So, my PeeWee and my Squirt both shoot sets of 215 pucks, twice per day.
Seventy-five of them are the orange weighted pucks (10oz) and the remaining 140 pucks are regular black pucks (6oz).
My youngest has been shooting 60 blue pucks (4oz) every other day...when I can get him to do it.
Now, I know some are thinking, holy crap, why do you have THAT many pucks?!
Well, the reason is actually simple...
The WORST part for kids when shooting pucks is having to pick them back up. Can't sugar coat it -- it sucks picking up the pucks to take another round of shots. That, and it kills any momentum they might be finding, you know, getting into a groove.
With over 200 pucks in the "pile", yes, picking them up really sucks but...the upside is that taking 200+ shots in a row without a break allows them to find their shot, work on their placement, and find out what works without any interruption.
I've also found that their arms start to hurt at around the 200 puck mark. It's perfect.
Pushes them a little further beyond their limit... and takes them a little over 30 minutes to complete.
That's a solid off-ice workout.
And picking them up?
Sheesh -- that's a lot of squatting...and a ton of weight too.
Pucks are cheap -- I highly suggest looking for used pucks too, in bulk, online to really get them on the cheap or just buying a case of 50 or 100. They last forever so while it may feel totally crazy to spend $100 for a box of pucks...you'll still have 90% of them 5 years from now.
But, yeah, shoot hard. Shoot often. Over and over and over again.
---
Weight Training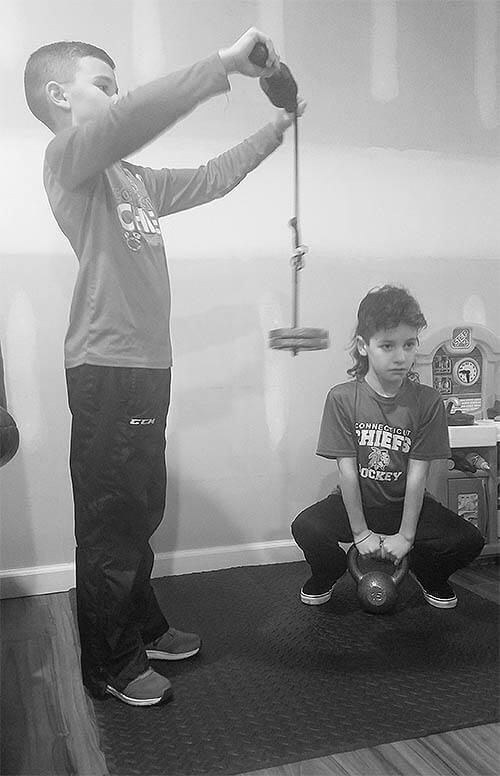 This actually began during the hockey season at the recommendation of my older son's head coach during a player evaluation.
Duncan has been playing up since he started playing hockey and he's undersized even at his own age level so strength has always been an issue. Leg strength, primarily.
So he does squats -- sets of 20 -- while holding a 15-lb kettle weight. Sometimes on one leg.
The idea here is that it will improve his skating as well as his shot power. Everything in hockey comes from the lower body. Everything. That's why the NHL guys have such massive legs and hips.
At the same time, since kids don't play on playgrounds with dangerous apparatus like monkey bars anymore, my kids are also outrageously weak in the arms as well.
So, in addition to the squats, they also do wrist rolls with a 5 pound weight hanging in sets of 5. That sounds super easy but 5lbs is a lot heavier than you'd expect. My forearms burn. They struggle...but manage.
Lastly, they do sets of 20 pushups. Actually, my older son does pushups. My middle son does burpees instead cause, he says, they're easier.
They're probably easier for him cause he can't really do 20 push-ups in rapid succession but, to his credit, he's the only one in the family with an 8-pack.
Now, unlike shooting pucks, there's nothing fun about lifting weights. Like, nothing.
So I make it part of something that they do enjoy -- Fortnite.
Every time they're in the lobby, between games and waiting for the Battle Bus to launch, they do a set.
So far, it's been working out great.
---
Stick Handling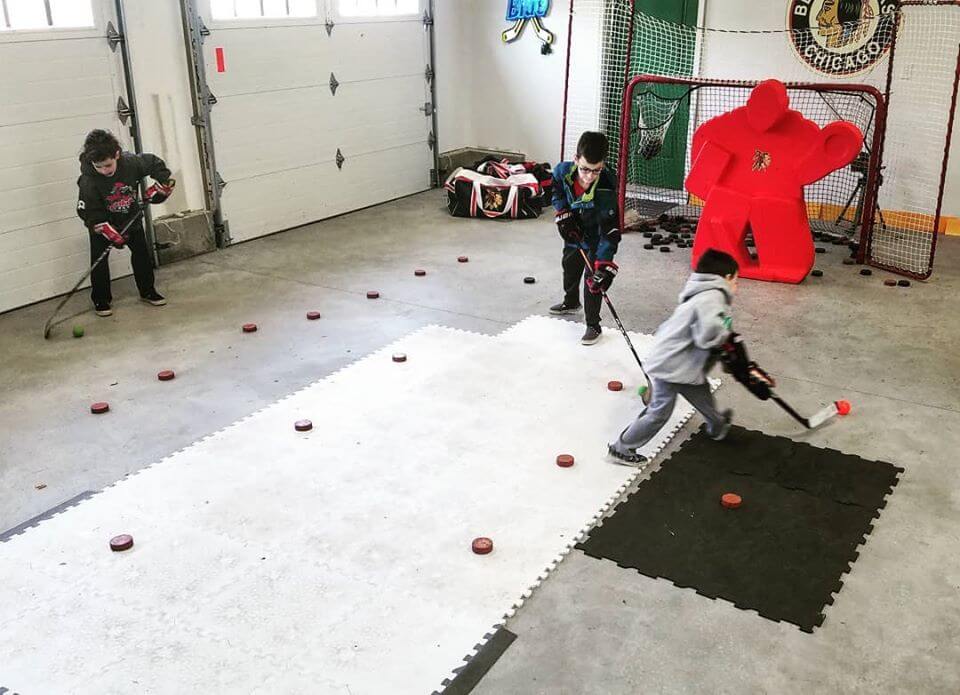 Each off-season, the program they play for provides a stick handling workout routine worksheet. In addition, their individual coaches also provide stickhandling drills for them to work on -- many from the USA Hockey website.
I don't watch my kids go through all the reps like I wish I could but I do know that they've gotten much MUCH better since they started doing 30-45 minutes each working on it.
For all I know, they could be doing the figure 8 drill on their strong side the entire time but any stickhandling is beneficial stickhandling -- just getting a feel for the puck.
Most often they use a weighted stickhandling ball but also routinely use green biscuits and this one puck that just seems to slide on our synthetic ice better than any other puck we have.
That puck is pure magic.
Actually, I think it's one of those "non-marking" pucks that snooty prep school rinks require be used. Sadly, there aren't any distinguishing marks on it -- no brand name, nothing -- so I can't acquire a few more of them.
---
Inline Skating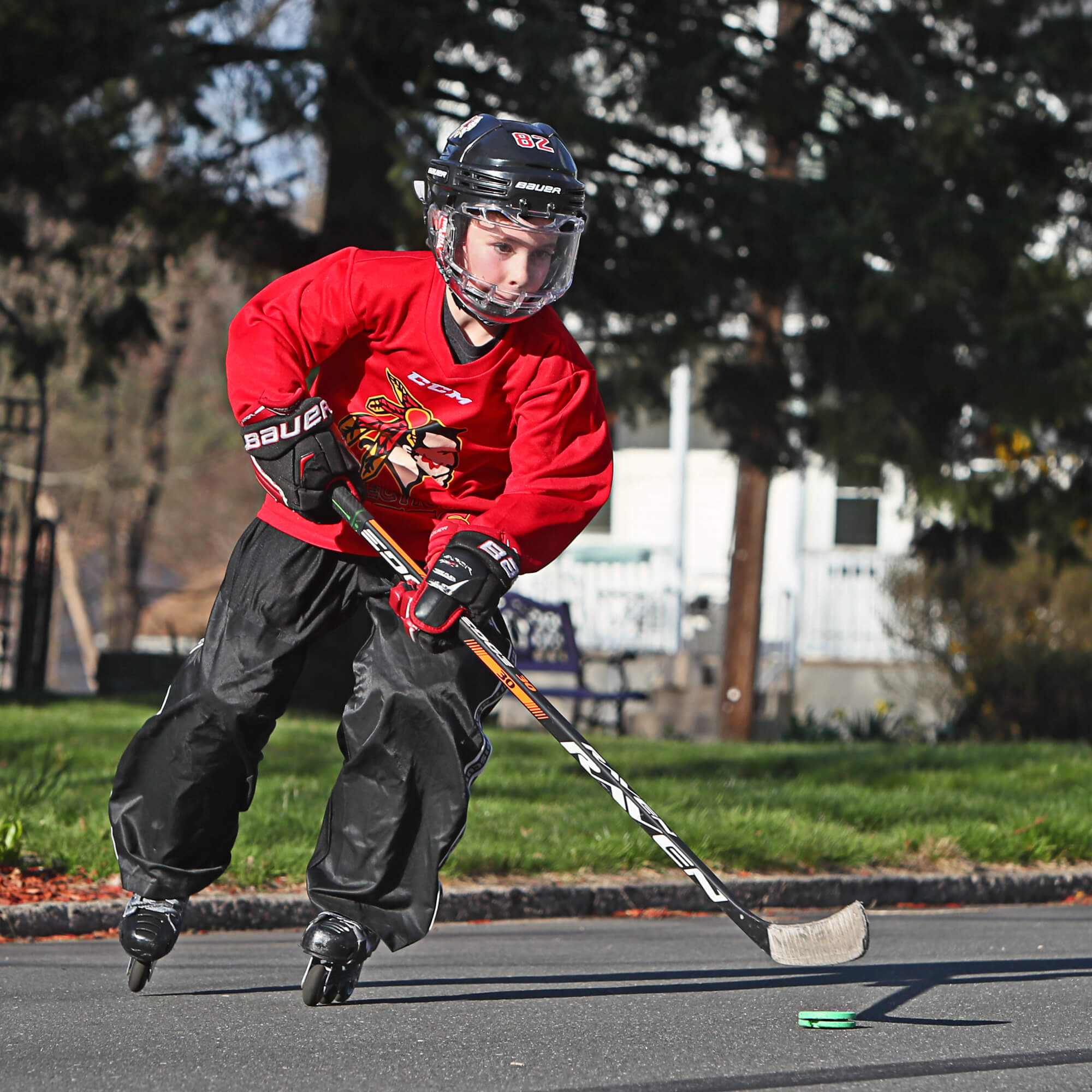 So, my kids have played in a roller hockey league during the off season in the past. They took a few years off cause, frankly, there isn't enough competition for them as the leagues are, for the most part, rec level.
My oldest son chose to do it again this Spring to skate with some of his friends from school that don't play ice hockey so we checked that his skates we bought for a single tournament from last summer still fit...and, thankfully, they did.
He played two games, as I mentioned, before the season was halted. First game was clearly spent getting used to roller -- it's a different game as you can't really stop on a dime like you can on ice.
It's a ball league too (instead of a puck) which takes some getting used to as well.
But, by the second game, he was a dominant force again. Actually, his team sports 3 AAA ice hockey players and they were all so-so in the first game. By the second game, though, unstoppable.
Shame the season ended -- I'm pretty sure Duncan would have been in the running for the scoring title -- even with kids 3+ years older in the league.
So, anyway, the league is an indoor league so I have really soft wheels on his skates.
If you're at all familiar with roller blades, there are a variety of wheels you can use and they're all designed for different surfaces. The ones "out of the box" are usually meant for use on asphalt and feel like dull ice skates when you skate on a nice indoor surface. Zero grip...which is why his skates had super soft wheels on them.
The kids have never once skated on the road for this reason but after 3 weeks of not skating, I bit the bullet. Take 'em out on the road. It's fine if you ruin the wheels...and these soft wheels will feel really nice on the road...but deteriorate very quickly too.
I posted a video on social media of him skating around and people were like, "Wow -- what kind of skates are those?" and "Are those Marsblades?" I think it was his stride that made them appear to be more than just typical inline skates...
Truth be told -- they're cheap Mission Inhalers. I think they cost around $75...though I did add new bearings and wheels that cost a little more than that on their own.
But, following those comments, I looked at it again and, yeah, the way he skates on roller blades is unlike the way most people skate on roller blades...and that's why people thought he looked so good.
A number of teammates went out searching for roller blades too but, by that point, getting a middle of the road pair of roller blades was about as easy as finding a 9-pack of toilet paper.
The few that did manage to acquire a pair look like Bambi on ice while skating in them but, for real, don't be discouraged! Just gain a little confidence on wheels and it won't take long to get your ice hockey stride going.
Just don't try to hockey stop on asphalt! The kids don't weight enough to even make that possible.
So, our initial drill with the roller blades was to stickhandle with a green biscuit and get the legs moving along with the hands.
We also measured off a line 64 feet away (the distance from the blue line to the goal line) to work on shots from the point as he's a defenseman that's never had anything resembling a cannon from the point.
And this is where he saw all of the work he'd been doing on dryland really start to pay off.
Granted, a green biscuit isn't as heavy as a real puck, but his ability to trail backwards along our imaginary blue line looking for a shooting lane and then release something that would have the potential to find the back of the net was new for him.
The shooting and weight training over the previous 3 or 4 weeks were 100% to blame.
Following that, since I was growing tried of either taking pucks in the shins or chasing them down the road, I had him play offense against me.
He'd skate towards me with the puck, I'd backpedal in sneakers as if I were playing 1-on-1 defense, and have him try to stick handle past me.
He's played maybe 5 shifts as a forward in the past 3 seasons of ice hockey so it was a role reversal for him. Must say, the stickhandling exercises were paying off greatly -- the kid has some moves.
At the same time, it was great to show him new things defensively as it was really the first time I've taken the opportunity to "play" against him rather than just take on the roll of feeding him pucks.
I think the concept of gap control has taken root and I also think he can see why the poke check isn't super effective -- he dangles around mine with ease.
Most important, I like to think that, now having "played" as a forward against a far larger opponent, he'll have a better ability of reading his opponent whether on offense or defense. No doubt, he's a better player for it as a result of this "break" from real life.
Now, of course, as I saw how effective this was with Duncan, I had to get Henrik out there too.
Henrik hadn't skated on roller blades in well over a year and his pair didn't fit anymore so the Mission Inhalers were pulling double duty with both boys wearing them.
Same results with Henrik -- his point shot is far better than it ever was.
His stickhandling, though? Well, let's just say we invented a "new" drill where he stickhandles in front oh him...while skating uphill. It's brutal...but he still does it.
And with that, I went on the hunt for some roller blade for him too -- both kids have the same size foot -- and as luck would have it, I found a second hand pair of Mission Control Xi's from like a decade ago on eBay.
By next week -- they'll both be able to skate.
I also ordered an additional 4 green biscuits. Well, purple biscuits. The "Hockey Fights Cancer" variation is available where you get four for $28. That's a deal and, to date, I've never found a better puck for off ice stickhandling and passing.
Oh, and for inline skating, be sure the kids wear shin guards, elbow pads, gloves, and a helmet. I'm far from one of those "safety first" guys but I can't stress that enough.
Don't allow any exposed skin while roller blading. Shin guards, elbow pads, gloves, and a helmet are an absolute must.
We've only had one nasty wipe out -- one of those instances where they tried to do something they just naturally do on ice -- and if it weren't for the padding they had on, the injury would look like they'd fallen off a motorcycle.
---
Online Challenges
Okay, so there's the tried and true 5000 or 10000 puck challenge that happens every off season. With the kids shooting nearly 450 puck per day, yeah, we're gonna hit those numbers within a month so, yeah, forget about those.
The video here is them doing a 50 puck stickhandle challenge. It wasn't really a challenge. Or hard for them...but it was fun and got them out there practicing.
His team also did the Toilet Paper challenge where they juggle a roll of toiler paper on their sticks before passing it off, virtually, to another teammate. Tons of fun but Duncan struggled mightily with it -- we must've done 200 takes before he had a decent one to add to the cause.
This is due to the fact that I've always discouraged him from getting "good" at something that will never ever be used in the game. I see so many players posting videos where they throw the puck up 30 feet in the air and catch it on their stick.
Um, okay. I suppose that demonstrates some solid hand-eye coordination...but you'll never ever use that skill in a game. Same deal with these kids endlessly working on the spin-around lacrosse style goals. Time practicing could be more effective...that's all I'm saying.
That said, if my son were out in our hockey room working on a between the legs shot until he mastered it, I suppose I'd embrace it. But I won't ever encourage it.
So, yeah, he can't juggle a puck...or a roll of toilet paper very well.
Now, outside of those widespread hockey challenges on social media, one of the parents on Duncan's team last season -- Jay, if you're reading this, right on, man! -- has been awesome with throwing out unique challenges to the kids for fun and, so far, participation has been great.
Hit both posts and the cross bar in as few shots as possible. One take. Honor system.
Duncan did it in three shots -- accuracy has been his thing for a long time which is why it drives me bonkers he averages maybe a goal per season. (It's cause he plays defense -- he's very rarely close enough to the net for his accuracy to make any difference.)
The next challenge was to hit the post as many times as you could with 10 pucks. Parents even got in on this one and it was a lot of fun. My kids did pretty well. I went 0-10 on my first attempt...but broke the honor system (and admitted it) when I posted my second take where I redeemed myself...slightly.
Hey, it was a practice round!
That's my story and I'm sticking to it!
Alright, fine. I'm terrible.
Even still, I can't wait for the next challenge!
---
Online Skills Sessions
Okay, so every hockey parent has undoubtedly come across Jeremy Rupke online more times than they can count. He's the "How to Hockey" guy and, yeah, he's an awesome resource. But during this, um, pandemic, his live streams haven't really caught the interest of my kids.
Often, I think it's because he's too generic since he needs to appeal to such a wide audience which I totally understand but I also think his instructions are often more geared more towards adult players. Not saying he's not great -- my kids just don't "get" him yet.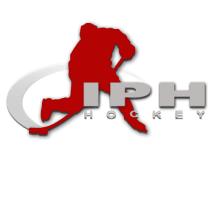 The group we use all the time for private lessons, IPH Hockey, has been offering virtual training via Zoom but as I alluded to earlier, we haven't signed up for one.
Bad on me.
What we have done is watch some of the snippets of the sessions they have been running on Instagram to get some ideas. If I had a better setup where the kids train, I'd be all in on this cause having a coach call you out in real time is hugely motivating. These guys are great and I feel really bad that they're not taking my money this off season...yet. Cause it's money well spent.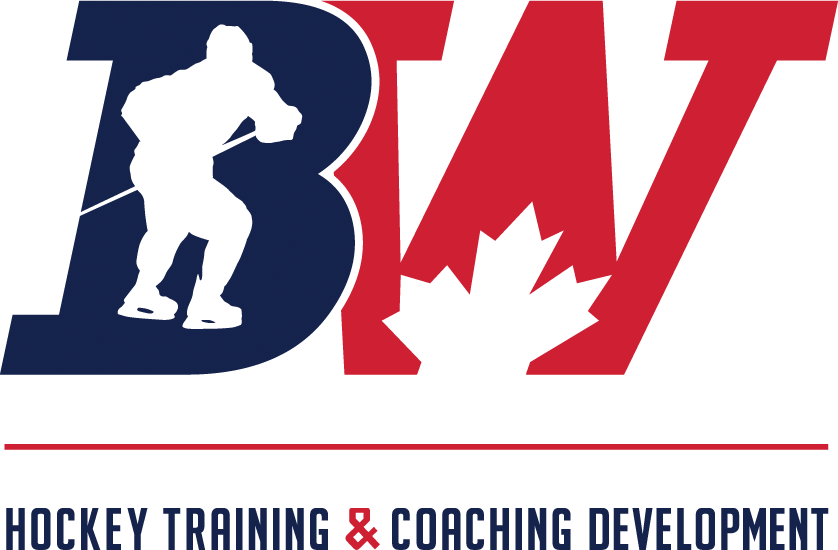 Another private coach we follow is Brandon Wong.
He's based out of Victoria, BC but used to play locally for Quinnipiac University as well as the Hartford Wolf Pack.
He's also offering virtual sessions and, very active on social media, he's been sharing videos submitted to him from kids all over doing trick shots and things like that.
Fun stuff. While I really can't stand all of the juggling and tossing the puck way in the air nonsense, I have no problem having my kids watch videos like that over epic COD Warzone kills.
My kids are right in his wheelhouse and, wow, what a wealth of knowledge he has on getting to the next level. His content is top notch.
I guess the part I like most about these is that my boys see what other kids, with essentially the same setup we have, are doing to boost their skills.
Lastly, the session we've found the most value in, and not because it's free, has been from Andrews Hockey up in Prince Edward Island.
Each weekday, Ben MacDonald (aka Cubbie) has been hosting a live 15-30 minute skills session that has been absolutely perfect for squirt and peewee aged players.
Best of all, they're on Facebook so even if you miss them, you can watch on demand.
It's essentially just stickhandling and shooting drills...but they're different from what my kids are used to which makes them more fun. That and they have a silly hat day, a t-shirt day, you know, stuff that keeps the kids engaged. They just...get it.
They're also really well versed in making videos. I mean, they're not high end productions by any stretch but they're not "new" at this sort of thing due to COVID-19 either.
They're great at, well, talking to themselves while teaching and doing the drills. One sided conversations are a lot more difficult than you'd imagine.
Anyway, my kids have really enjoyed them for the past two weeks.
There are countless more, I'm sure...but these have been our focus for the first month of quarantine.
The best part with all of them is that they're expansions on the shooting and stickhandling drills my boys are already doing -- they keep those mundane drills fresh day after day.
If this thing continues much longer, I don't doubt I'll upgrade our hockey room to include a screen and webcam so we can set something up with our local guys to do some "live" two-way virtual training.
---
Watching TV
Crazy, right? Watching TV? How will that help?
Two separate coaches have mentioned to me that one of the biggest problems with youth hockey players these days is that they don't "watch" enough hockey.
Sure, they see highlights (which explains the bardown and between the leg shots fascination with this generation) and they play all of the EA Sports video games...but that's not real hockey.
They don't have anything to emulate going through the neutral zone or what to do defending a two-on-one. They never "see" that part of the game the way it's played by the best players in the world.
Much of this, I think, is due to the fact that youth hockey players are on the ice far more than they used to be. There isn't really "time" to watch games like there was a decade or two ago.
More often than not, the nationally televised games are on practice nights when the kids really just need a break from hockey or while we're in hotels on the weekend where they'd rather be playing knee hockey or swimming in the pool with their teammates.
But, also, NHL games are on too late and even when the kids attend a live game, they're usually not super focused on how the game is actually being played on the ice.
Bright lights, loud music, junk food, and lots of people to look at. That's a fact.
A single bucket of popcorn can distract my kids from...anything. Sad, really.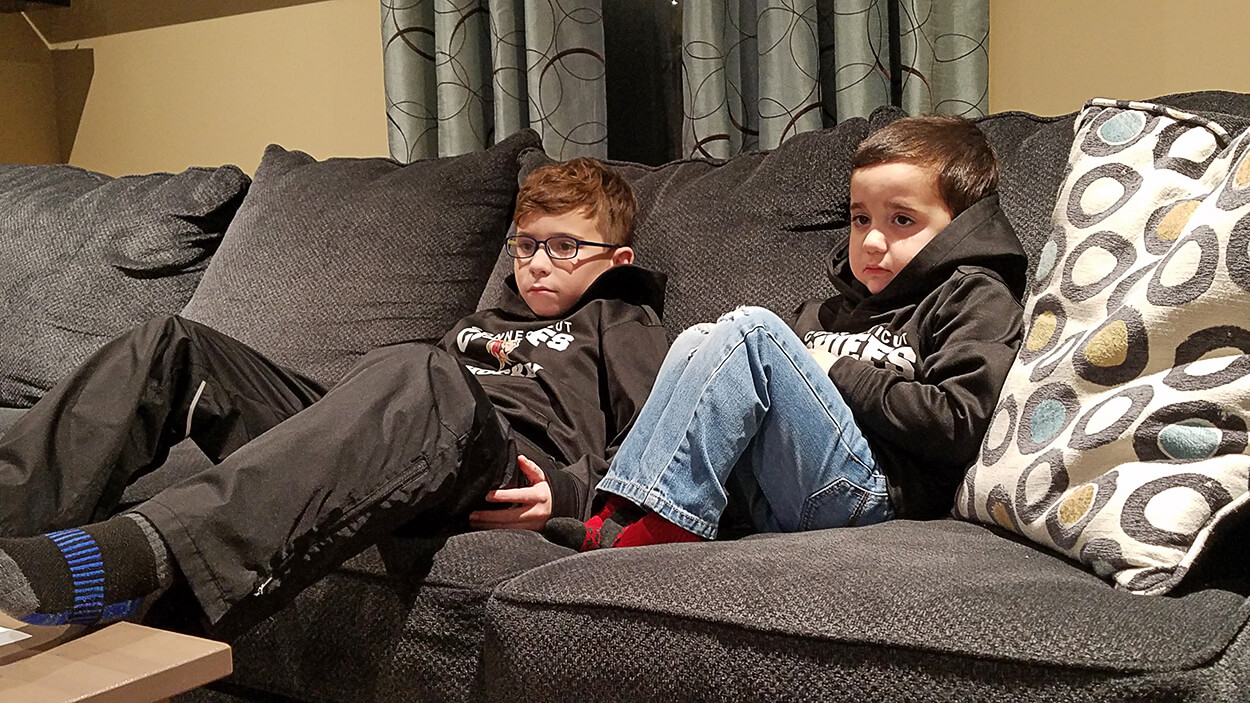 So, Game 7 of the 2011 Stanley Cup Final between the Bruins and the Canucks has been replayed a couple of times now. I'm glad my sons got to sit down and watch.
While we collectively despise the Bruins and I still kinda hate that they won that year, the third period of game seven is something every single hockey player should watch. Especially defensive minded ones.
I mean, the Bruins put on a clinic. Vancouver never had a shot at winning that game -- perfect execution by the Bruins in the third period. Perfect.
We've watched a few of the Colorado/Detroit battles too. My kids can't believe how physical the game used to be.
They also get a huge kick out of seeing guys they only know as coaches or commentators dominating out on the ice.
Sadly, they weren't interested in games from the 80's -- Edmonton Oilers games or the '87 Canada Cup games. Anything not in HD and in a square format must feel like black and white television shows felt like to me as a kid. Old.
To this day, personally, I still can't watch the entire 1972 Summit Series. I want to...but, yeah, it's hard to watch when you've become accustomed to such high definition. I get it.
But all of the games the networks have been replaying -- whether in Canada or the US -- are games worth watching. They're the best of the best so if your kids are willing to sit and watch one, do it. It's a great learning tool.
The days ahead... Weeks? Months?
As much as I want to believe that things will be getting back to normal, I'm also trying to keep things real.
As of now, in my neck of the woods -- Connecticut -- I'm not seeing June 1st as a realistic date for the arenas to be open and practices getting underway.
I'm just not. I do think our only training space will be the one we have at home.
That was my reasoning for purchasing another pair of roller blades -- I want to keep them skating in any way and as often as I can.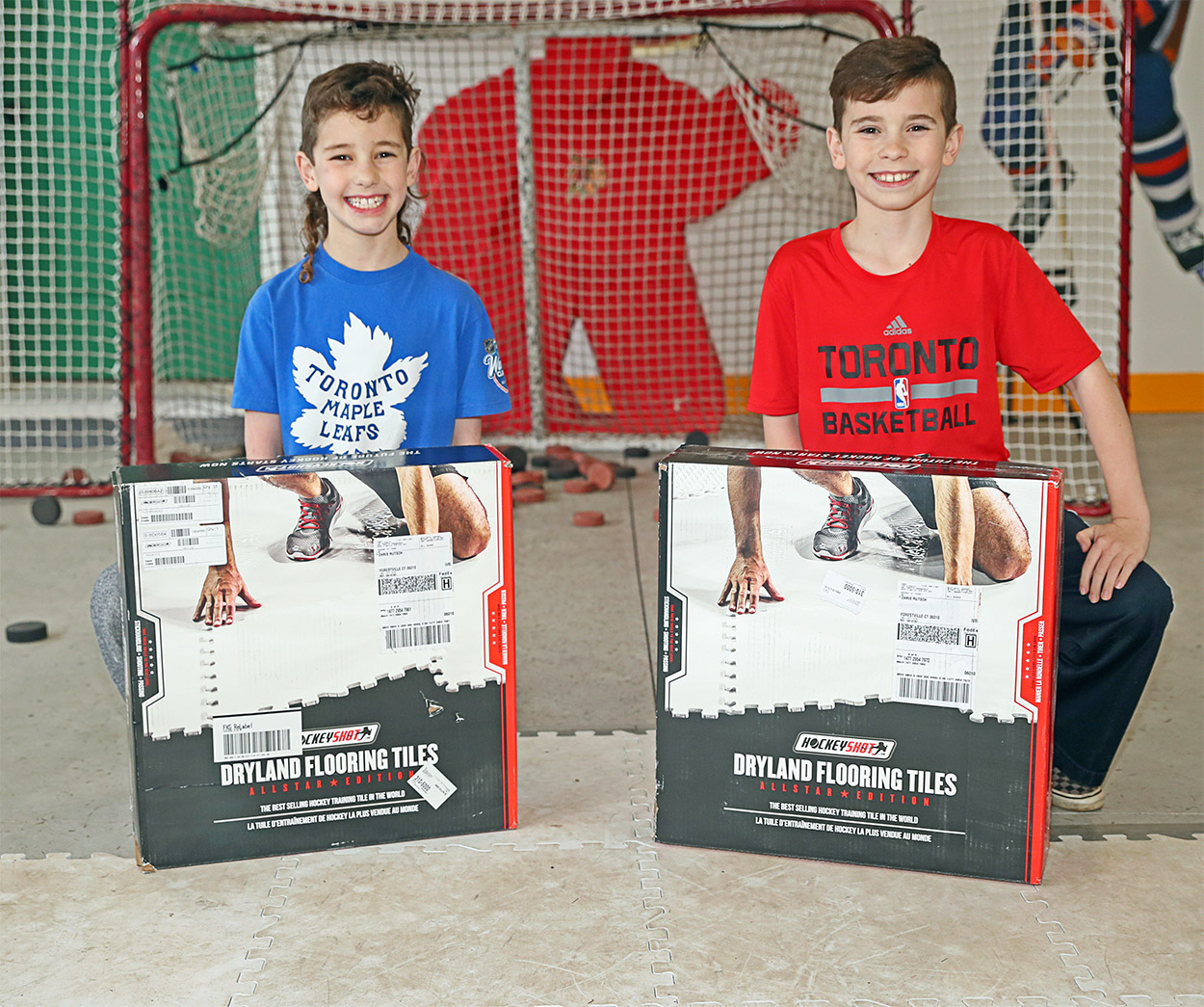 Additionally, I ordered more shooting tiles from HockeyShot -- this time they're not synthetic ice as, honestly, it was terrible to skate on. I've seen a lot of folks recently setting up skateable tiles in their basements and I hope they're not quickly disappointed.
It's not ice. It makes a huge mess. It dulls your skates fast.
Did I mention that it makes a huge mess?
Oh, yeah, and it's not ice. Not even close. It's like wonky glide walking or something...
That said -- I did get my money's worth on the original set of skateable tiles. I'd originally purchased it as a learn-to-skate area for my youngest son as I'd grown tired of spending $14-$18 for admission to public skate where he'd last less then 5 minutes on occasion.
Instead, he got the hang of it at home at his own pace and on our own schedule...on something this older brothers could also use as a shooting pad and stick handling surface.
Win/win, right there.
So the HockeyShot Allstar Dryland tiles link up perfectly with their Synthetic Ice tiles.
There's a lot of loosie-goosy information online whether they can connect to one another and I can confirm that they do. If you've started with their Synthetic tiles and realized your mistake -- no worries. You don't need to start all over if you're looking to expand your practice area...and save a few bucks in the process.
We don't have any plans on ever skating on them again so mixing and matching them, going forward, isn't a concern.
The kids can't tell the difference as the puck slides equally well across our entire surface. And both are crazy slippery if you're just wearing socks. Hey, man, fake ice is slippery too.
Anyway, I expanded the size now simply because it's now large enough for my two oldest to go through their stickhandling drills or, even better, take shots on net at the same time -- lucky that one's a righty and one is a lefty.
With all of this additional time at cooped up at home, I figured it was worth it to make their routines more efficient.
I wish I could say that it's as big as it's going to get right now but I'm sure we'll add to it in small increments until it covers our entire training area. The tiles are a pretty neat thing to have available at home.
And having a third hockey player in the family on the way up certainly makes the case easier -- more room means they can all practice at the same time. Point being, in our household, they won't collect dust so it was a safe investment...even if the social distancing trend disappears sooner rather than later.
I've also started scouring the internet for white pucks.
Used white pucks.
Cheap white pucks.
Found 10 so far for under a buck each -- please don't outbid me.
White pucks are usually used for goalie training purposes -- they're harder to see. My kids have abandoned any dreams of playing net so why would I be looking for white pucks?
Well... while watching online videos of folks practicing at home, I saw one family that was using white pucks for practicing their shots and then it hit me!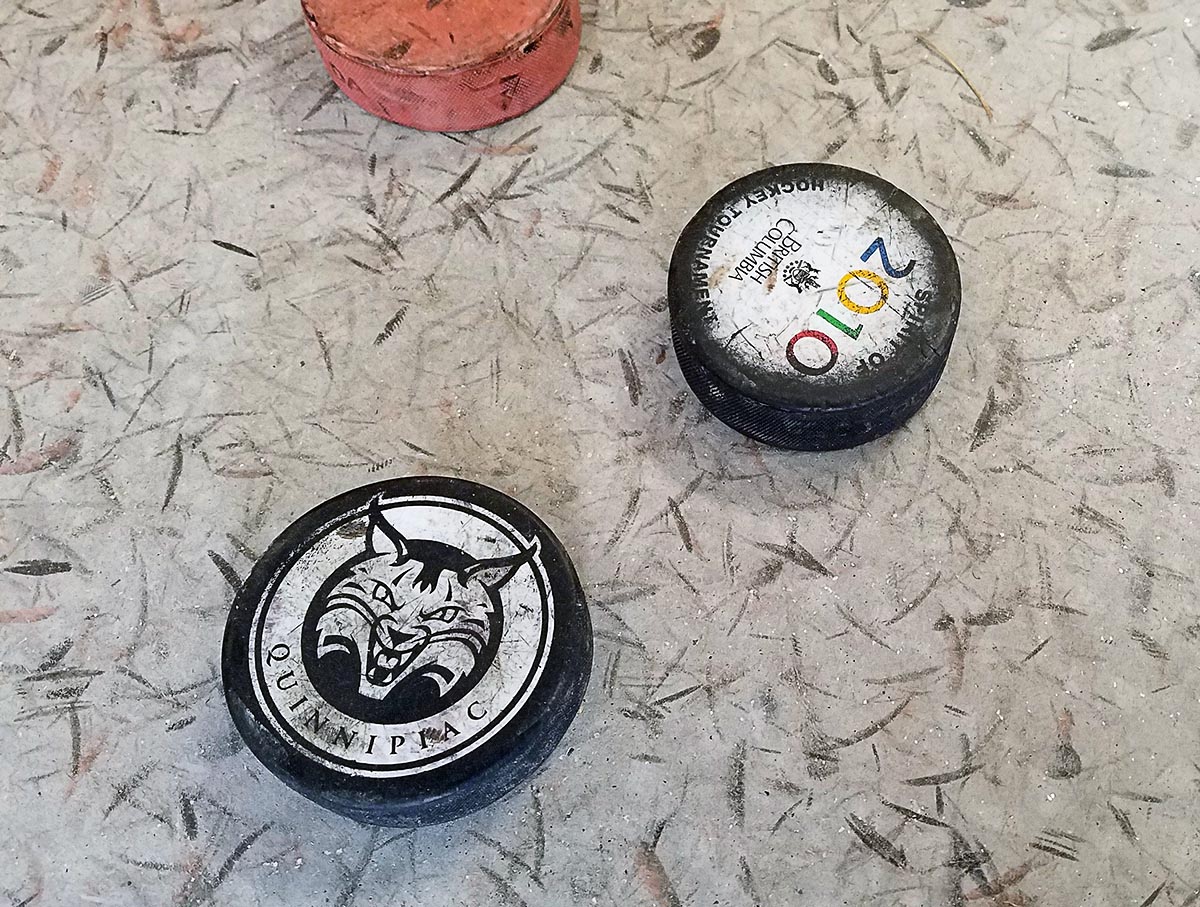 Lightbulb moment!
If we'd been using white pucks here...the floor (and walls) wouldn't be littered with black scuff marks. Or, worse, orange scuff marks from the weighted pucks!
We'll see how that works out.
It's really too late for our floor, as you can see...but it might not be too late for yours.
So, yeah, we're just gonna keep on keepin' on...trying to stay fresh.
Concurrent rollerblading in the days ahead -- and one-on-one battles for the two older boys. Might also get my youngest out skating on the street too.
Bigger shooting surface -- which I might split into two pieces so they can shoot from different angles.
White pucks to maybe make it harder for our plastic goalie to track pucks. Ha!
And utilizing the different stickhandling drills we've seen online
And, if the "off season" stretches in June, no doubt, we'll get a screen and a webcam set up in their training area to hook up with some virtual training sessions.
Like, for real, I'm so close to just letting them use their game sticks for all of this off-ice stuff as I anticipate they'll grow enough to warrant new sticks for the next season anyway...
But, keeping it real, everyone is going to be rusty when we're all allowed back on the ice... We're doing our best to make sure we're not "that" rusty. Or, maybe, even better than we were back on March 12th.
---
Related Articles
» Getting more out of Hockey Practice
» Finding the Right Summer Hockey Camps and Clinics
» AAA Summer Hockey Tournaments are Underway!
» New vs. Used Hockey Equipment
» The Rink Experience - Universally Needed Rink Improvements
» Spring and Summer Hockey Tournament FOMO
» Will the 2020-21 Youth Hockey Season even Happen?
» Meaningful Advice For Youth Hockey Parents

Agree? Disagree? Let me know -- I love the feedback from all angles!