Commitment Levels and the Nickel and Diming in Youth Hockey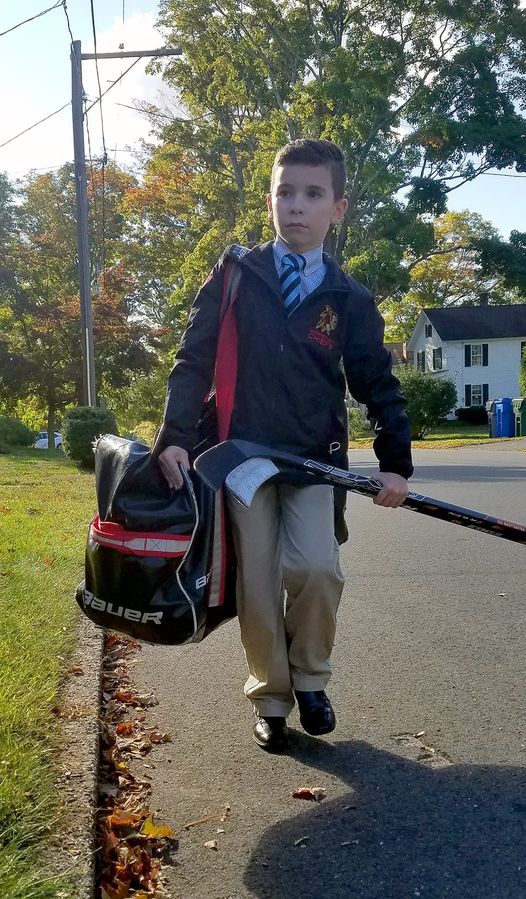 Buy the warm ups. Buy the off ice gear. Get the sweatshirt too. Just do it.
It's not your team trying to nickel and dime you to death.
Stop. Just stop...
This is not a higher end hockey snobbery post, I promise.
I'm not made of money, either...
I've got three kids playing.
I drive an entry level KIA Sportage.
I almost want to chuckle as I write that. The KIA isn't my dream car but it is 100% tied to the fact that I have three kids playing hockey.
That's a fact. A sacrifice that I am totally willing to make.
Hey -- I can fit three kids and three hockey bags in it. It gets the job done.
I've said it before and now that I've lived through (and paid for) two plus decades of youth hockey, I'll say it again with even more confidence...
Hockey comes with a cost...and tuition is only a slice.
There are a ton of additional expenses, gear, lessons, extra ice time, hotels, team meals, etc...
And it only gets more expensive as the kids get older. My oldest son's skates were $800...and they didn't even come with blades included?!
But it's worth it. Or you can make it worth it... There will still be expenses that feel huge but are actually a decent value.
It's hard to explain...but, like, I've been hit with this from people all over the place over the past couple of weeks as schedules start to fill in. Things are getting real. Dog days of summer are over and they're overwhelmed...and the season is still months away.
The common thread is that everyone thinks their chosen team is nickel and diming them.
Buy this, buy that, make reservations, don't forget this, Billy's skates don't fit, let's do this skills camp as a team, lets have a pre-season team party, FOMO over summer tournaments, you know... As hockey parents, we've all been there.
It's part of being on a team...a real team. There's a commitment level required.
The time commitment is the big one, I think.
Youth hockey will eat up EVERY SINGLE WEEKEND from September through mid-March.
It will. That just comes with the territory.
Don't make plans.
You will likely have a tournament over Thanksgiving. Don't expect the week between Christmas and New Years to be "off". Don't plan a cruise in February. Just...don't.
If you're not ready for that commitment, hockey is probably not the right sport for your family.
And my main argument, or justification, for putting my own family through this perceived misery is that, well, for us...it IS family time.
Our entire family is participating in a set of events...surrounded by our best friends who have also chosen to take this same path...every single weekend...and three or four weeknights per week too.
Call me crazy...but it's kinda awesome to spend all of that time with your kids AND your friends.
I mean...I can only binge watch so much on tv while ignoring my kids...so the rigidity of youth hockey is definitely a better "family" path for me.
Then, there's an effort commitment.
This falls on the player, you know, they have to do their part...but also the family.
If practice starts at 5:00pm...you've gotta get your kid there for 4:45pm, at the latest.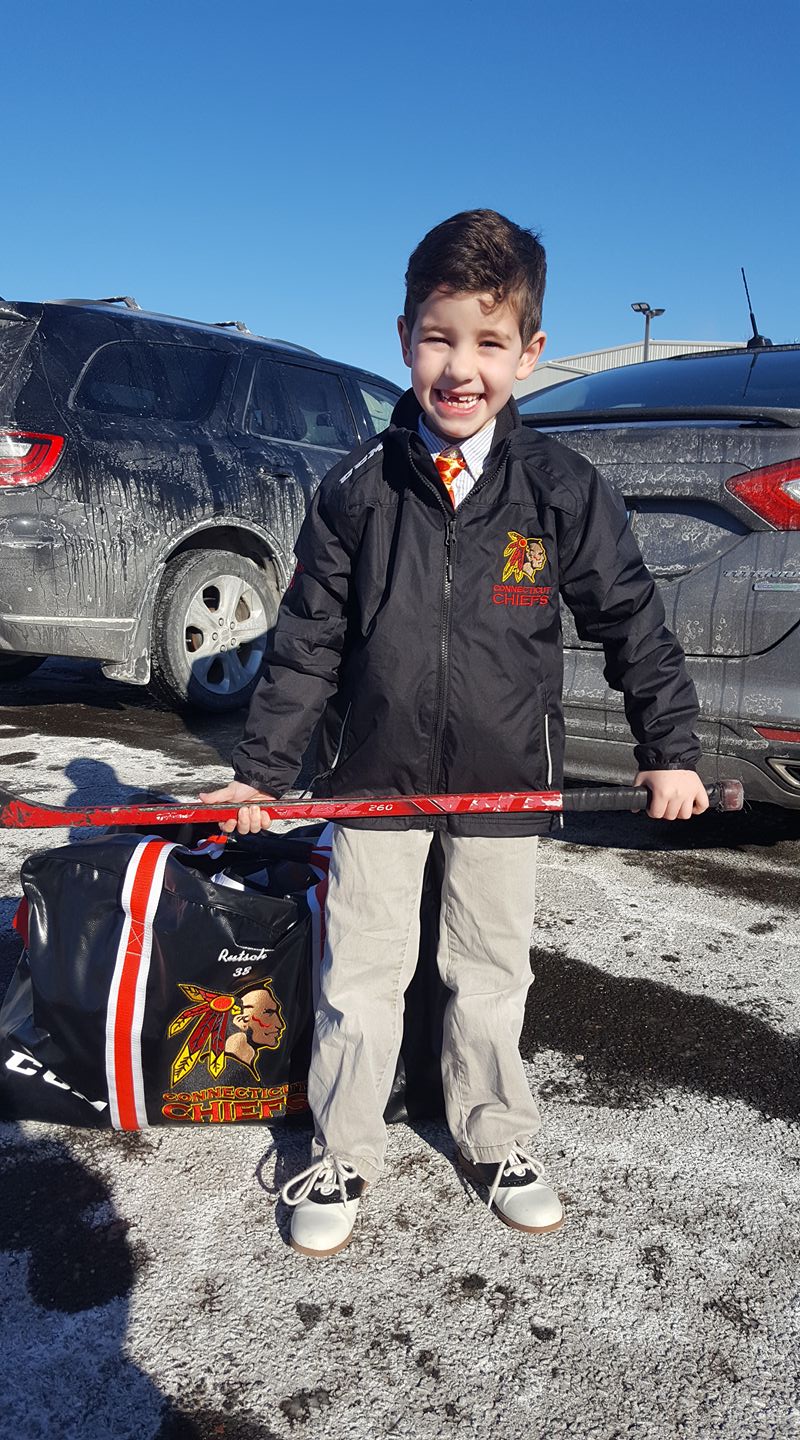 Get it done -- make arrangements, get to work earlier, log in to work later.
I know everyone has their own situation, but I've shared locker rooms with police officers, teachers, doctors, Fortune 500 CEOs, and construction workers.
They've all been able to make it work...likely through a little extra effort on their part.
It's do-able. You can make it work.
And the one everyone is moaning about 100% of the time is the financial commitment which is kinda where this all started.
Hockey comes in two varieties, it seems.
Expensive. And expensiver.
And, I know, hockey has a bum rap for being overly expensive and I do agree with that to a certain extent, it's deserved...but it's the same in every other activity...and even more so when you reach higher levels.
A steak house costs more than McDonalds...right down to the soda. It does. I'll touch on that later with better references to youth sports and activities...
So, let's talk about dress code.
One of the programs my kids play for has instituted a more rigid dress code and numerous parents are up in arms about it.
The program is in a bit of a rebuild mode -- it was a strong program years ago, but it's fallen off, and now they're getting it back on the tracks.
Definitely a program on the upswing. No question there -- that's why my youngest is there.
He will get the opportunity to reap the benefits of this rebuild.
Problem is...a lot of the families, from my perspective, have turned a blind eye to how far off the program had fallen in prior years.
They still have the "high end" ego...but have either not noticed or chosen not to notice that they're not truly anywhere near equal with the other high-end programs in the region...in talent...or price.
For football fans, think of that one person you know that loves the Cowboys. They're just not a good team. They haven't been good for nearly 30 years. None of their players were even born when they were good. Fans are "stuck" living in a long gone reality.
So, here we go. I'm just gonna jump into it.
If the team you're playing for this coming season wears black helmets...you NEED to buy a black helmet.
I get it -- a decent helmet with a cage is over $200 and little Geoffrey just got his white helmet last season. It's such a waste.
And I hear that -- you'd be shocked at how many helmets I have in the garage -- but if "keeping" the helmet you already own is on the top of your priority list, you should really only try out for teams that wear that color helmet.
Sounds pretty goofy when you word it that way, right?
Like, way to limit your options, dude.
Boy, do I ever feel bad for those kids on teams that wear yellow helmets...
(Expert tip -- most teams wear black or white helmets for the BENEFIT of the parents' wallets...not because it makes the best uniform...)
The same thing goes for gloves.
Pink gloves are, undoubtedly, super cool...and wear them for practice if you like but, for games, they need to match the uniform.
And those kids that love the Flyers...yeah, those orange and white gloves won't cut it on a team with a Dallas Stars color scheme.
Wayne Gretzky didn't get to wear his Oilers gloves when he got traded to the Kings. And you're not Wayne Gretzky.
You're part of a team -- look like it.
Your local rec soccer league might allow you to wear whatever shorts and socks you want...as long as you have the right t-shirt on. The local travel team, however, will not allow that.
T-Ball might be okay with you wearing grey pants with your pinstripe jersey. American Legion will not be okay with that.
Wear the uniform...or you're not on the team.
I'm not sure how that could be considered an unreasonable request. Or unreasonale expectation?
What is wrong with people? Maybe it's 3+ years of working from home without real pants on...
I could go on and on.
If you're not playing hockey within an in-house league...then you're on a travel team.
You made the show. Now you need to wear the uniform. The whole uniform.
Stop complaining -- it's part of the deal.
---
Tangent time... Alternate jerseys.
First... I love them.
Second... I also hate them...but it's always due to the execution by the coach or whoever it is that puts the idea into motion and makes it happen.
It's like...they just want to do something "cool" but put limited thought into it.
Alternate jerseys can not be light grey...and I see that all the time.
That's too close to any opponents white (or home) jersey. The whole purpose of a uniform in team sports is the color contrast between the two teams.
It doesn't matter if it looks cool...a light grey jersey is not practical.
And you should never "expect" to wear them at home.
Everyone in your home rink knows who you are anyway so I guess it's okay wear a wacky logo. But...actually...no.
Always be mindful that the team jersey is marketing for your program. Your player is representing the program. If someone in the crowd watches your team destroy another team, and if they're a hockey parent with higher aspirations, they're gonna make your team a consideration if they ever find themselves in a situation where they might switch programs for their son or daughter.
I'll tell you -- teams that we've perennially stomped are not on my short list of programs to research. 90% of the kids on my older boys rosters have come from one of maybe four programs in the region. All four programs are strong and the cream always rises to the top.
So, like, if you're designing an alternate jersey for your club...make sure it's still incredibly obvious which team you are. It's just a good marketing strategy.
But, regarding wearing the alternates at home...
One of my kid's teams had a red alternate one year. It wasn't light grey, so that was good...but...
Near the start of the season, we hosted a game against a team modelled after Harvard University -- the Crimson.
Their jerseys weren't red...more of a maroon...but it was still a circus.
Both teams looked the same out there.
Referees were making errant, but understandable, offsides calls like crazy.
Wear white at home. Dark on the road. Alternates on the road...or at low end, non-league, tournaments where home and road are just semantics...since EVERY TEAM is on the road in those instances.
And here's the reasoning -- professional teams don't even travel with two sets of jerseys unless something is worked out well in advance. We all know that doesn't happen in youth hockey.
And the reason pro teams don't travel with two sets of jerseys is logistics -- it's just extra baggage. No one wants that.
That season with the red alternates was especially awful too. Dip wad of a coach -- worst coach ever, I might add -- would announce the "uniform" stuff moments before warm-ups..."Today we're wearing home socks, alternate shells, road jersey"...and it was normally based on what his own kid remembered to bring.
Ever notice that? It's always a coach's kid that has the wrong socks or forgot the right jersey? Weird phenomenon.
A non-parent coach we had prior would make your kid sit on the bench for the entire game for missing the correct socks. That's a GREAT coach.
Responsibility of the player is another form of commitment that should be included in my list...
Oh, and since I'm on a tangent here...I'll stray back on track with this... It's peculiar how parents, in my experience, have NEVER complained about the added cost of an extra and un-needed uniform.
Alternates are weird like that.
One up-ing even that, look at all the kids proudly wearing a full set of off-ice gear and toting an equipment bag from a summer tournament team they spent a grand total of two weekends with...but you'll cry poverty for the team you spend 6+ months with.
I've got all that type of gear too -- mentioned many times on here how I have a full set of Jr Bruins gear with my kid's name and number on it...and he never played an actual game for them. Brick teams...pfft!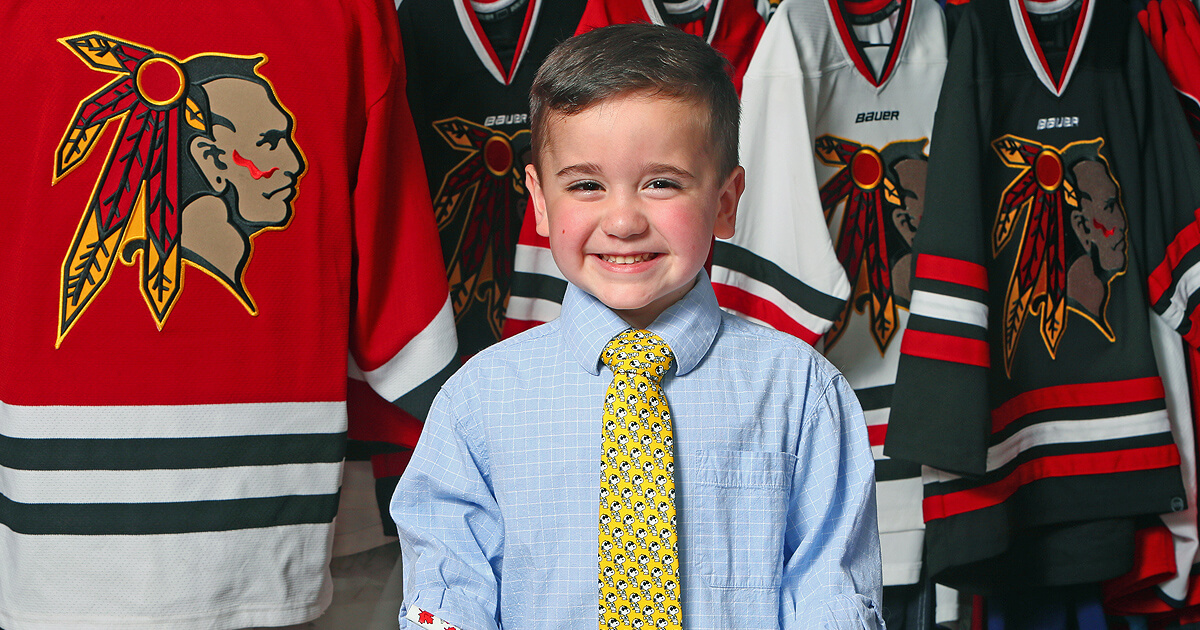 Back to looking like a team...
So the most recent sticking point that I'm sitting on the sidelines watching has to do primarily with the off-ice stuff. Warm-ups, bags, workout gear, team function gear, that sort of thing.
Having come from a program where that stuff was required and it was enforced -- even for a four-year old Emmet up above -- I have no issue with it.
My kids were wearing shirts, ties, dress pants, and dress shoes to road games as mites. The amazing coach, Gill Gallagher, I referenced earlier (that'd sit you for the game if you forgot the right socks) even forced the kids to learn how to tie their own ties...with nice wide Windsor knots and the right length.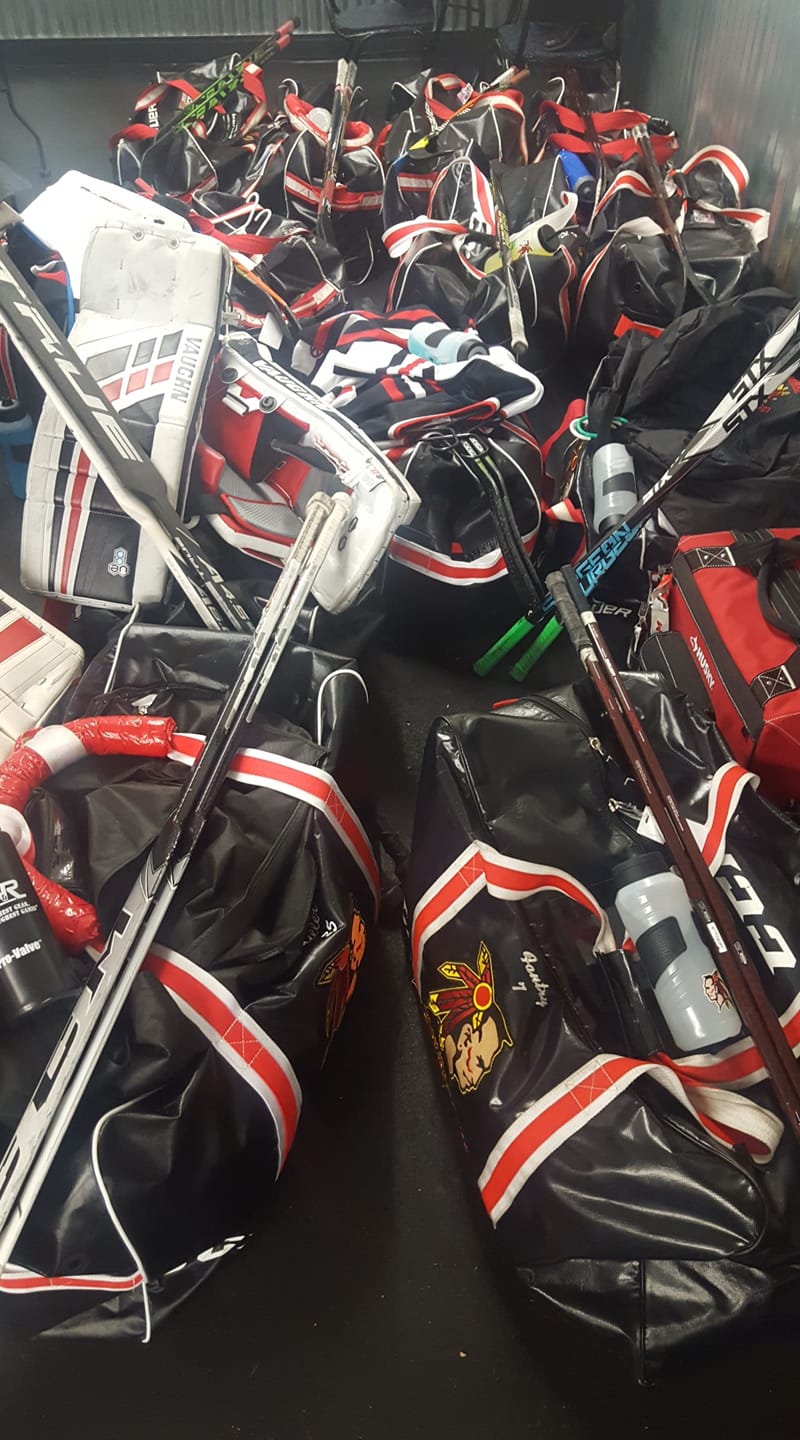 And that's the thing -- when our team showed up at the rink, you knew we were there.
Every kid had a shirt and tie on.
Every kid had the same warm-up jacket with the team logo emblazoned on it.
Every kid had the same equipment bag slung over their shoulder.
(Mandatory team bags are an AMAZING way to force the wheelie bag crowd to grow up. Wheelie bag folks -- everyone is laughing at you. They are. There is nothing cool about a GRIT bag. The sooner you realize that, the better.)
Kids would enter the locker room and come back out, as a team, in the exact same set of shorts and base layers...all emblazoned, again, with the team logo.
We all even had matching sneakers and the same water bottle with player numbers affixed to them.
For the game, every kid had the same color helmet, no custom ribbon stickers, same color schemed gloves, same socks, same shells, white laces on their skates (excluding the month of October where they all wore pink), and black or white tape on their stick blades.
Not a clown with purple laces, yellow gloves, one mismatched sock, flame tape, or a helmet covered in Pokémon stickers to be found.
After the game, the kids would come back out in their shirts and ties...and matching winter hats, again, with the team name stitched into them.
And I'll tell you what -- people noticed.
And they remembered which team it was that marched in and out looking like professionals.
And, more often than not, we stomped the opposition.
Recruiting 101, right there.
It's all connected.
Look like a pro, practice like a pro, play like a pro.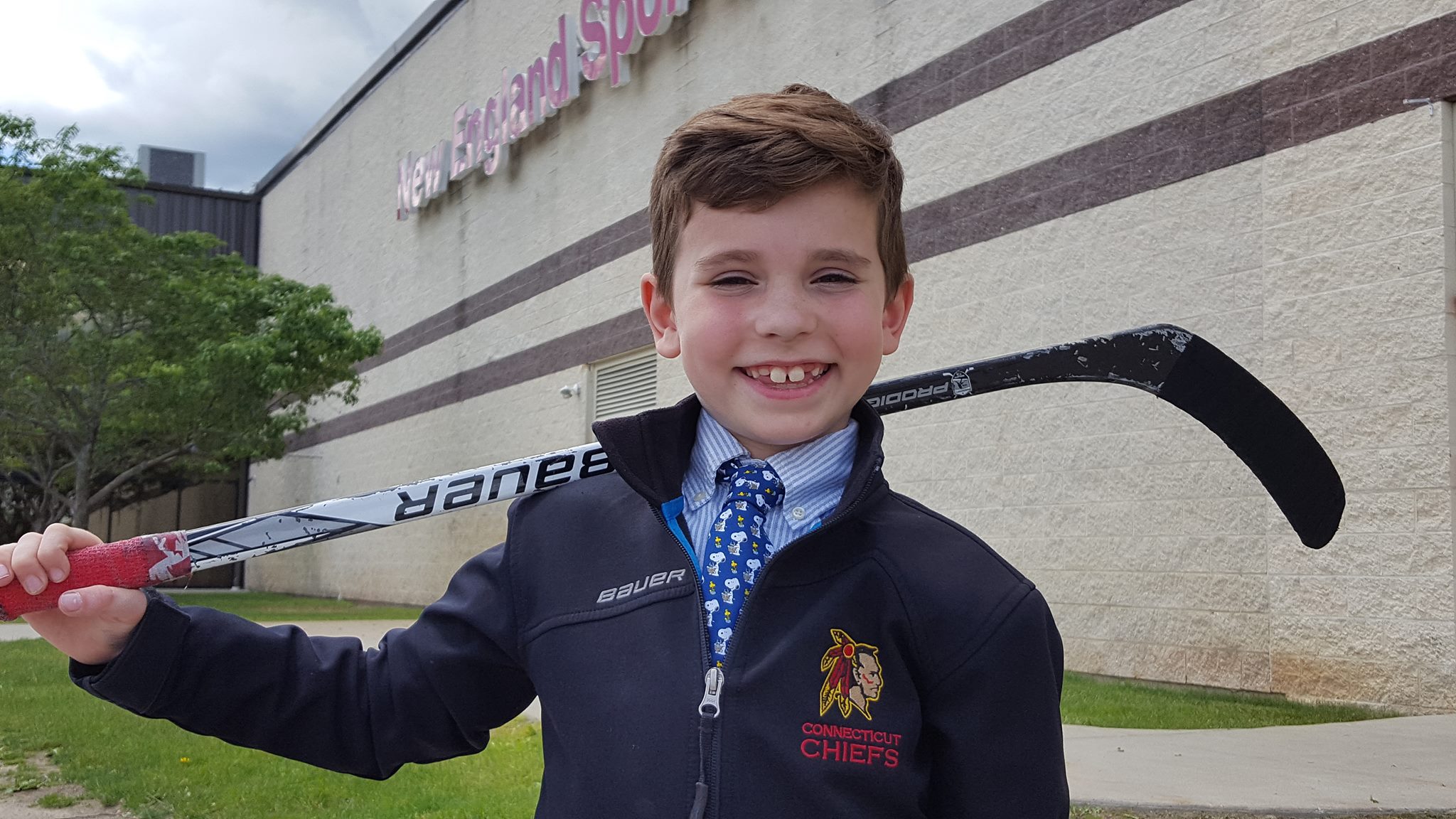 So, when we made the move to a new program with one of my kids, it was a little bit of a culture shock for us.
I mean, we ordered EVERYTHING available at the onset of the new season. New gloves, new helmet, new everything.
I remember the parent in front of us in line at the equipment fitting was looking at me like I was nuts as my kid was trying everything on. Jacket, pants, quarter zip, shells, socks, jerseys (of course), t-shirt, shorts, gloves, everything...
In hindsight, now, I know why.
Pretty much no one else ordered everything. New players, included.
Equipment aside, the environment was not at all familiar once we'd settled in to the new team colors. The new team didn't do any off-ice workouts. We weren't expected to arrive early. We weren't even given guidance on how to dress. Like, Crocs were the footwear of choice, it seemed.
So, my kid rolled in for the first game of the season wearing a shirt and tie under his warm-ups and was made fun of...for his outfit and for behing there for an hour wondering where the rest of his team was.
He showed up to the second game in a shirt and tie too -- it was game day attire, from his perspective. He was made fun of again...by more players.
Let's poke fun of the player that looks like he's taking this seriously. Some "team".
Elite teams don't operate this way.
I'd estimate that 60% of the team didn't even have team warm-ups, instead, rolling into games 15 minutes before puck drop wearing Vegas Golden Knights sweatshirts, backwards Bruins hats, those base layer tights with the velcro on the thighs, and Crocs overflowing with jibbetz.
I don't know about you...but it looks really sloppy to walk around in public with tights on that have big velcro straps hanging off them. That's...underwear, dude.
I won't comment on the Crocs. I, personally, love and wear them, Smurf and Care Bears jibbitz and all...but I'm not on the team or working out, either.
But, like, I know I see people at the grocery store or in Walmart or whatever, out and about, these days in their pajamas.
I'm not really a fan...it screams of a lack of confidence or self worth to but they can do what they want. I will never wear sweatpants in public but that's a "me" issue.
Regardless, in those scenarios, they're representing themselves. More power to them.
But for a team function, you're representing the team and yourself. Class it up a bit.
I remember one parent got all of the kids together for a team photo after the game -- great idea, I love that stuff.
Fifteen or so kids in the photo and, upon closer inspection after the fact on Facebook, just two are wearing team gear.
My kid and another kid that came with us to the new program. That was it.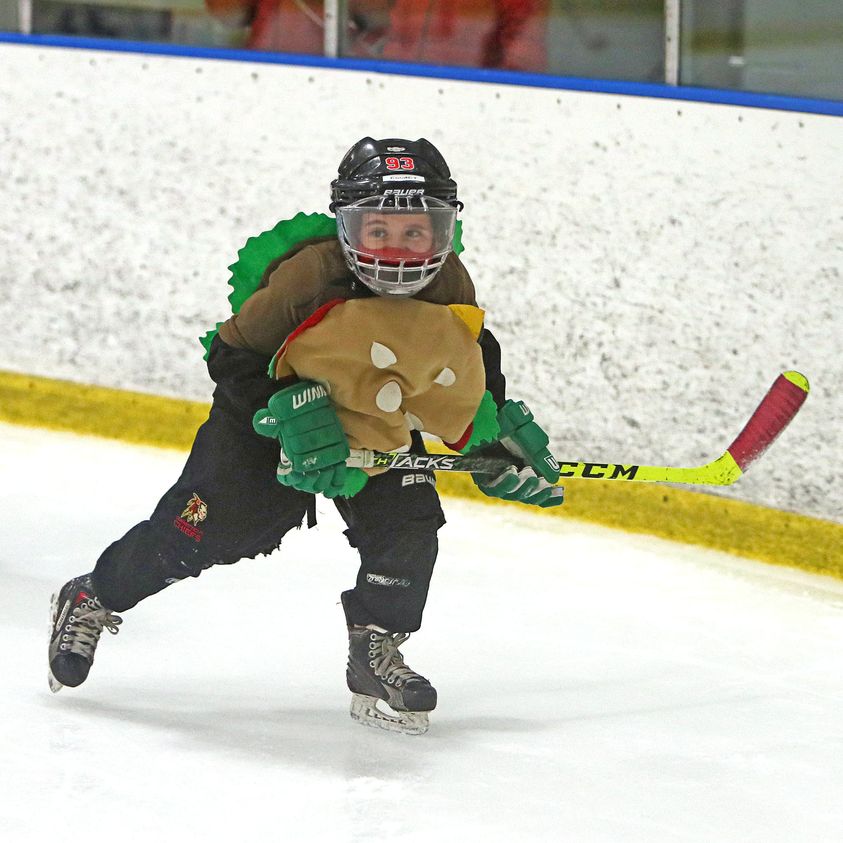 It looked like photo taken at a bowling alley birthday party...but it was actually a team photo taken right outside the locker room.
But it was the norm to dress like you weren't actually on the team.
It was like...I don't even know how to describe it.
It was like gym class from an 80's movie or something.
There was no protocol. No dress code. No order.
It was sloppy...and even on the ice, there were always kids wearing the wrong socks...on purpose! And no one was saying anything!?
It was hardly shocking that it wasn't a great team.
The coach was fine but the environment created after years of neglect by the program, the entire program, was the issue.
And here we are today -- that environment had become the norm...until the past couple weeks.
The program told everyone to buy warmups, bags, off-ice gear, polo shirts, and white helmets, along with the uniform, back in April.
A large number of returners apparently didn't think that request applied to them.
I'm not really sure why.
It's a different culture.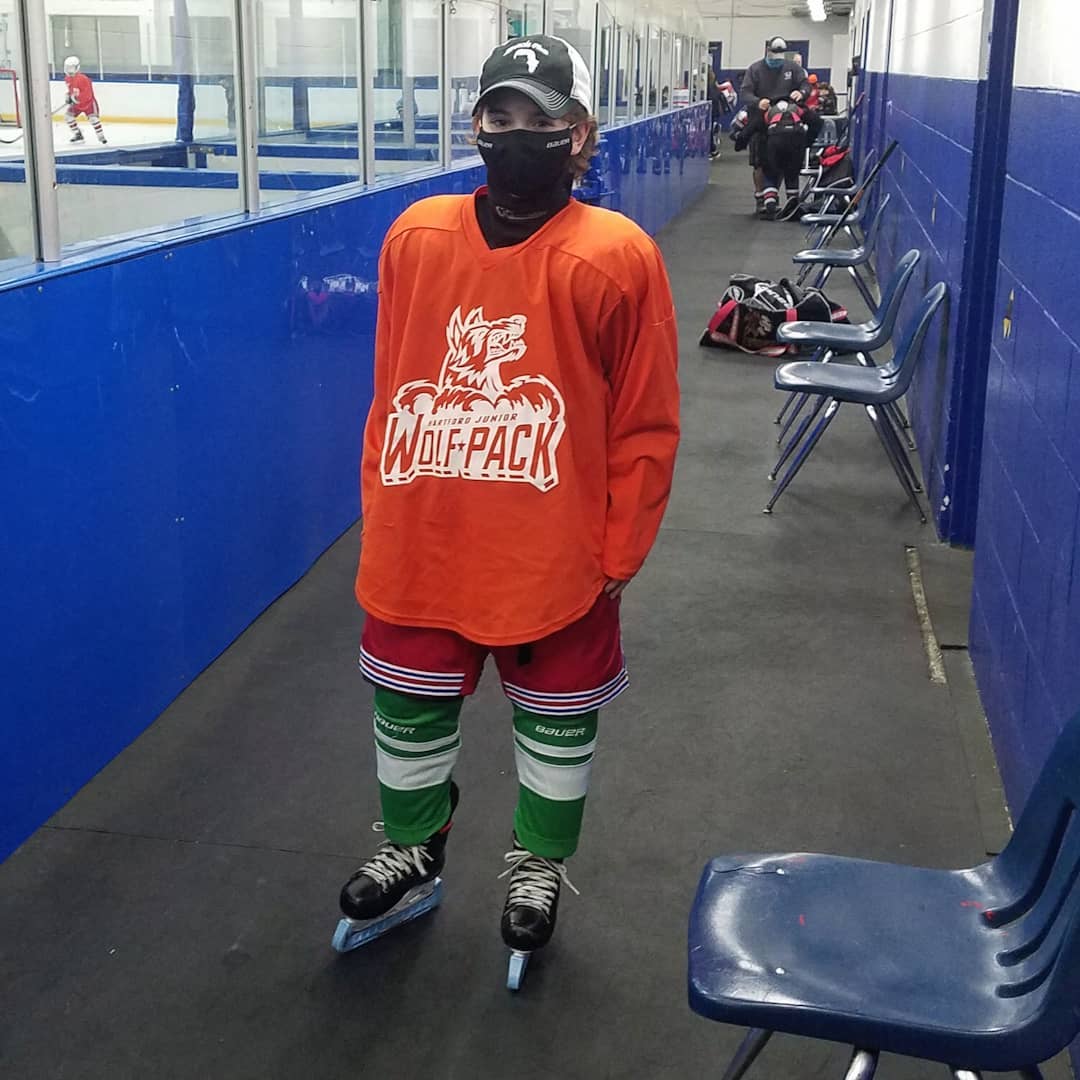 Now, though, when being called out on it, they're calling it a money grab or a blindside and crying poverty.
And then the top blows off when the concept of paying for the coach's hotel room, a non-parent coach, for away tournaments is mentioned.
Look, I get it.
It's expensive. And, yeah, it sucked having to iron my 6 year old's dress pants every Saturday and Sunday morning.
I get it. I understand the resistance. I do.
But I won't sympathize. Not for a second.
There's a program across the hall that aligns with what you're seeking if you don't want to make this type of commitment or enjoy the clown show.
There are 20 other programs in the area that fit that style of commitment too.
But you chose to play here...and having kids that have played for three of the four "strong" area programs, I'll tell you...they EXPECT you to commit.
And if you don't, you get cut.
That's why they're the stronger programs.
That's why those players walk around with an added sense of swagger...for better or worse.
---
And now we wait a few more weeks for the complaints about the annual costs of USA Hockey registration as if that's another blind side.
My family has 4 skaters and, yeah, it's another added expense...
I get it...I didn't want to fork over 250 more bucks either for a crappy magazine that no on in the house actually reads.
But I'm glad it's required.
The USA Hockey registration is NOT a money grab or some underhanded clerical fee or just for that magazine hat shows up intermittently.
It's freakin' insurance -- ensures that individual players are covered in any catastrophic event.
That's pretty important in a game where everyone is on ice, has knives on their feet, has a stick to swing around, and fighting is only loosely discouraged.
When you realize that, it should be apparent that it's pretty good deal.
We're all in the same boat, but if you disagree, stop complaining or go play pickle ball instead.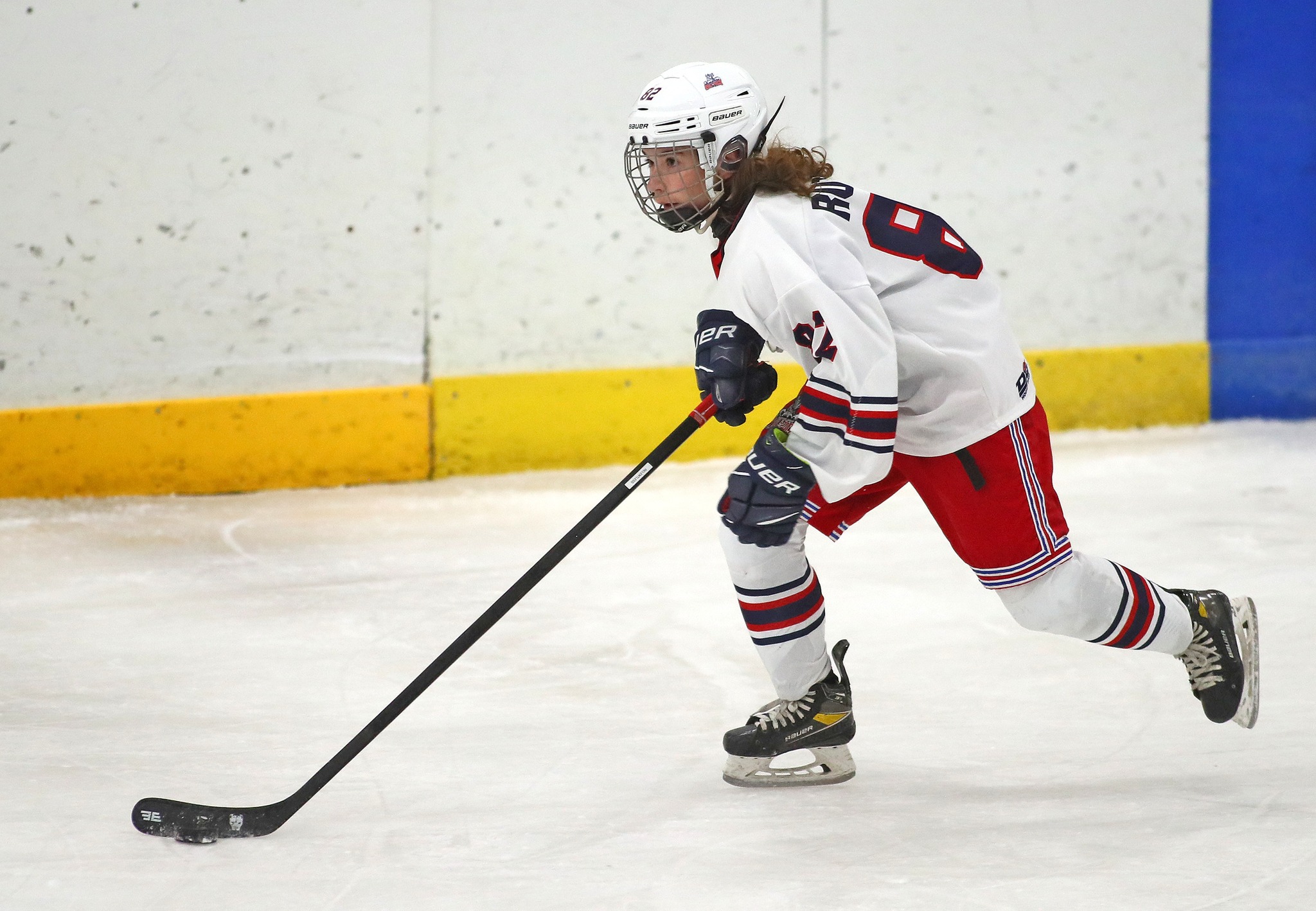 My seasoned hockey parent advice?
Buck up. Put your head down, bite the insides of your cheeks, take out your credit card, and buy the gear you're supposed to.
Then, have a great season watching your kid get better and better right before your eyes.
At the conclusion of the season in March, if you don't see the value of this choice, seek out a better alternative for your player and family for the next season.
There are hockey programs for every kind of commitment level.
Your kid won't wear a tie? There are countless programs that don't require them...but don't disregard the impact of the teams that do wear them.
Above all, though, stop showing up to practice with a $10 Venti Starbucks drink in your hand that you never finish while publicly complaining about a $35 sweatshirt your kid will undoubtedly wear until there are holes in the elbows.
Almost everyone's definition of a rip off is backwards when you take a step back and re-examine it.
Buy the sweatshirt. Buy the ugly submlimated neon camouflage t-shirt too.
Buy the tournament sweatshirt too...and go all out and get "Champions" screened down the arm even if your didn't win.
There is no worse feeling as a parent than when your kid is the ONLY one without it...cause then they don't feel like they're part of the team.
The team aspect is what it's all about.
---
Related Articles
» The Rink Experience - Universally Needed Rink Improvements
» What is Spring Hockey?
» Roller Hockey for an Ice Hockey Player
» The ever-Swirling Drama in Youth Hockey
» Is Elite Hockey Cost Prohibitive?
» The Pluses and Minuses of Private Lessons
» Don't Barf: Prepare for Game Days Properly
» What to Expect at a USA Hockey CEP 1 Coaching Clinic

Agree? Disagree? Let me know -- I love the feedback from all angles!