These Traits are 100% within your Control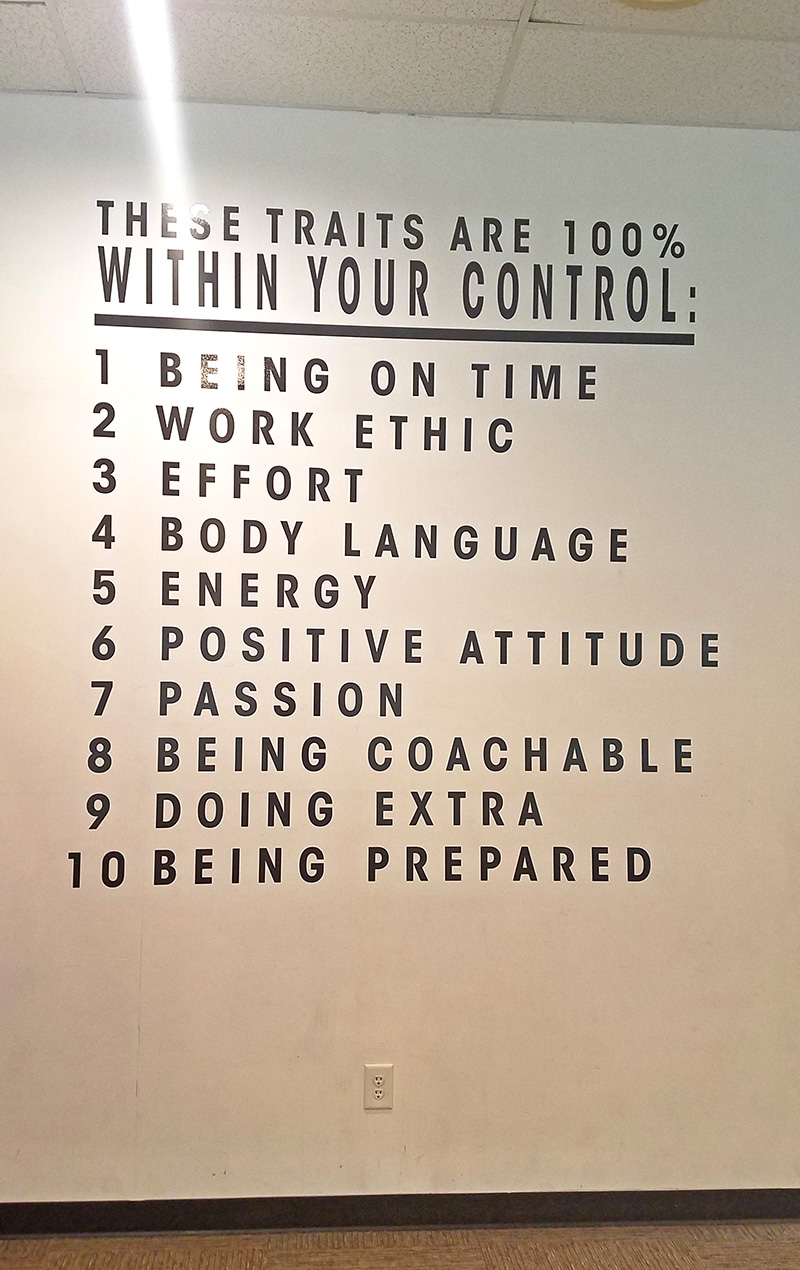 A rink we visited last season on a long distance road-trip, it was one of the Flyers Skate Zones that are scattered around the greater Philadelphia area, had this list emblazened on the wall inside their lobby.
It was like 8 feet tall and impossible to miss.
Well, unless you're a 9 year old kid or something. Reading sucks.
In that case, the equally large image of Claude Giroux adjacent to it likely drew more attention...but I noticed it and it got me thinking...this is a GREAT list!
Why doesn't every rink have this up somewhere? In LARGE format!
These traits are 100% within your control:

Being on Time
Work Ethic
Effort
Body Language
Energy
Positive Attitude
Passion
Being Coachable
Doing Extra
Being Prepared
As an adult, I'm already aware of all of these things just like you probably are.
Our kids, however, probably aren't familiar with how important *all* of them are.
Probably not a surprise to anyone that's ever visited this site before but I've actively coached my own kids on a few of these things on a semi-regular schedule.
But let's go through them anyway, one by one, as they apply to the youth hockey scene...
Being on Time
This one isn't on a young hockey player -- it's 100% on the parents. We drive the kids -- it's on us.
As a proud parent, I've never once been late to a team practice, game, or event. Ever. Even that one time I had a tire blow out on I-95 in a snow storm on the way to a game!
But, naturally, there are teammates that are routinely late...and I know things happen and real life gets in the way (blown out tire, anyone?), but when it becomes a routine, your kids suffer for it.
Coaches notice, teammates notice, the eye rolls begin and, boom, you're just not that committed to the team.
So important to do what YOU can to get your kid where they need to be...on time.
---
Work Ethic
This is on the player. One thing I've done for a really long time is stress to my kids, as they enter the locker room, is that the next two hours or so are "serious" time. Do your best and don't fool around.
---
Effort
Semi-related to Work Ethic. For effort, I also remind my kids to do their best but also remind them that if their hair isn't sweaty at the end of the game or practice, chances are, the effort wasn't there.
Body Language
Oh man... My oldest son used to have a habit of looking up at the ceiling every time something went wrong.
Missed shot, goal scored against while he was on the ice, falling down for no reason, you name it -- the immediate reaction was to tilt his head back and look at the ceiling.
It took a really long time to break that habit. These days, he's guilty of the occasional shoulder slump on his way to the bench following a goal against. We're working on it.
At the same time, I'm fortunate that none of my kids are stick slammers. A common plague these days, kids slamming their stick into the ice, against the boards, or the goal posts. Usually starts with one kid on the team and then spreads like wildfire.
If your kid is guilty of that sort of thing -- that's body language they need to get under control.
There's nothing easier than stickhandling past an openly frustrated player.
---
Energy
Like being on time, energy isn't something that I put solely on the player's shoulders until they're nearly a teenager.
This is more the parents' responsiblity. You dictate what time they go to bed and you dictate what they do before games on game day.
If your kid is gassed before the puck even drops -- that's on you.
A lot of parents don't think it matters -- I mean, even I say the game results don't really matter at the youth level -- but it's not about the game specifically.
It's about personal responsibilty.
Just last night, I got sucked into a movie about Linda Rondstadt on television (laugh, if you must) but had the self-awareness to shut it off because I knew that if I stayed up to watch the whole thing, I'd have been garbage today at work with an energy level of, well, zero.
We all have that co-worker that shows up hungover or late consistently. They're an anchor...and don't usually last long, employment-wise, anywhere.
Why set your kid up for failure like that? Instill good habits from day one.
---
Positive Attitude
This has to be coached. Well, sort of.
Kids imitate their parents. If you're like Mark's mom and think everyone sucks and the program sucks and the game times suck...guess what?
So do your kids.
Keep the negativity to yourself.
---
Passion
The player either has it or they don't. It's not something you can really teach or force your kid to have.
That said, I've borne witness to countless parents that push their kids excessively to excel when it's painfully obvious that the kid is just going with it cause their parents keep bringing them.
Some parents live vicariously through their kids.
Some parents are just blind.
When the passion isn't there -- it's pretty apparent. My kids like hockey now but I'm not foolish enough to expect any of the three will consider it a "passion" further down the road.
---
Being Coachable
So important. So important.
Did I mention that his is important?
I have more than a few articles on here that touch on that subject.
This is something that can be taught...and the best way I've found to teach it, as a parent, is to keep your mouth shut.
Let the coaches coach.
Not you.
If your player does what their coach asks them to do and gets better and better at the skills the coaches are coaching, they'll do just fine at this game.
If they're also getting coached by you on the car rides or from the stands, well, yeah... They're not coachable if your "coaching" isn't 100% in line with the coaching staffs.
---
Doing Extra
Like anything in life, to get better and better at something, you have to do more than the bare minimum.
If your son or daughter plays hockey and just goes to practice and games from October to mid-February...that's the bare minimum.
Encourage them and give them the tools to do more.
Take shots at home, stick-handle in their room, do off-ice exercises.
Private lessons, even.
The more they do, the better they'll get, and the more they'll succeed.
This rings true with EVERYTHING.
It's a great life habit -- not just a hockey one.
If they still don't do "extra", perhaps the passion isn't there. But it's the parent's job to offer them the opporunity to do more.
---
Being Prepared
You ever notice it always seems to be the same players that are missing a piece of equipment for practice?
Or forgot the correct jersey or socks on game day?
Or "forgot", in air quotes, to wear team warm-ups for a team event?
I'll just come out and say it -- those kids aren't going to last.
While I firmly believe that the kids should be 100% responsible for this sort of thing, I can't even guess accurately how many times I've double checked my kid's hockey bag before heading out only to find something missing.
My kids routinely forget their water bottle.
It's the parents responsibility too.
Like being on time -- you know where they need to be and what they need to have with them. If you don't make that a priority, it gives the impression that you don't care.
As I said earlier, your kids follow your lead.
Set them up for success, not failure.
---
Related Articles
» Getting a Sponsor / Becoming a Brand Ambassador
» Product Review: Sparx Skate Sharperner
» Effort First - Points Second
» Situational Game Awareness
» Review: Duskocy Power Hockey
» The Emotional Gamble with (very) Young Hockey Players
» Realistic Expectations: Take the Dad-Goggles Off!
» The 'Dreaded' Car Ride Home after Hockey

Agree? Disagree? Let me know -- I love the feedback from all angles!