The Effectiveness of the SuperDeker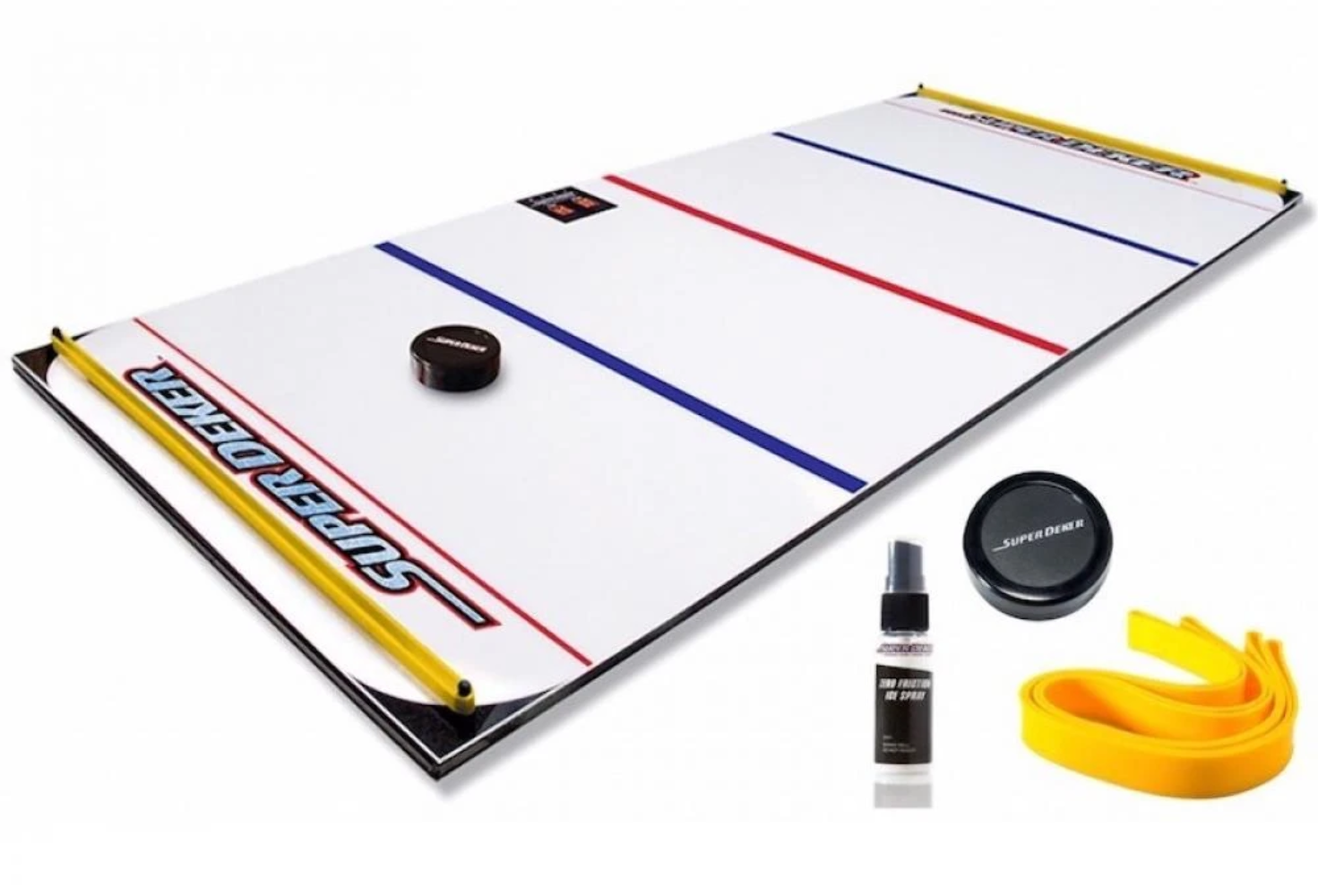 Okay, so I was not a fan of the SuperDeker when came out and I think I even lambasted it as a silly and overpriced training tool. Dumb gimmick.
Even still, since we literally have almost everything at home, I reluctantly bought one during a moment of weakness a few years back.
I still think it's silly...and way overpriced for what's literally maybe $7 worth of 1980's-era Radio Shack technology.
But...it's not in a corner collecting dust.
The kids use it.
When prompted, of course, but they still use it.
And here's what I've found...
My oldest routinely gets a scores in the low 80's on mode two (where the lights turn off if you don't get there fast enough) and without using the bands.
Regarding the bands -- if your kid is, head down, just bouncing the puck off the bands frantically hoping to hit the targets in the process, yeah, you're not getting anything out of this device. Take the bands off.
Anyway, since we purchased it, his in-game stickhandling has jumped multiple levels. No more banking it high off the glass or passing the puck with one single forechecker coming in on him -- he's just gonna dance around that guy instead.
I credit experience and just overall ice time, sure, but the SuperDeker definitely sped up the process. It made a noticeable difference pretty quickly.
These days, he SuperDekes while standing on one of those balance boards... I know, I know...another contraption I was never keen on.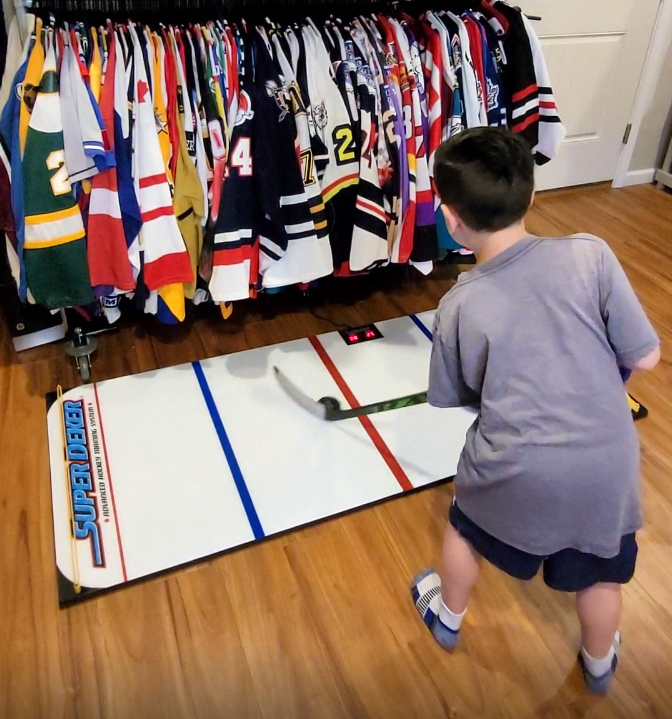 My middle son, however, is where things go off the rails in the SuperDeker's effectiveness in skill development.
He gets scores in the middle to high 60's consistently used the same settings as his older brother.
He's not as smooth in catching the puck on the target and his stickhandling could easily be described as choppy.
Not chopping broccoli style, you know the kind...but still choppy.
That said, he's fast and accurate enough to get a respectable score.
On the ice, though, he's awful.
Stickhandling to a little red light randomly appearing before him has not translated to his on-ice game at all.
Like, not at all. Zero percent improvement.
Total dud.
And I figured it out!
The missing piece -- The reason it hasn't worked as well for him.
The SuperDeker is all about training you to be fast moving the puck from one point to another but there's a huge flaw.
There isn't an obstacle between the two points.
If I put a stick down between the two red dots, he slides the puck right into my stationary stick. Every...single...time.
Just like he does in a game when he tries to stickhandle "through" an opponent.
It's an impassable barrier for him.
This is the failure point -- he's a decent stickhandler...follow the flashing red lights...when there are zero obstacles.
But, in game, that's not the point of stickhandling.
The whole point is to move the puck quickly and effectively AROUND obstacles.
Now, I'm not saying my oldest son is calmly toe dragging around obstacles left and right -- he's not -- but he is anticipating and predicting the poke checks and protecting the puck with his stickhandling.
Perhaps it's just an experience thing or a hockey IQ thing where he's able to process more things simultaneously than his brother...but I don't think so.
I think it's just the SuperDeker is a 50/50 thing.
Now, SuperDeker has addressed this issue with their latest (and more expensive) models for this holiday season. New look, different colour lights, larger surface, and an app for some reason.
Maybe $12 worth of Radio Shack technology in there now...but in addition to the bells and whistles that really don't enhance the product, they now come with obstacles to place on the surface too.
Not sure that's worth an additional $100 or $200...but should help...
Like anything, though, only if the kids actually use them. You get out what you put in.
Players will either benefit greatly from it as it improves their on-ice game or...they'll just get good at a side show trick that won't benefit them in a game situation.
In either case...I think my opinion on the SuperDeker has changed...and my youngest gets in on the action with relative frequency too. Too early to tell if it'll benefit him on the ice...but he can outscore me 100 times out of 100 on this blasted thing!
Super humbling to get schooled by a 7-year-old on something that isn't a video game!
---
Related Articles
» The 'Dreaded' Car Ride Home after Hockey
» Unusual Coaching Instruction - No Blocked Shots
» Review: Raven Hockey Sticks
» Youth Hockey Burnout
» Realistic Expectations: Take the Dad-Goggles Off!
» Regarding the Humboldt Broncos Tragedy
» The Ballad of Double Rostering
» Responsibility of Referees in Youth Hockey

Agree? Disagree? Let me know -- I love the feedback from all angles!