Hockey Parenting: Game Preparation
Don't forget to make sure the kids' eat something.
Like so many others, this past weekend was the opening weekend for the hockey season.
Sure, my kids are outrageously guilty of playing year round...but this weekend's game actually counted for something. I was excited. So were they.
My oldest son, a peewee, split the weekend with a win and a loss. Individually, he was inconsistent from one game to the next -- effort and hustle are either on or off -- but managed his first point of the season, an assist.
My middle son, Henrik, well...let's focus on him.
First game was a home game and he looked...okay. Slight roster shuffle had him playing on the wing instead of defense where he's most comfortable but his team blew the opponent out of the water by a margin so large that I won't even mention the score.
Outside of that, regarding the game play, I don't really have anything to report. I mean, truth be told, I wasn't even in attendance because I was shuttling my other son to his game...but there were two "out of the ordinary" occurances that I learned from my wife and the coaching staff.
First, while on the bench, in his words, he started "coughing".
He asked the coach to have Mom get his inhaler so a coach ran over to my wife DURING THE GAME, and stunned, my wife was like, "Huh? He needs what? Now?"
Full disclosure -- Henrik has an inhaler.
And Henrik is allergic to pretty much everything. Like, we carry an epi-pen. He IS that kid.
But Henrik has NEVER once needed an inhaler before or after a hockey game or practice...and certainly never DURING a game. And he's a solid 4 years into this hockey journey.
If it were gonna happen...it would have happened by now.
Exertion asthma, thankfully, isn't something he's stricken with. Peanut butter sandwiches are his kryptonite.
So, mom went over -- good thing she was there cause I don't carry one -- gave him a puff...and apparently all was well in the world and he finished the game without further incident.
Or did he?
Now, in ordinary circumstances, the locker room vibe after a blowout win is pretty good.
My kid was crying.
Because he didn't score.
So unusual. He's had teammates in the past that will cry on the bench during the third period if they hadn't scored...but Henrik was never among that group. Like, ever.
If anything, he was the kid that would awkwardly stare at them as he wondered what their problem was.
Four hours North, on the road with my oldest son but getting score updates all along, I too found it odd that in a game with so many goals, he didn't find the scoresheet -- playing wing too -- but other parents tell me that the goalie had his number.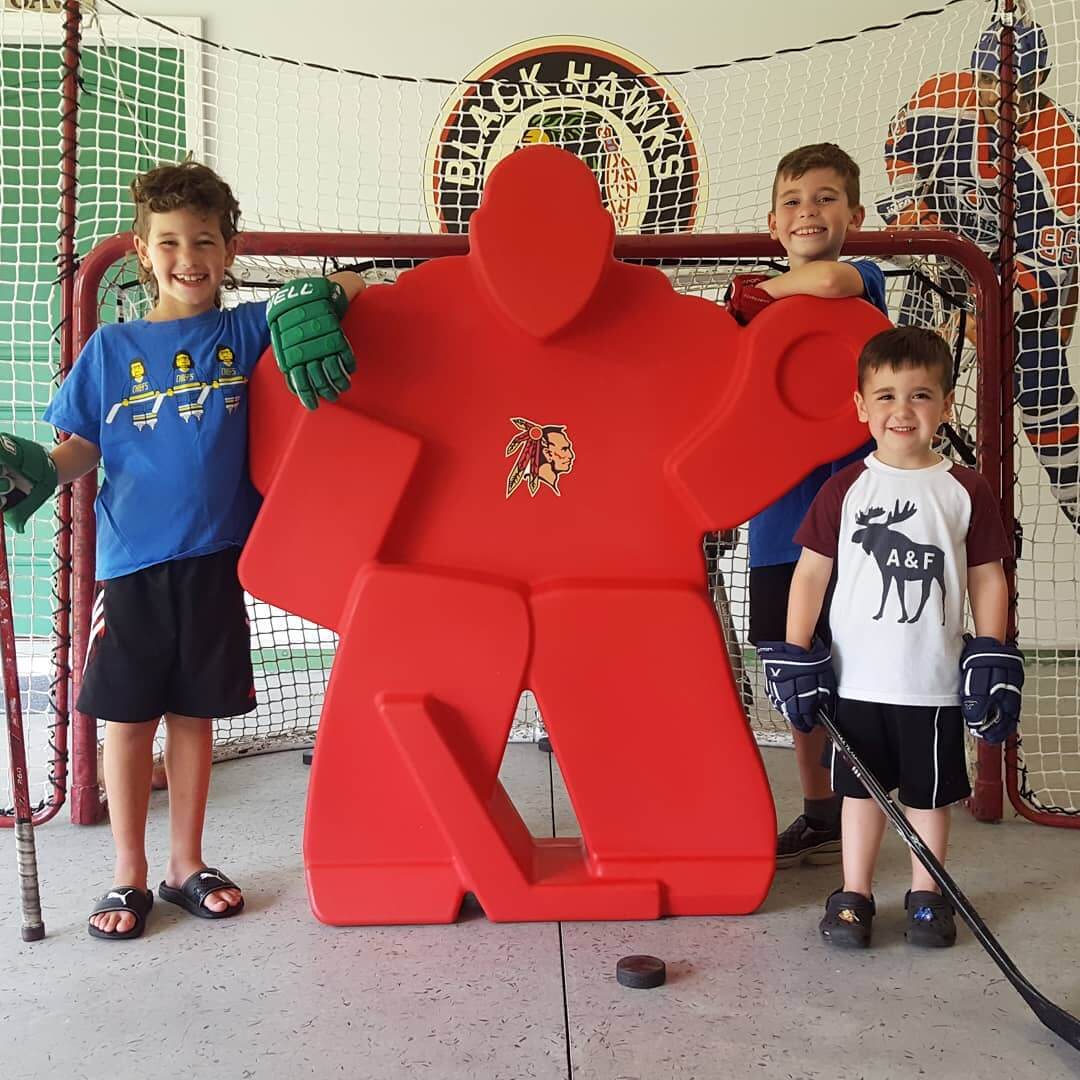 Sure, that's fine.
I've witnessed it.
My kid shoots right at the goalie better than anyone.
Really, our plastic goalie at home may as as well be Patrick Roy.
But crying? After a huge win? Really?
And the inhaler incident?
What is going on?
Middle child desperately begging for attention, classic Jan Brady right there...and it was, unfortunately, working for him.
So, the next day, he has a double header in Brooklyn, New York, and I'm taking him down while my wife has the older brother's game.
During the 2+ hour car ride, we talk a little, err, a lot about the crying in the locker room thing -- the one that concerned me the most and how that's never acceptable unless you're missing an appendage or something.
We reference one former teammate that, well, that was his go-to move pretty much every game and how embarassing it was to have a kid on the bench crying as we're coasting through championship season with almost no competition.
He'd have a hat trick and still cry cause someone else scored four or first, even. Or cause the kid on the bench next to him was staring awkwardly at him.
Following the conversation, I was certain that the crying in the locker room over not scoring would not happen again -- he got it. Who scores the goals doesn't matter.
I called him on it...and he knew it.
That won't work.
It won't get attention.
So, with that put to rest, we're down in Brooklyn and just as they're taking the ice, one of the coaches mentions that Henrik said he had a headache...
Sigh.... Here we go again...
I know my kid. Just like everyone knows their own kid.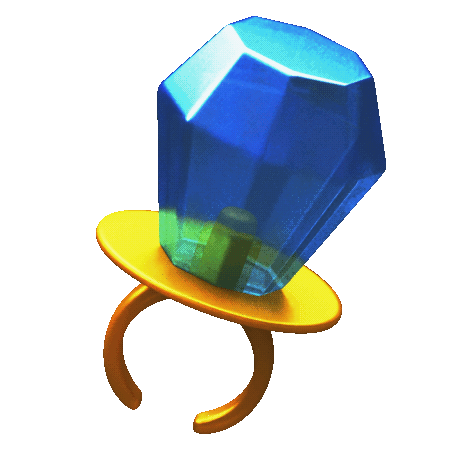 If I'd offered up a Pokemon video game or a ring pop or something, right then and there, that headache would magically evaporate...instantly.
Sure, the locker room was hot and they were in there, in full gear, a little too long...but yeah, I wasn't having it.
He played okay in the first period -- again, as a wing -- and then quickly deteriorated.
Like, minimal effort.
At first, I was annoyed with his lack of effort -- again, he'd heard the long conversation we had with his older brother about effort and hustle just this morning -- but I was also content, openly smiling as it was clear that the coaches also saw the lack of effort and he was sitting out shifts.
Based on his play, he didn't deserve to be out there.
Trouble is, we had a short bench -- not even two full lines available -- so they had to use him here and there...
After the game, a lopsided loss, the kids are all in the locker room for what felt like an eternity...and then Henrik, and a coach, come flying out the door just as nearly a half gallon of clear liquid spews out of his mouth into the trash barrel right outside the room.
Awesome.
I sit there, probably 5 meters away just watching, for what other parents likely thought was an unusually cruel amount of time.
One of the coaches had it under control...and anyone with kids knows that it's often better when Mom or Dad don't get involved in situations like this.
Still, though, aware of some likely parent shaming on the near horizon (from those at the rink -- not teammate's parents), I slowly got up, exhaled, put on my parenting pants, strolled over, and took over holding his hair back.
Oh yeah...if he wasn't dehydrated before the game... he certainly was now!
Wow. That's a lot of barf.
Hmmm...okay, maybe a ring pop wouldn't have solved his, ahem, "headache".
With a few hours to kill before the next game, we took half of his equipment off, walked around outside, sipped some water, called mom at home (moms fix everything), ate some gatorade chews, a little bit of apple sauce, and some graham crackers too.
Best I could do -- he turned down everything else I offered.
So, you know, we passed the time taking it easy -- not horsing around with teammates and just chilling out.
No rock wall climb, no arcade, no french fries, no running around. He was missing out.
During this down time, and the wide ranging conversation that took place, I came to the conclusion that he didn't actually eat breakfast that morning like he'd claimed to -- the tractor beam of the television was too strong.
So, basically, he hadn't eaten anything besides a few gummi things and some graham crackers for roughly 18 hours at this point. Besides downing like half of a bottle of water -- too much, in my book -- during the game, he had nothing in his system.
Nothing.
It's frustrating too cause I'm all over my oldest son about proper preparation before hockey. He doesn't get it either, seldom follows it, and pays for it later...but Henrik is witness to all of it.
He should know better...if only a little.
So, from that perspective, I'm hoping he's learned something.
I adjusted his helmet in the unlikely case that it was too tight and cramping his amazing mullet and causing the headache...but like all of the coaches had already correctly determined, he was just dehydrated.
I was pretty sure it wasn't a helmet issue but who knows. It's kinda like how a bandaid doesn't soothe pain at all but some kids can't live without one.
Henrik goes through more bandaids in a month than I have in a lifetime.
From my own experiences with dehydration, sitting in a hot room, with a helmet surrounding your head, you start to feel all claustropobic, the roof our your mouth gets all hot and, well, you just start feeling like crap really fast. Tail spin, nose dive. Been there.
You know that one kid you have that you ALWAYS have to tell to STOP DRINKING at a restaurant?
Henrik is that kid on our family.
So, we go over how to SIP water while on the bench or during water breaks.
For real, we were sitting on a curb in the parking lot and I was showing him how to drink like how you'd ween a toddler off of a sippy cup. Henrik -- this is how you drink.
This has always been an ongoing battle for him since his first day of organized hockey practice. He's long been one of those kids that thinks that water breaks are for chugging half a bottle of water -- full gulp style.
(If any of my three kids can funnel in university, Henrik will be the one...)
End result is one of two things -- feeling sloshy and throwing up or having to go to the bathroom.
Happened all the time during his learn-to-play days, like to the point where we wouldn't let him bring a water bottle anymore or just barely filled it...but that was years ago.
I thought we were past this.
So, before game two, he's looking around 50% and I had no intention of not having him give it another go on the ice.
We're already here, your stuff is on, you say you still want to play, and the coaches are open to it...so you're playing. I gave him multiple opportunities to not play.
Expectations were low but, hey, you never know.
He gets dressed and I keep him out of the hot locker room -- with his helmet off -- for as long as possible. Partly cause it was super hot in there but also cause, as a parent, if I had an inkling that someone had a stomach bug or something, I'd want their kid away from mine too. I'm aware and respectful of that.
So, just before game time, he heads in to the locker room, the door closes, and away we go...
But then, door flies open -- he comes out helmetless with BIG eyes and ralphs another half gallon of clear liquid.
Could this day get any better?
To his credit, the kid barfs like a pro.
Zero splash damage.
I mean, like, it wasn't even making contact with his teeth -- just shot right out like a fire hose. That technique will likely serve him really well when he's the campus beer funneling champion.
Hunched over the garbage can -- which I think was actually a recycling bin -- he says he still wants to play so I strap the helmet on and he heads out on to the ice with the team.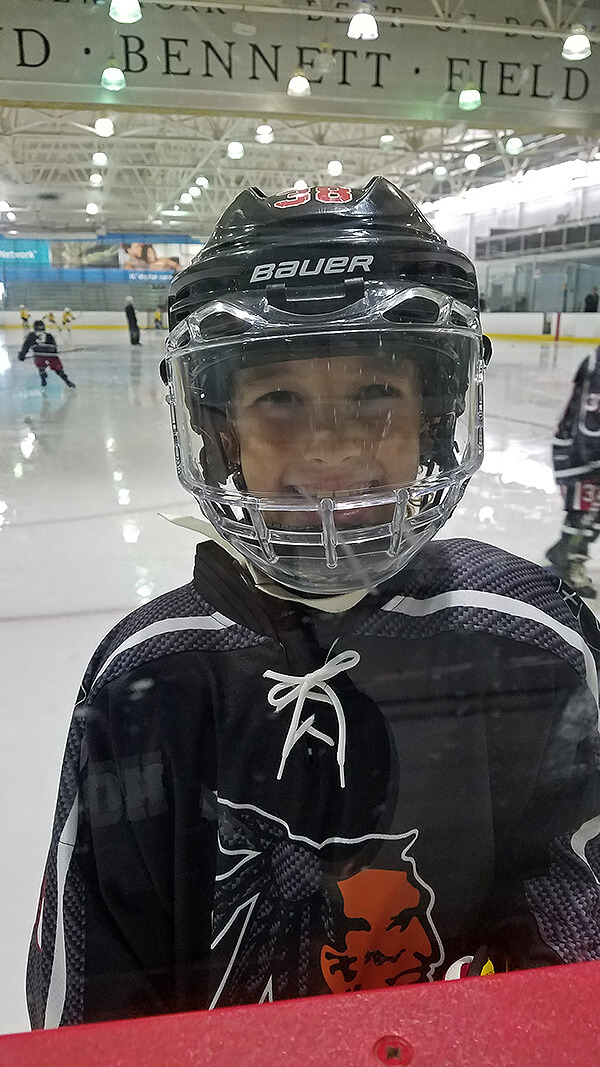 The photo over there was taken during the 3-minute pre-game warm-up less than 5 minutes later.
He looks okay, right?
So for this game, he's back on defense where he's most comfortable and he looks, eh, about 50%, you know, as could be expected.
A good shift followed by a bad shift. Mite hockey.
He assists on the first goal...things might be okay, I'm thinking...
And then I see him sitting in the middle of the bench.
He missing a shift.
Head back...and then head down. Hands on the dasher boards, coach leaning over him.
Oh yeah, it's happening.
First time I threw up during a sporting event was in high school when I was probably around 14 years old. I ran track and probably downed at least a pound's worth of Skittles and Gummy Bears just before the meet that day.

No exaggeration. I can eat a LOT of candy.

That's some solid preparation right there.

I ran the first event of the meet, the 5000m, and knew from the first lap that this was going to be a battle...with myself.

I finished the race, won it due only to lacklustre competition that day, and immediately emptied the contents of my stomach right at the finish line.

Now this was the early 1990's before high schools had the fancy tracks that they do now...so mixed in with the slate colored gravel was a rainbow of sticky chuncks. Couldn't hose this track off.

Legit, the remnants of that day became one with the track for the rest of the season...hilariously right at the finish line.

So, yeah, there's some family history when it comes to poor planning prior to athletic exercises.

Glad my kid is figuring this out at 8 years old and not as a teenager.
Anyway, last season, when I was on the bench, he'd have been done.
"I don't feel good, I'm sick, I can't play."
But since I'm not over there this season, I don't think he ever even considering not playing.
(While I truly miss having the opportunity to help coach my kid -- mid-game -- cause it would be really beneficial in certain instances there's also a huge upside to just being a fan. That, and no one's kid actually listens to advice from a parent anyway...)
So, the team is battling hard in this game and with Henrik out of commission, we're only running 8 skaters total with the defense playing iron man.
He has to play in the second and third period -- if only for 30 seconds here and there.
During one shift, where we had the opponent pinned in their own zone, he's back there by himself on the point and he abandons it -- turns and hightails it right to the bench.
Have the bucket ready!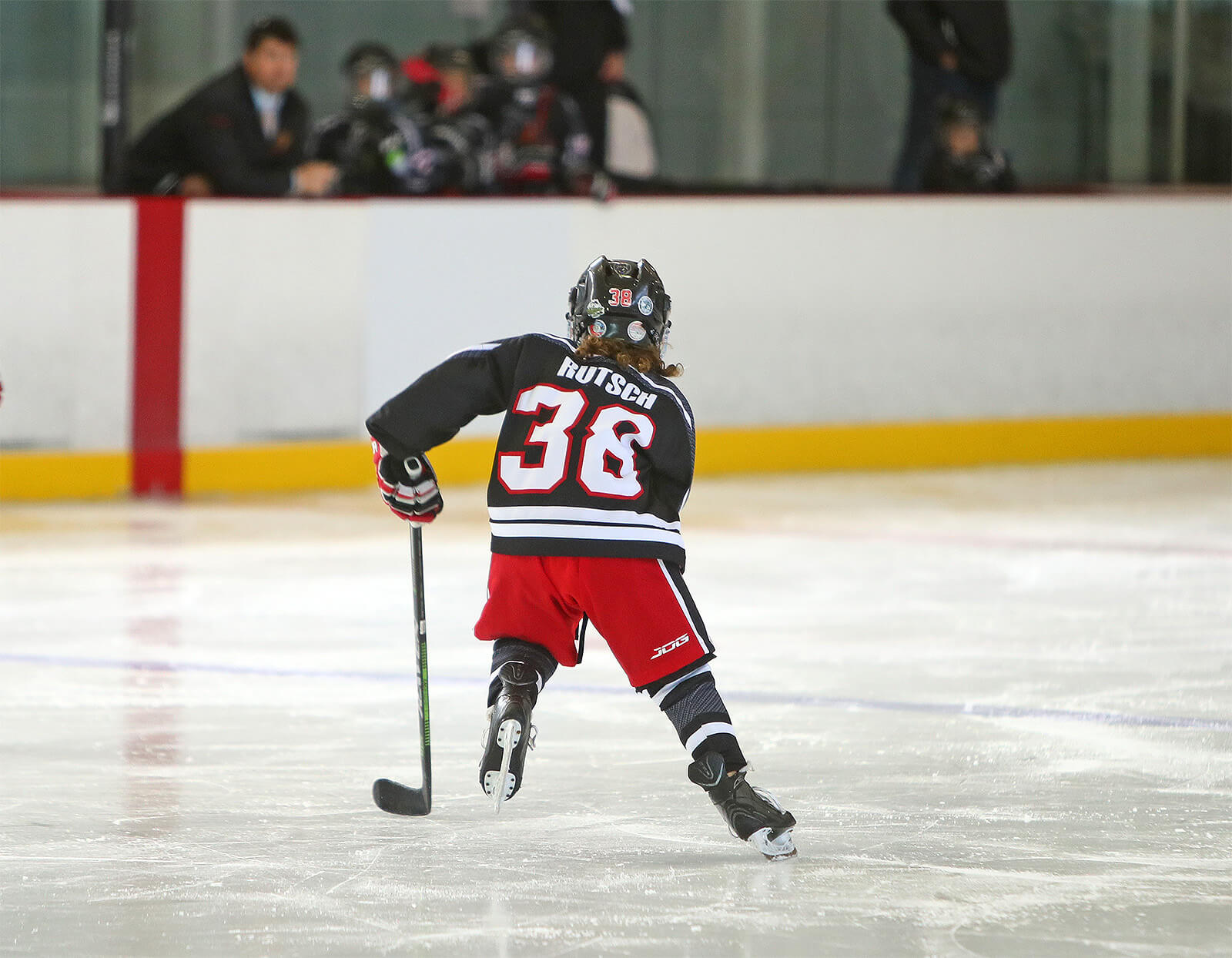 Henrik Rutsch heads to the bench for a, ahem, bucket break.


In the end, we lost in a nailbiter against a team that had trounced us just a few hours earlier. That's a win in my book.
Some of the kids actually thought we'd won. Most thought we tied. Based on their chatter, I don't think a single one was aware that we'd lost.
Circling back to the crying thing, that's why it bothers me so much when I see a kid getting all emotional about scoring or winning. More often than not, the kids have no idea what the score is. Especially when there isn't a scoreboard up on the wall.
And that's how it should be -- getting bent out of shape over a single game as an 8-year old is ridiculous. It doesn't matter. A disgusting blue raspberry ring pop should solve anything at this age group.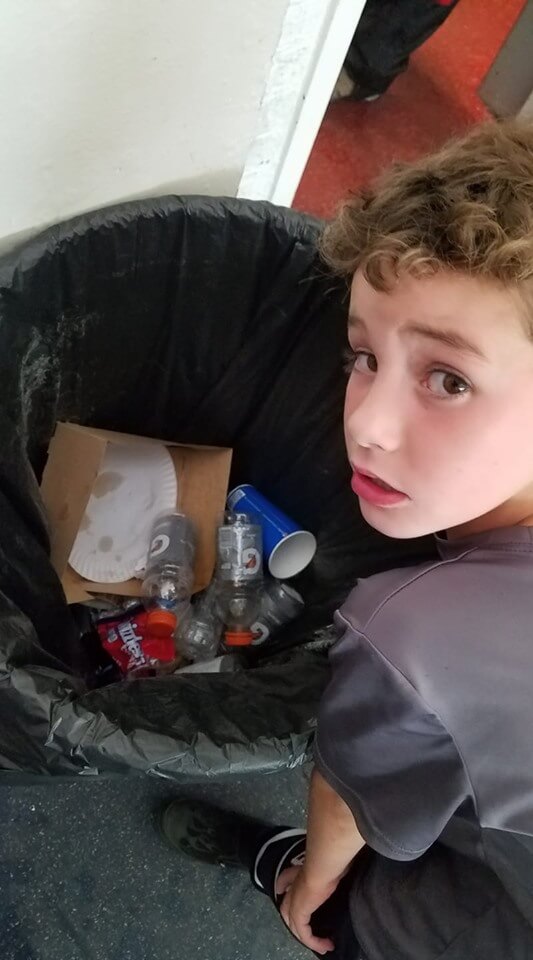 I'm not sure if a healthy Henrik would have made the difference but it certainly wouldn't have hurt.
He made one nice d-to-d pass and stood a player up at the blue line but, besides that, he was little more than a stationary body out there giving one of his teammates an invaluable short rest on the bench.
After the game, he spewed again outside the locker room -- where all that liquid was coming from, I have no idea.
Here's a post-game action shot.
Parents were lauding him with praise -- amongst the "hope you feel better"s -- for battling through and being a warrior.
Realistically, he was merely plodding through rather than battling but he finished both games.
I was somewhere caught between angry, proud, and anxious.
Angry at myself that I hadn't watched him eat breakfast or put more pressure on him to eat something from our bag of snacks during the car ride there. He's 8. I've got to prepare him.
Proud that he wasn't crying after a game where he likely should have been. Proud that he could barf like that and not get a drop on him. Proud that he made it to the bench everytime during the game. And proud that he even wanted to play with out me flashing even the slightest "dad glare".
He wasn't scared or afraid as he was throwing up -- my oldest would've thought he was drowning or something. Like, jazz-hands level drama.
Henrik just yak'ed...nodded that he was okay...before hurling up some more. Loop mode.
The anxiety was due to the fact that we had a stressful 3+ hour, US Open traffic marred commute home and I had but ONE single plastic bag in the car.
He was the last player out of the locker room which is pretty common -- I won't help him take his gear off -- and he still carried his bag all the way to the car without complaint.
we even stopped to take a photo with a recycle can outside the building. Pretty sure he utilized four or five of them throughout the building.
(Hilariously, the facility's social media accounts "liked" this photo and all of the other barf related photos I'd posted during the day. I mean, if I ever start reviewing buildings, Aviator Sports & Events Center gets high marks for having barrels to barf in every 10 feet or so.)
The commute home was about as stressful as I'd antipated and everytime he hesitently (only in my mind) said "Dad?" from the backseat, I was prepared for the worst... Well, not the worst. In some ways, I was thankful that the "issue" of the day was coming from, you know, that end...
So, we made it home without incident, rocking out to way too much Ozzy Osbourne and even stopped at a McDonalds where he ate a 10-piece McNugget meal that stayed down. It was a pretty normal ride, all-in-all.
By the time we arrived home, he was back to his normal self.
And you can bet he'll be ready for practice tonight!
So, yeah, make sure your players eat SOMETHING before a game. Nothing too heavy, nothing too close to game time...but something.
Check their hockey bags...twice...before heading to the arena and look at their skate blades too. If anyone I know reads this and you see me at the rink, I always carry a spare set of gloves and you're totally welcome to borrow them in emergency situations...but they're bright green so as to shame you for forgetting your own.
Oh, and never forget to ask if your player needs to go to the bathroom before they start putting their equipment on.
---
Related Articles
» Review: Boston Junior Bruins Brick Series Tryouts
» Set a Good Example...and Grow the Game
» Positionless Puck Chasers in Youth Hockey
» Too Late to Start Hockey? Or too soon?
» Make a Play!
» Guide to Hockey Parenting...better.
» Team Setting, Team Culture, Team Personality -- it matters.
» Unusual Coaching Instruction - No Blocked Shots

Agree? Disagree? Let me know -- I love the feedback from all angles!