Retro Equipment or History Repeating?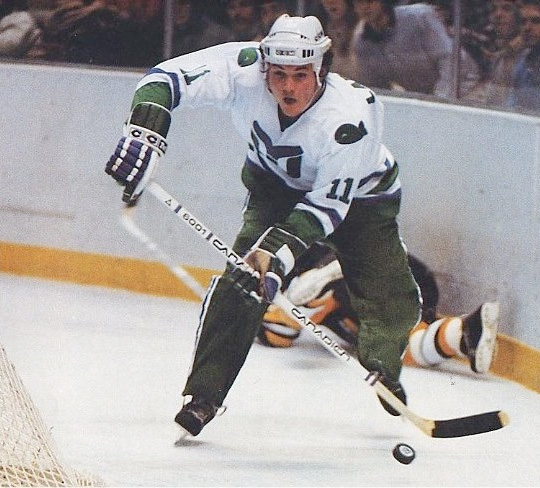 When I was maybe 9 or 10 years old, I wanted a pair of leather gloves so bad.
Like, possibly even more than one of those white fibreglass Canadien 6001 sicks. Those things were FIRE in the 80's.
Paul Lawless, of the Hartford Whalers, gave me one once after one of their practices. He shot left...and I shot right. Plus, I was a solid 2 feet shorter than him. And the blade was broken. But it was a great day.
Anyway, back to my hockey gloves story...
Sure, my gloves had CCM or Cooper emblazoned on the cuff -- I don't recall Bauer equipment, besides skates, back then -- just like the guys in the NHL but since they were cheap nylon ones, they looked and felt like knock-offs to me.
Hated them.
Then, having an August birthday, I finally got my wish.
Leather, possibly pleather, gloves with the some embroidered details. The CCM logo emblazoned on the cuff was still screened... but I'd hit the big time.
That October, for the first hockey practice...all of the cool kids had nylon gloves.
All of them.
They were "lighter" than the heavy leather gloves and dried faster...or so they said.
I had old man gloves, now.
Relics from the 1970's, it felt.
Sigh...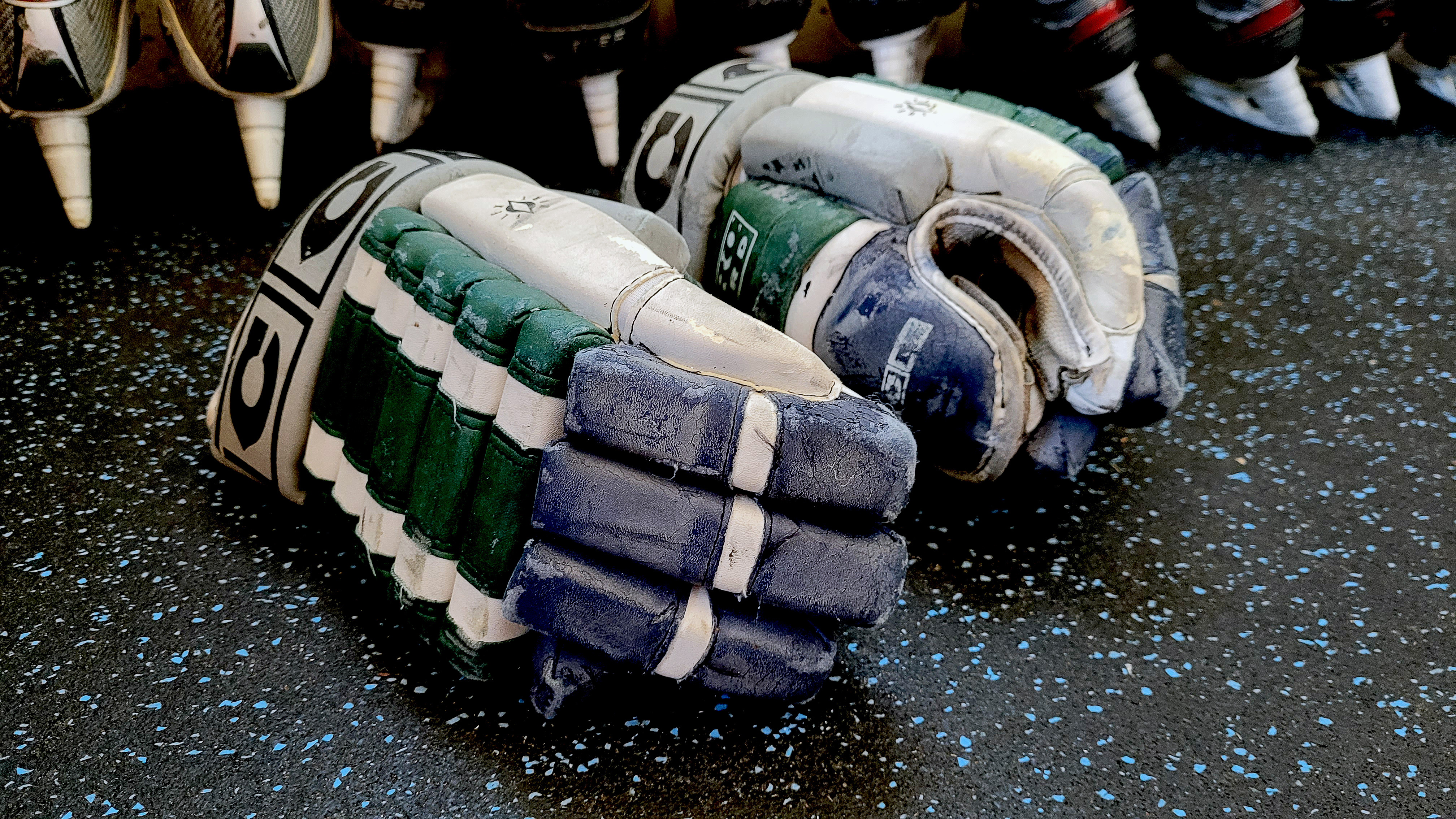 You know what, I might have been a bit older than 9 or 10... Just dug out the gloves (yes, I still have them -- they were expensive!) and they're more 90's looking than I thought. Short cuff is a dead giveaway.
Fake news society we live in today -- last thing I need is an angry email from some equipment nerd telling me my gloves are actually a first half of 1998 model and that my entire site should be debunked.
Anyway...
Going back in time with a full reversal, equipment wise, is something that I've seen happening again today.
So, back in the 1980's, our hockey bags were made of canvas and had those really sharp gold zippers.
I'm talking sharp like a knife -- not sharp looking.
They were giant duffle bags really -- like the ones that we all used to take to school in 1985 and 1986 when backpacks were briefly the least cool thing ever.
But then, in the 90's, those vinyl bags came out and essentially made the canvas hockey bag a dinosaur.
This season, though, the team bags issued to my kids were...canvas.
Yep, they even had the incredibly sharp saw tooth zippers too.
Time warp?
Like, my oldest has been on a team since 2015 and has ALWAYS had one of those pleather/vinyl bags.
Sure, it's varied from CCM, Bauer, Warrior, and some no-name brand during Covid-19...but they've always been a plastic-y material.
One Bauer one felt kinda canvassy...but had a coating on the interior that was vinyl or something.
To my kids -- that's what a hockey bag was.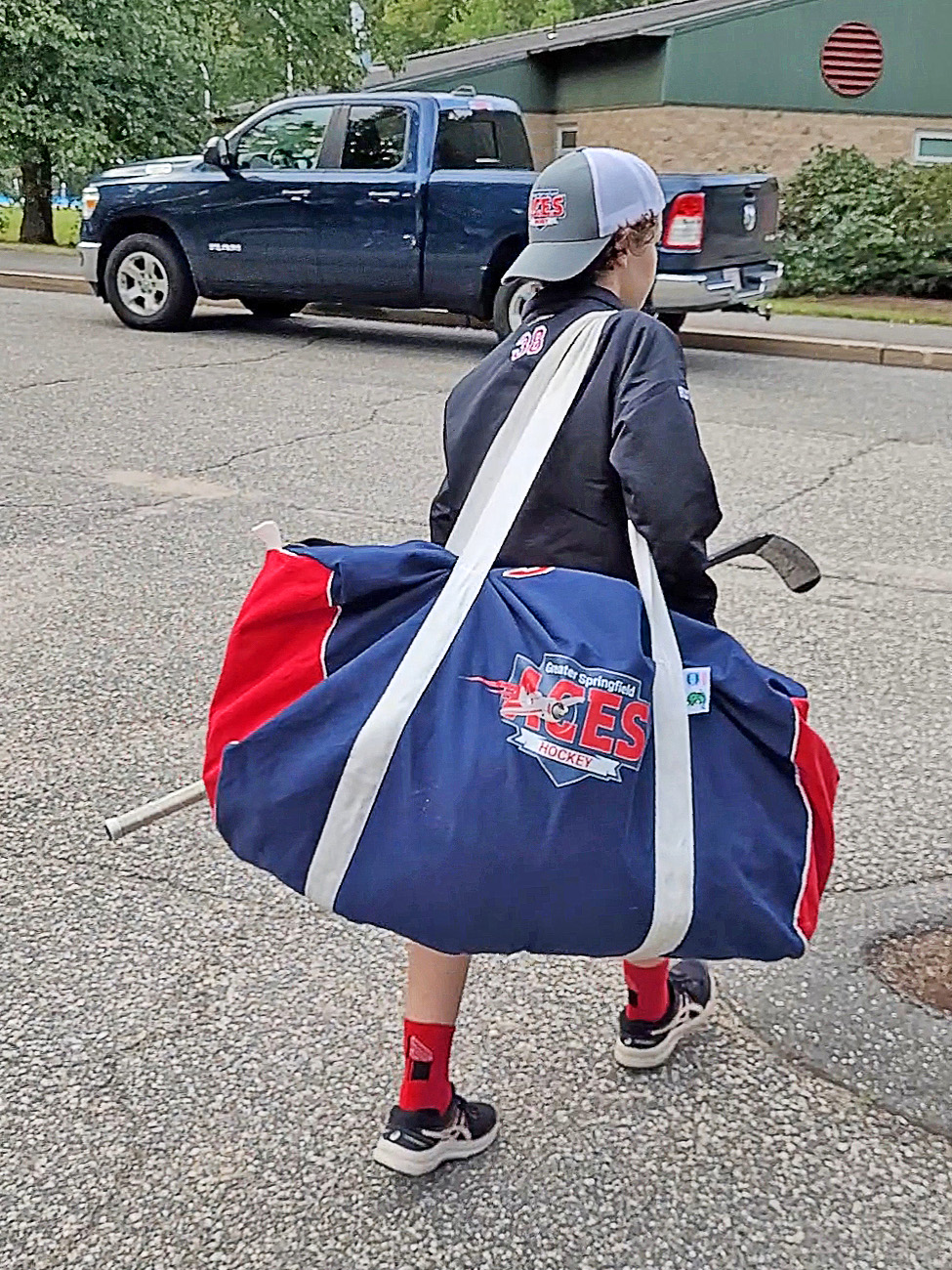 Now, though, they wouldn't be caught dead with one of those.
Canvas, all the way.
Their bags are straight outta 1983.
And while I'm on the subject of hockey bags (since search engines seem to drop people to this specific page)...you should read my thoughts on wheelie bags here.
Short recap -- don't ever buy one. Ever.
Your kid will be made fun of. I guarantee it.
And, to expand on that...for the youngest players, I see a lot of parents carrying their kids bags for them (you need to stop when they're 5 years old) but also a growing percentage of "luxury" brand hockey bags.
Specifically, Pacific Rink and Conway|Banks.
Look, the bags coming from those two companies are amazing. They are.
I won't dispute that.
The Pacific Rink, especially, which are like a hybrid of vinyl and canvas where it looks nice on the outside and like a regular hockey bag on the inside...but structured so it's not floppy all over the place.
But here's the issue -- besides the price tags -- that mite/atom and squirt parents might not realize when they fork over $200+ for a glorified duffle bag...
Good teams require that you use a team issued bag.
The kind with the team logo on it.
So, if you or your player have higher aspirations than programs that let you roll in wearing/carrying anything you like, have at it.
But if you want to be on a higher end team -- AA, AAA, Elite, or whatever -- they normally require you to look like you're on a real team.
Those teams don't enter a facility looking like a pick-up team -- they come in looking like a put together unit. Everyone has the same warm-up. Everyone has the same bag. Everyone.
That expensive designer bag will be collecting dust.
Hockey's expensive all on it's own -- spend the money on skates...not fancy bags that you won't be able to use down the road anyway.
---
Related Articles
» The Rink Experience - Universally Needed Rink Improvements
» Points on the Score Sheet Don't Matter..but Keep Track!
» An Alternative to Spring & Summer Tournament Hockey Teams
» Getting Selected in the QMJHL American Draft
» Training Aid Overload: Hockey Room Essentials
» Unusual Coaching Instruction - No Blocked Shots
» Review: Duskocy Power Hockey
» Great Programs have Great People

Agree? Disagree? Let me know -- I love the feedback from all angles!